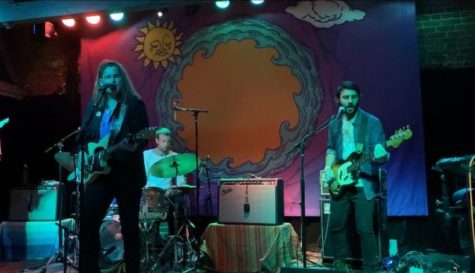 John Kiser, The Horizon
Folk/rock band Fruit Bats played their first show since the start of the pandemic in downtown Santa Barbara's SOHO restaurant.
The venue fostered a small yet homey atmosphere that welcomed the band back into the live music scene. 
Eric Johnson, lead singer and head creative behind Fruit Bats, said about producing, "Don't be overly reflective or navel-gazing. And as a songwriter, you always want to be looking forward, not backward."
Johnson's simple and optimistic view drives the band's success, keeping their music authentic and their audience consistently pleased. 
Fruit Bats celebrated the twentieth anniversary of their debut album, "Echolocation," this past year and the band remains a frontrunner in the folk/rock sphere. In 2021, Fruit Bats released "Siamese Dream," a cover of The Smashing Pumpkins' 1993 album, in addition to an original album titled "The Pet Parade." 
The Fruits Bats' presence at SOHO delivered a wide-ranging feel of folk-rock's cultural significance. Fans including everyone from college students to middle-aged folks showed up to listen in front of a colorful display of lights and a circular mural of waves and a smiling sun.
The crowd was what you might call the perfect blend of "granola" and indie — outdoorsy people donning hand-knit beanies and sweaters while others rocked leather jackets and Doc Martens. 
Third year economics and business major Kat Smith commented, "Fruit Bats had a really engaging presence, and even for people who didn't know their entire discography they were able to draw the crowd in and captivate everyone with their unique sound because of how versatile it is!" 
From their most recent album, "Pet Parade," Fruit Bats performed "Holy Rose" and a personal favorite, "The Balcony." In "Holy Rose," Johnson begins with "you could always come back home" and references wildfire smoke "like you'd seen a ghost of everyone you've ever known" and how it's getting warmer on the west coast. The song sweetly reminisces how California is "the only home you've ever known," despite Johnson's roots in the Midwest. 
"The Balcony" picks up the tempo with quick drums and keyboard, ushering listeners into the romantic feeling of waiting on a balcony on a warm spring afternoon. Johnson also alludes to Christ's ascension in "wine, ashes and palms / Born again just yesterday" — although the band's music is markedly secular. 
Towards the end of the show, crowds became increasingly comfortable and as "Humbug Mountain Song " rang out, the moshing began. Beanies were removed from young sweaty heads and the instrumental guitar plucking framed the lyrics: "the next time I realized I was breathing in the life / Was the first time that I saw your face." 
Indeed, fresh life and air stirred amongst the eccentric crowd at SOHO on March 9. Fruit Bats graced Santa Barbara with their charming, hippie rock romanticism and charmed audiences along California's coast once again.