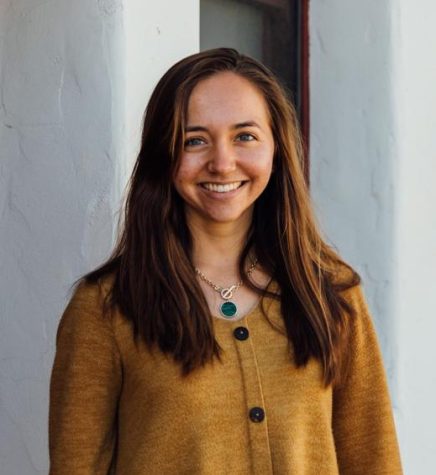 Mason Yang
Ellie Ford, a senior global studies and biology double major is known and loved for her authenticity and thoughtfulness.
Ford is grateful that God has continuously provided her with joyful experiences at Westmont. Some of these experiences have included participating in Westmont's study abroad program in Cairo and another study abroad program at Oxford.
Ford has also been a Liturgist in Chapel, a resident assistant (RA) in Page Hall, a Peer Coach, a Writer's Corner tutor and a Bread of Life volunteer.
Like many other Westmont students, Ford fell in love with Westmont's campus upon her first visit and "immediately had a sense that it was the right place for me." As she continued to search for potential colleges, Ford became more and more convinced that her feelings of confidence in choosing Westmont were from the Holy Spirit. She said, "people started to joke with me that I would be bored of [Westmont] by the time I was here because I was visiting so much!"
Ford's spontaneity and relaxed demeanor may seem somewhat contradictory, but her growth as a student over the past four years has enabled her to carefully consider how she invests her time and energy. When asked about how she has changed during her time at Westmont as a Christian and student, Ford bluntly stated, "I'm a lot more chill." She explained that as she began her time at Westmont, she expected her personality and outlook on life to shift. She recounted how many professors and alumni had spoken about the character growth and spiritual transformation students undergo during their four years. 
Ford said about her own growth: "I care a lot less about what people think of me, and I care a lot more about how God thinks of me … I've become a lot more focused on my walk with the Lord as the most important thing about me."
Practically speaking, Ford has learned to slow down and enjoy God's grace and beauty: "Appreciating the small beauties in the everyday is so essential to my life, instead of just going through the motions." She also emphasizes how essential it is for her to recognize that God shows His grace in every moment she lives. 
Studying abroad was critical to the formation of Ford's faith and awareness of global realities. One of the most powerful cross-cultural experiences she had while studying abroad was in Egypt at a Coptic retreat center. "My whole cohort felt the presence of God so strongly," Ford recalled, "and [we] got to learn from Egyptian Christians." 
Ford's identity as a Christian American was also challenged in Egypt. She explained that learning alongside non-Americans gave her a more nuanced perspective of the United States and a recognition of the political privilege the U.S. holds as a hegemonic country. Ford acknowledged: "I had to come to terms with how privileged I am to sit here at the beach, and experience this peaceful ocean every day … Going abroad confronted me with that [privilege] and encouraged me to use my privilege well, not to ignore it, not to overemphasize it, but to use it for the benefit of others."
Ford encourages every student to travel abroad at some point during their 20s: "It's the best, most fun, formative and challenging thing. It's been so critical for me, and shaped the course of my life."
Ford is passionate about maintaining the cross-cultural experiences and friendships she gained while living in other countries. "I loved meeting people and getting to keep in touch with people from other cultures," she said. Laughing, she added, "I was surprised to see how different English culture is from ours." 
As a student with passions that tend to bleed into her studies and unknown future occupation, Ford sees her life after graduating from Westmont as intertwined with her faith and the mission of Christians. She says: "Our main vocation is to glorify God. One of the easiest ways to glorify him is to appreciate what He has created. That has become a huge part of my vocation: to appreciate this world that we have been gifted with and to endeavor to protect it. Also, to appreciate and love the people He has created, and endeavor to honor them."
Though Ford is uncertain what God has in store for her in terms of a career, she is excited to let God use her in her journey. She remarked, "Loving the earth, loving people … is the closest thing we can get to giving God a gift."