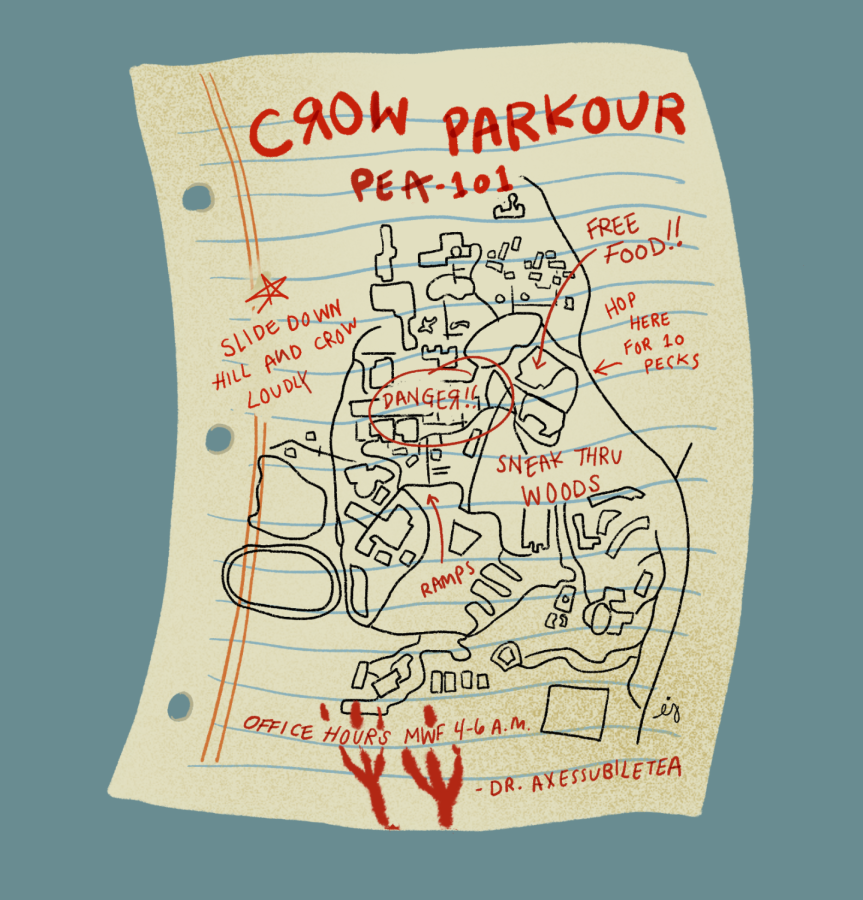 Ella Jennings, The Horizon
Students, clear your schedules this coming fall semester: a new class, taught by one of our very own crows, Dr. Axessibilitea, is coming to Westmont! Not only will this fill one unit of the P.E. requirement, but also the Serving Society GE requirement, since this class will teach and help your fellow students who have disabilities access some of the more difficult-to-access spots on campus.
This new class, PEA 101: Parkour, will teach students with disabilities and their friends how to navigate our hilly campus and the plethora of stairs. Students will first learn about the abundant locations of accessibility ramps on campus, like in front of the Library and … well, other places on campus. 
In the next section, students will learn strategies on how to maneuver around the maze that is Westmont's campus and, when all else fails, how to use the art of parkour to make it to their classes on time.
A few students participated in beta testing for this parkour course and completed it with glowing reviews. One student shared, "The lesson on 'As the Crow Flies' was really enlightening and made me realize how much time I could save by going off path and marching through the wooded patches on campus!"
Another student reported, "I broke my leg and there were no golf carts available for me, but Dr. Axessibilitea taught me how to wind back and forth across campus to safely make it down the hill. On the Strava app — the app all students are required to download for the course — I logged five miles to get from Emerson to Reynolds Hall! I've never had such a good workout!" 
Dr. Axessibilitea shares that their secret to navigating campus safely is clever usage of the Page Hill, pieces of the Paul Willis trail, sliding down railings, hopping between the roofs of buildings and trees, and stolen rides on the tops of golf carts. Strategies and instruction on how to use these tactics will be taught and practiced over the course of the semester. 
Spots in this class are expected to fill towards the beginning of registration, so students must act quickly in order to reserve their spot for parkour this upcoming fall semester. Due to its popularity, an advanced course is already in the works for Spring semester.
In the advanced course, Dr. Axessibilitea will give lessons on flying, or as she puts it: "The most pure form of travel." Students who fail the five-mile method of crisscrossing and backtracking across campus can learn how to simply let go of their worries and travel by the power of belief, just like the crows do.
Because Westmont is an institution that strongly recommends students to have faith, Dr. Axessibilitea teaches the motto: "With faith, trust and a bit of miracle dust from God, we all can learn to fly."