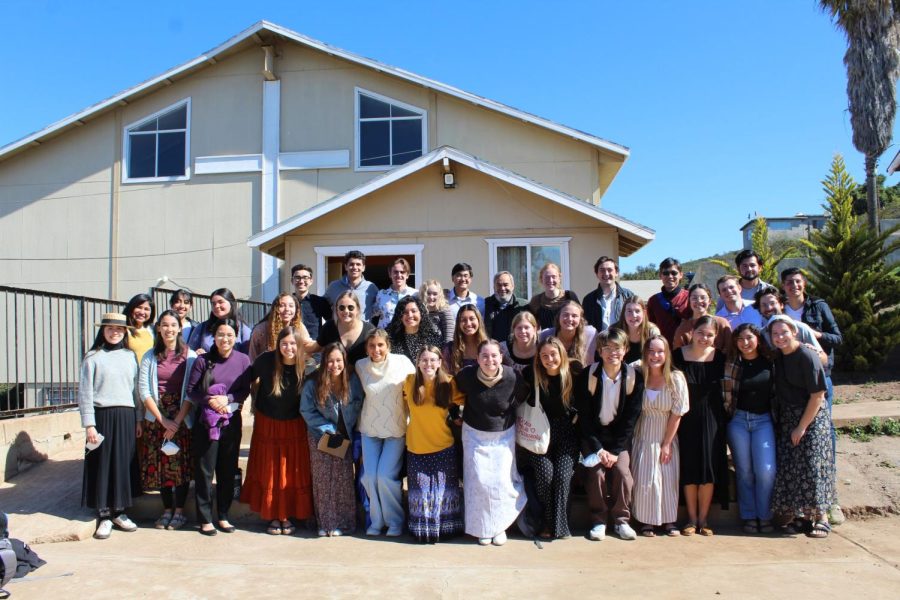 Courtesy of PC
After canceling the trip to Ensenada in 2021 due to the COVID-19 pandemic, Potter's Clay returned this past spring break with a new ministry model and focus.
A number of changes have been made over the last couple of years as the PC core team seeks to make the ministry more sustainable and less paternalistic.
In an article published by the Horizon last fall, PC director Taylor Mache, a fourth-year student at Westmont, described some of the changes in the works. Mache described how Potter's Clay sought to shift away from a model of relief ministry towards a model that "affirms the self-efficacy of Ensenada."
The ministry also partnered with Dr. Cynthia Toms' global studies class here at Westmont and now requires a pre-spring break orientation, helping students to better understand the community profile of Ensenada and how the ministry of PC fits into that community.
This year, PC renewed their partnership with a ministry called Rancho Agua Viva (RAV). The team split into three groups with varying foci.
The "mercy sites" group spent time in prayer and fellowship at a variety of sites in Ensenada, including an elderly home, men and women's rehab centers, and a ministry to the unhoused.
The children's ministry group played with kids in the neighborhood and helped lead a Vacation Bible School (VBS) program at a church PC used to partner with, La Gran Comisión.
The medical and optometry group provided general medical services and eye exams, as well as assistance to clinics at many of the same sites as the mercy team.
This year, only 23 students — compared to the hundreds of students who have traditionally gone in the past — made the journey to Ensenada. This change intentionally reflected the goals of PC: Mache noted, "having a small size was such an asset, and I saw so clearly how relationships were able to be formed … It wasn't at all about how many people we could get down there or just going because that's what everyone does, but our hope was to bring a group of students who really care about the mission of PC."
Another addition to Potter's Clay was the opportunity to partner with local seminary students through RAV. By doing this, PC participants were provided with the opportunity to come alongside peers who were already doing valuable work in the community.
Mache labeled this partnership as "the highlight of my week," and found it a blessing to form real relationships and friendships with them. "It was so honoring for us to be taken in by them, for them to welcome us into their home and daily lives and share their experiences, their longings and sufferings, and their hopes for their own communities."
Mache emphasized how important this year's PC trip was to reflect on the numerous structural changes the core team has made in the last year. "This week was really helpful to see the changes we have been making," she said. "I was able to see what was working well and other areas where we still need growth and change."
She highlighted the "mercy sites" team as a powerful opportunity for students to engage in relational ministry and to wrestle with challenging questions as a community.
Mache also drew on the importance of coming alongside the individuals in the RAV ministry and helping them in the work already happening in Ensenada. "It was also a goal of ours to have our partners share their hopes for the ministry rather than simply tell them what we wanted to do," she said. "Coming together in those decisions is important for us as true ministry partners."
Going forward, Mache and the Potter's Clay team hope to continue in their growth and build on the changes made in the ministry, including making the partnership with RAV more mutual. Mache concluded, "A hope for the future of PC is that we can eventually have some of the seminary students come here and share in how we are serving the local community of Santa Barbara, through Urban Initiative (UI) ministries and such."