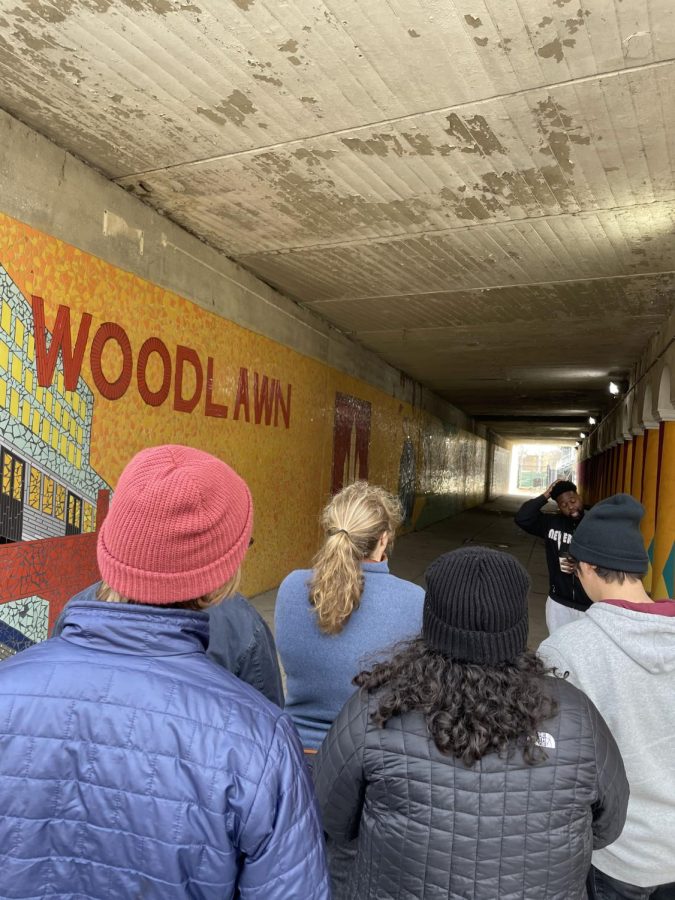 Kylen Christiansen, The Horizon
Eleven students participated in the Urban Initiative experience in Chicago, partnering with a local non-profit called Sunshine Gospel Ministries.
Upon arriving in Chicago, students traveled to the Woodlawn neighborhood on the South Side of the city and met with CW Allen and Piper Graham, leaders of the BridgeBuilders program within Sunshine Gospels. BridgeBuilders focuses on experiential service learning, providing students with opportunities to listen, learn, serve and reflect. 
Westmont's Intercultural Programs Director Blake Thomas accompanied the group.
Days were structured with meals at Sunshine, lessons by CW and Piper in the morning, service projects in the afternoon, and group debriefs each night. Students were able to tour the Woodlawn neighborhood: a neighborhood with a rich history, including the home of Lorraine Hansberry, who was the first Black playwright to have a play performed on Broadway. Not to mention Jesse Owens, one of the greatest track and field athletes of all time, is buried there. 
During the week, the students' mainly focused on ideas such as the meaning of shalom, understanding economic poverty, enacting  'just mercy,' and learning how to talk about race and its impact.
Community development and housing initiatives were also discussed with the group, particularly in light of the Obama Presidential Center (OPC) being currently under construction nearby.
Members of the Woodlawn community are bracing for an influx of people and capital into the South Side in coming years, an influx which holds positive potential for community revitalization, while also having the possibility of a negative potential for gentrification. According to their website, the OPC hopes to "be a place of collaboration for local residents, and a place for community organizations, museums and educational institutions alike to explore new ideas, engage new audiences, create jobs, and economic opportunities, and showcase the vibrant culture of the South Side to the rest of the world."
Despite these goals, community leaders fear that the more than 80 percent Black community, with half of residents making less than $25,000 a year, will be forced out of the neighborhood.
Pertaining to racial justice, students were challenged to look at issues from both individual and systemic perspectives, as well as discuss how they may have seen these topics play out in their own lives and communities. While reflecting on these conversations, third-year Kim Quezada notes that "it was rewarding to become friends while also having valuable conversations about race and our personal experience with it." 
These conversations regarding racial justice were paired with active engagement in the Woodlawn community. Bill Hill, a local artist and gardner on the South Side, provided students with the chance to take part in a local gardening project. "Helping someone beautify their neighborhood was so powerful," reflects Emma Mitchell, who appreciated "seeing how [Hill] believes in the dignity and beauty of the neighborhood and people." 
Students also met Pastor David Black at First Presbyterian Church of Chicago, where they helped paint two rooms. Students received a tour of the church and learned about the rich history of the congregation. Mitchell enjoyed "hearing about their legacy of choosing to seek justice for decades." 
Students were grateful for the opportunity to learn and serve on the South Side of Chicago. Those interested in learning more about BridgeBuilders and Sunshine Gospel Ministry's work on the South Side can learn more on their website.