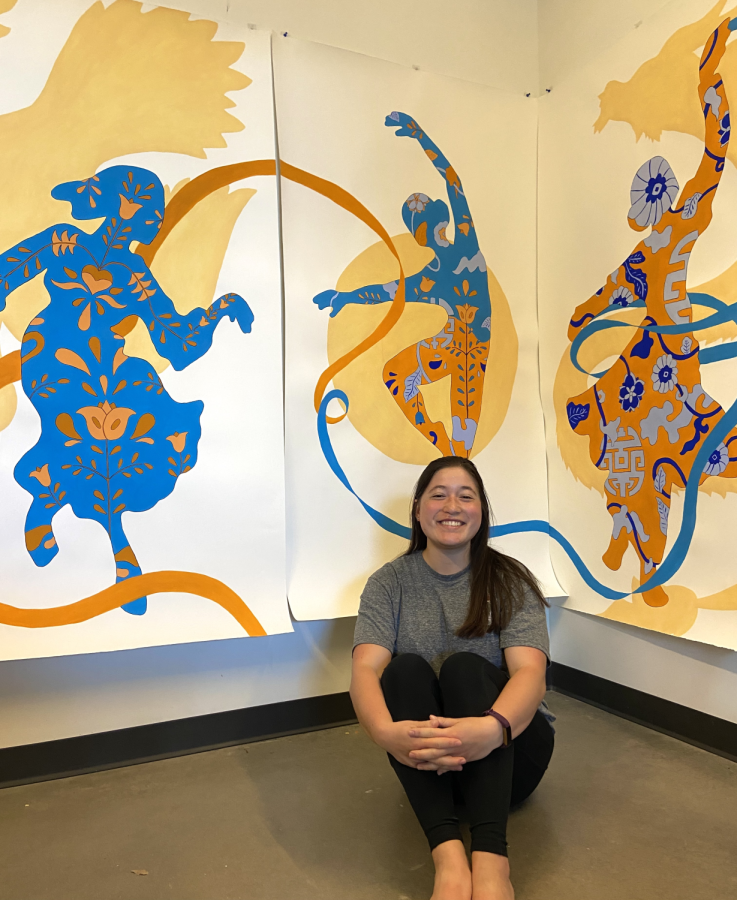 Courtesy of Tirzah Dove
Senior art major Tirzah Dove has been working on her final capstone project since August, which is soon to be on display. Reflecting on the cultures and experiences of her own identity initiated Dove's thought process, becoming her inspiration to put paintbrush to canvas. 
Dove has been involved in art as far back as she can remember, since her mother made sure she had paper, pens and coloring books. "Through high school, I had a really great experience with my art class … I don't know what else I would major in college other than art … I'm really passionate about art and creating and encouraging creativity in other people." 
As Dove brainstormed the driving force behind her work, she realized, "The theme of sitting in tension has come up a lot, as well as trying to balance different aspects in my life." Dove has had to balance her college priorities with processing events, like the 2020 summer of racial reckoning in the United States.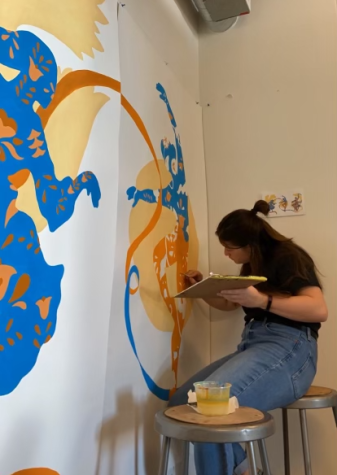 "Something that I've been doing a lot of thinking about and learning through these last four years is my racial and ethnic identity," Dove said. She identifies as mixed race, as her mother is Chinese and her father is white/European: "I'm Chinese and white, and that's been a dynamic I really wrestled a lot with through these last four years." 
Before she began to paint, Dove asked herself: "How can I illustrate balance — particularly relating to my heritage — visually?" She thought, "Well, I danced ballet for eight years growing up … and in order to do the movements, you have to have a sense of balance." 
Dove's project consists of three panels, each one six feet by 40 inches, with one dancing figure on each panel. 
She explained, "The left panel represents my Pennsylvania Dutch heritage, so I found an image of a folk dancer." Dove plans to weave in folk motifs commonly found in floral dishware designs and lay them atop the dancer. 
"The right panel is representative of my Chinese heritage," she continued. This figure will portray a ribbon dancer, which is part of traditional Chinese culture, and will be overlaid by symbols, including a dragon, that are central to Dove's Chinese heritage.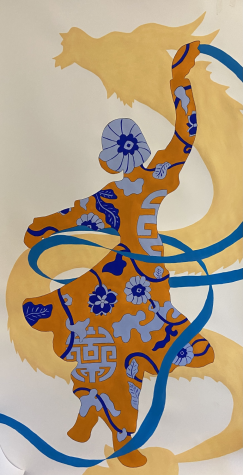 "The middle one [panel] is where the two sides merge, and find wholeness and unity," Dove said. "That pose is more reflective of my personal experience with dance because it's a ballet pose." 
"How do I see the world … How do I perceive myself?" Dove asked, in attempting to capture her authentic self through her artwork. She hopes viewers who share similar experiences can resonate with her creation and viewers who don't will see a perspective different from their own. 
Westmont art professors Scott Anderson and Nathan Huff have been especially helpful in guiding Dove during this process, from technical assistance to creative decision-making. 
Tirzah Dove is among 15 other graduating art majors this spring, all of whom will display their final works in a reception at the Ridley-Tree art museum on Apr. 7 from 4-6 p.m. Viewers will be able to see the capstone projects and ask the artists questions during the reception. The exhibit will stay open until commencement.
 "I hope to continue to grow in my skills and express not only myself, but also branch out my gaze to broader things," Dove said. "After graduation, I will probably push into the graphic design sector because there is such a demand for it." Dove is excited to continue expanding her repertoire and carry over the skills she's learned her last four years at Westmont.