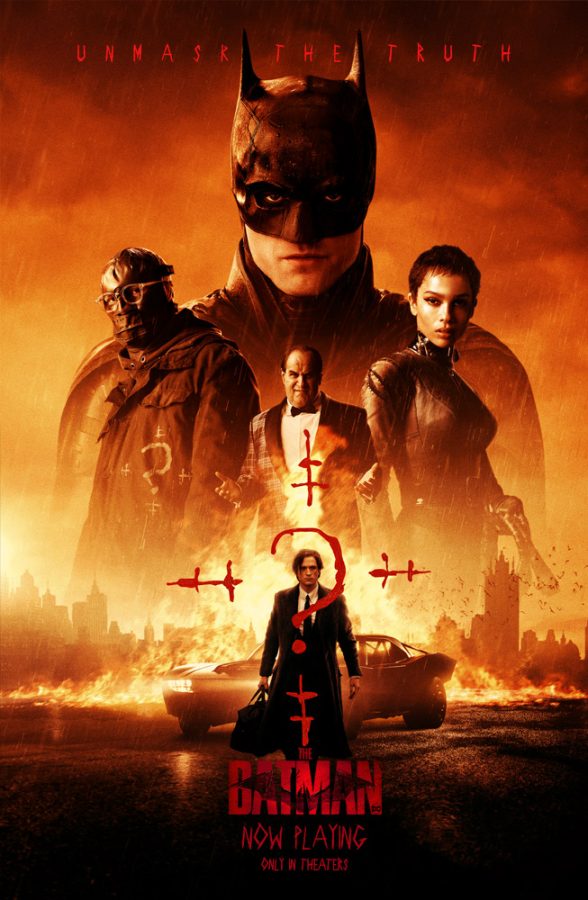 Warner Brothers
Obsession. Nothing describes Matt Reeves' concoction "The Batman" better than the word "obsession." Reeves takes Batman down a new, darker, more-twisted route that no other Batman movie dared tap into. Reeves escapes the whimsical Burtonesque Gotham, the sleek god-like figure in Nolan's trilogy, and even Adam West's spunky, lighthearted Batman to create a truly wonderful movie that explores the deeper purposes of Batman's mission. 
Reeves' Gotham City departs from its predecessors to make a gothic aesthetic that eerily reinforces the noir detective-thriller thematics, transforming the Gotham City from the comics into a wet, gross labyrinth wreaking of crime. Unlike previous iterations of Gotham, Reeves' version doesn't need to show crimes in action in order for the audience to understand how dark Gotham has become.  
Robert Pattinson, as usual, does a great job. He relentlessly scrapes for every clue in every cubby as he falls deeper and deeper into the dungeon of solving Gotham's crime problems. His fixation bleeds over into every aspect of Batman's quest to solve his case. Tunnel vision takes over Pattinson's performance — his Batman almost never escapes from his caped crusading. 
The resulting obsessiveness gives Pattinson's Batman some rough edges. In one scene, Pattinson jumps from atop the police station. The classics of any Batman movie come to fruition. Gadgets and gizmos propel Pattinson down the tower and onto the street. He crashes and clunks into support beams, a truck and finally, the cement. Pattinson's Batman shows a younger, reckless side that rarely acts to perfection. He instead trips and stumbles on his quest to save Gotham. 
While Pattinson plays a great Batman, his Bruce Wayne suffers. I get the dynamic Reeves shoots for and it works in many ways, but Pattinson's Wayne comes across as a pale, walking carcass Batman slips into whenever the sun rises. 
Pattinson mopes around while continuing his investigation as Bruce Wayne, who only comes out whenever Batman cannot accomplish a task. It feels like Wayne only exists because he's in the comics and because only Bruce Wayne can do certain things, like attend a funeral. It never feels like Batman leaves; he just puts on a mask. 
Paul Dano plays a disturbed Riddler who departs from the comics in almost every regard. Yet Dano's Riddler works quite well when contrasted with Pattinson's Batman. They both share an uncomfortable infatuation with ending Gotham's rampant crime and corruption. Their shared goals come into conflict, as in any good movie, and result in riveting tension as the mystery unfolds. 
Reeves's "The Batman" takes a new approach to the Dark Knight. The focus on Batman as a crime-solving machine opens a can of worms into Batman's character crisis. Gotham's unyielding gothic noir tells you everything you need to know about the place. Pitting Batman and the Riddler against each other with the same goal helps Reeves create an instant classic that takes a stab at detective thrillers.