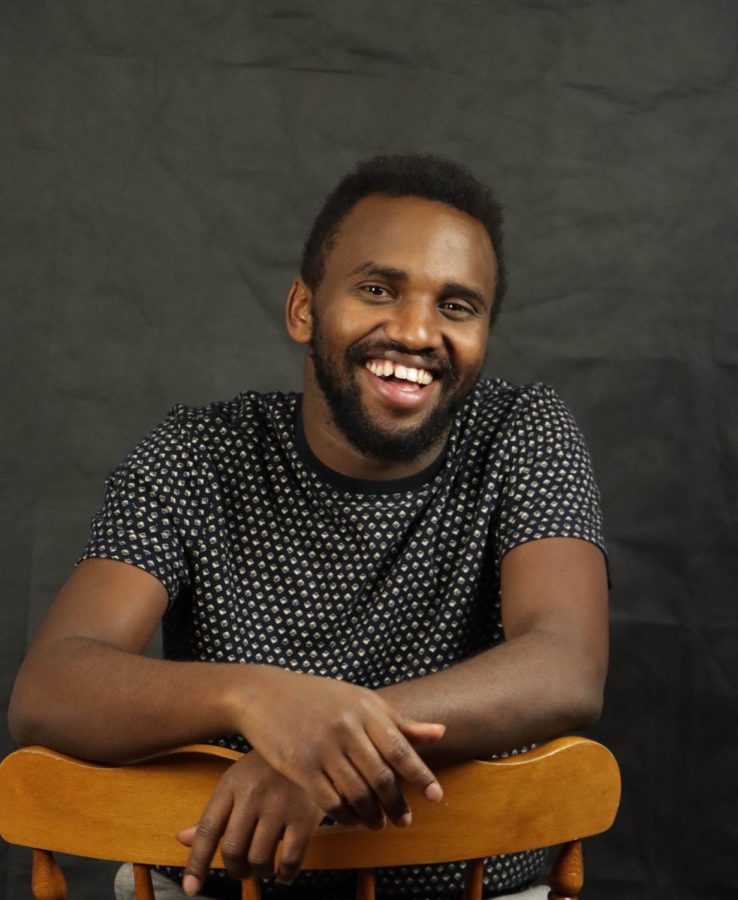 Photo provided by Frank Mugambage
Frank Mugambage, a senior data analytics major, feels grateful for his past four years at Westmont and holds much excitement for the future. As a student who applied from Rwanda, Mugambage was drawn in by Westmont's holistic appreciation for their students.
Through Bridge2Rwanda, a program that offers Rwandan high school graduates opportunities to study internationally, Mugambage earned a scholarship that ultimately made it possible for him to attend Westmont. 
He recalls having conversations with Mike McKinniss, Westmont's director of admissions, and talking about topics such as family, faith and his experience in Rwanda. Mugambage said he was so thankful for McKinniss's investment in him and felt grateful that Westmont was interested in his entire life story.
Mugambage explained some of the cultural norms he experienced growing up. "In Rwanda, you know the whole neighborhood … your family has a relationship with them," he said, in reference to Kigali, Rwanda, where he grew up.
He named one main difference between Rwanda's community and that of Westmont's: at Westmont, "you can become who you want to be." According to Mugambage, in his home country, "you feel like you have so many people you're accountable to, and there's pros and cons to that, but here there is freedom."
While Mugambage was navigating the freeing social environment at the beginning of his time in the United States, he faced a challenging transition in the academic realm. Laughing, he admitted, "academically, I've been very, very challenged." He took all kinds of classes that stretched him, revealed his strengths and weaknesses, and helped him discern interests that might guide his future. 
In spite of acknowledging this, Mugambage confessed that it felt hard to talk about himself and his own successes and challenges. He expressed that, in his experience, in both Rwanda and the United States, "when you struggle to achieve things, whether that's grades or anything, you want to [succeed] because you're afraid of being looked down upon."
He shared that within the education system in Rwanda, students are often exposed to challenges and receive little encouragement or support, which is an aspect of the education system that is not beneficial to students. "Vulnerability, knowing how to seek help, those are some things that I struggle with," Mugambage said. Nevertheless, he has been forced to confront these challenges during his time at Westmont and "be okay with seeming dumb, [and] learning how to ask questions, even if you don't know what questions to ask" 
The culture of interconnectedness at Westmont is another aspect Mugambage has had to navigate carefully. The idea of focusing on an individual person and having a one-on-one relationship was something that struck him. He said, "over time, I shifted from being everywhere [to] identifying which people I wanted to invest in." 
At first, this shift really challenged Mugambage. He said that the close-knit community he found was familiar and yet he still felt he needed to develop a balance. He remembers asking himself, "If everything is connected here, how do I step back and get out?" He learned to break out of the Westmont bubble by investigating many opportunities for off-campus internships, jobs and connecting with Westmont alums. 
When asked about the most influential professors and staff in his life, Mugambage mentioned Doug Conrad — his boss in an Information Technology (IT) job his freshman year —  as a crucial figure during his college years. Conrad's interest and care for learning and helping others in their personal struggles while still being productive in terms of work was encouraging and awe-inspiring to Mugambage. 
"In Rwanda, it's a different structure. Your professors are your challenge. If you can break your professor, you can succeed in life."
While working at the CATLab, the Center for Applied Technology, he said that Zak Landrum, founder of the program, was "a great boss who was very intentional and very strategic." Mugambage noted that while building different tools with the team, such as the MyWestmont Portal, Landrum would challenge the students and give them resources while pushing them to come up with certain solutions on their own. 
Mugambage also recognized computer science professor Dr. Patterson, psychology professor Dr. Gurney and political science professor Dr. Covington. He expressed how amazing it was to see and learn through the lens of such high intelligence but also the deep, personal relationships and care they have for their students. According to Mugambage, "In Rwanda, it's a different structure. Your professors are your challenge. If you can break your professor, you can succeed in life."
Mugambage said that thinking about this difference between the two cultures when it comes to education is very emotional for him, inspiring a grateful awe. He said the realization was not one he quickly discovered: "One day, we were praying in class, and it was like an epiphany."
Mugambage referenced a time when he hung out in Winter Hall and mathematics professor Dr. Howell, who he has never taken a class with, who would often "come in and share a story about something deep, but you can tell he's sharing it because he wants us to learn something about life, faith, trusting God, creating relationships, anything like that." Mugambage cherishes those unexpected encounters. 
Mugambage's faith has been greatly impacted by participating in the Westmont community and having daily conversations and interactions with people who share similar views on the Christian faith. He had to admit that the off-campus experiences he had were incredibly formative: "My experience on campus was amazing, but my experience in Santa Barbara with internships, mentors, Westmont alumns, are something that I am super grateful for."
He recalls working for an alum before the COVID-19 pandemic and realizing that everything he had learned so far was just one part of life. Real-life experience was something he couldn't neglect and had to be mindful of if he wanted to get the full picture of what his education could provide. He also acknowledged that "for international students, sometimes it's not easy to work off-campus, but when an opportunity comes up, it's a great way to learn"
Overall, Mugambage was able to connect both socially and professionally, even as he navigated Westmont's challenging and demanding academic environment. In terms of post-graduation plans, Mugambage hopes to run his own business someday, recognizing how running in business circles where creativity bolsters teamwork has energized him. He hopes to continue gaining experience to better understand how to reach his goals.
Mugambage's energy for leading a group of people to take risks and be passionate about a shared goal has been shaped by the many connections and mentor-like relationships he obtained in his time at Westmont. Out of curiosity for others' passions and leadership, he has made life-changing connections he will cherish for a long time.