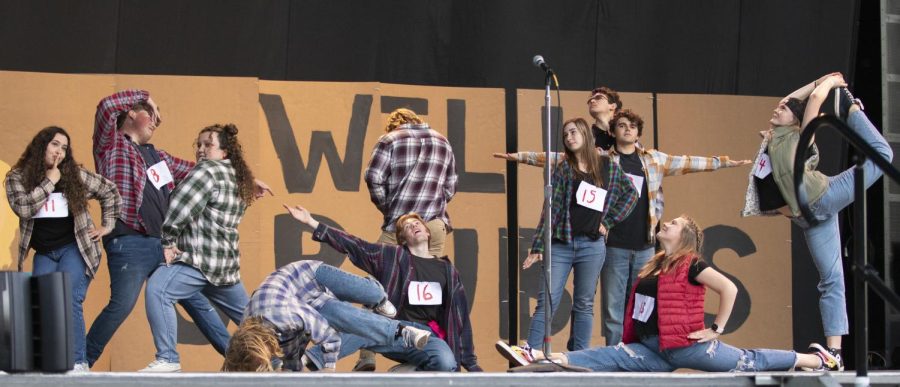 Riley Bream
"Andddd, we're back!" On the night of Friday, April 1, Westmont students filled the Santa Barbara Bowl for Spring Sing 2022. The college's longest-running tradition returned in full force from a two-year, COVID-19-induced hiatus. For many Westmont students, this was the first time experiencing a traditional Spring Sing.
For Kendall Breeden, a fourth-year student and this year's Spring Sing producer, this challenge was real. "Throughout each meeting, at least once we would consider the reality that no one knew anything about Spring Sing," she said. "Doubts were very prevalent throughout the process but our committee's resilience and undeniable confidence in God's ability to bring everyone together was our consistent motivation."
The show, which featured the theme, "And, We're Back," addressed Westmont's journey through the COVID-19 pandemic in many ways. Jason Tavarez, Westmont's director of institutional resilience, and fourth-year student Seun Afolayan, who co-emceed the show, initially came on stage in blue hazmat suits.
Throughout the night, Tavarez made numerous jokes about COVID-19 testing and his infamous automated late-night emails, which have made him a universally-recognized — and memed — person on campus. 
The show, which lasted about three hours, featured eight-minute skits performed by each residence hall, as well as numerous side acts. Side acts included performances by student band "The Solid People," Westmont's improv club "Jestmont," the Westmont cheer team, NSTEP and a Westmont music department kazoo choir, just to name a few.
Each residence hall skit included four songs, choreographed dances and a faculty cameo. Emerson Hall led off the night with a skit where Grey Brothers replaced Will Grubbs as lead singer of "The Solid People" when Grubbs went missing.
Page Hall performed a spoof of "The Magic School Bus" featuring Westmont's breakfast burrito connoisseur, Pascual Mamahua.
Clark Halls performed a news-themed skit with theology professor Telford Work as their cameo.
Off-campus students staged a comedy-filled, pickle-tree-themed skit featuring philosophy professor Mark Nelson.
For Breeden, watching the dorm skits come together into one cohesive show was a highlight. "We had watched all of the acts on their own and to see it as one entire show was incredible. The abundance of laughter and joy was also a highlight for me," she said.
After intermission, the lower campus halls had their time to shine. Van Kampen performed a raucous "The Lego Movie" themed skit, in which communication studies professor Greg Spencer made a cameo as a DJ.
Armington Halls performed a Westmont-inspired take on "The Bachelorette," where campus pastor Scott Lisea played host Chris Soules.
The Global Leadership Center (GLC), however, took first place in the dorm competition with their study-abroad-themed parody of "The Wizard of Oz." Fourth-year students Grace Condello and Jake Hughes played Dorothea and Henri the dog, while Dr. Ed Song, professor of philosophy and director of internships at Westmont Downtown, played the wizard. The victory marked the first time the GLC has ever won Spring Sing.
The Spring Sing committee is excited for the tradition to be fully revitalized in the coming years, and for the relationships formed to continue. Breeden added, "After watching so many people gather and connect with people they may have not even known before, my hope and prayer is that this energy and excitement for connection — especially outside normal circles — doesn't stop here."