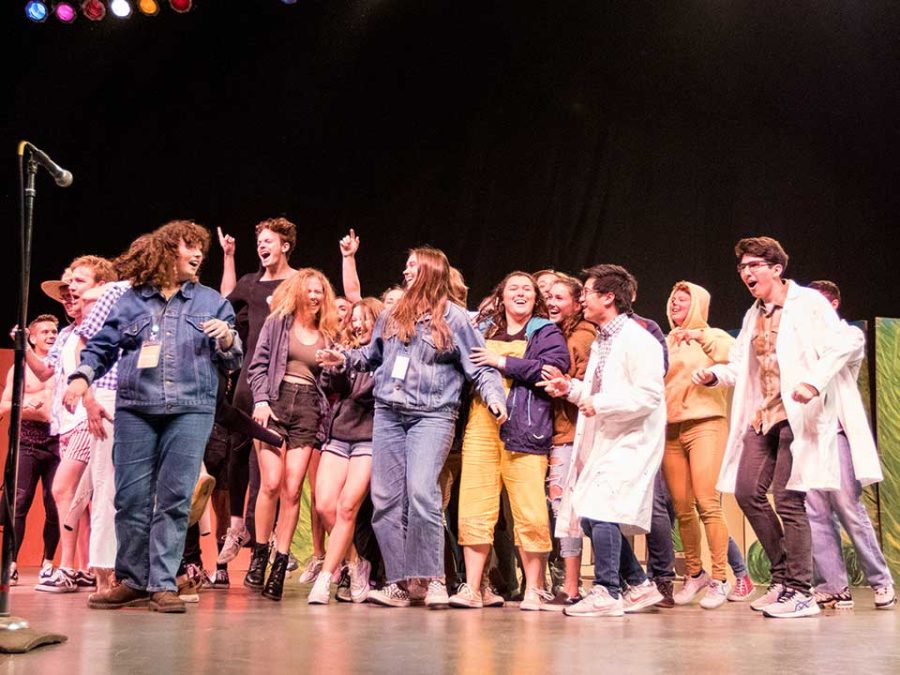 Courtesy of Westmont College
Aaaaaand we're back. Or Spring Sing is, at least. Were you dazzled? Perplexed? Perhaps a bit of both? More importantly, did you notice the secret stars studded throughout the show?
While Dr. Brothers belted an all-too-familiar Olivia Rodrigo anthem, did you notice Jenna Wheeler bustin' moves in the back? 
While you were mesmerized by Ms. Dizzle's fierce step-touch, did you see the sequined V. Brehmer slink around the Westmont Shuttle before releasing a revolutionary "Ms. Dizzle, but we lost Todd!"
While you cried bulletproof, twenty-four karat tears of joy when Pascual burst onstage, bazinga in tow, did you stop to admire — never mind. Pascual wins that one. 
Did you soak in the pitch-perfect "Jason Ta-va-ah-rez" or were you swamped by the sea of "mountain loin" references? 
Did you catch the epic air-drum solo behind the Carla Clarkson/Clark Carlson fiasco or the "wow-wows" peppered throughout "Since You've Been Gone?"
In the sea of glittering-white upper thighs, did you notice Jong Min Park's exquisite form and interpretive dancing? 
After witnessing Seun and Jason's matching ensemble, did you notice Trevor Riemenschnitter's elusive mini-beanie stealing across stage?
Were you too astounded by the world-premiere of WILS — Women in Long Shorts — to pause and admire the perfect grace of Leah Schaad and Malia Denney's "Spikeball Net"?
Were you busy hedging bets for the GLC skit or did you get in a good giggle at Caleb Marll's nuanced portrayal of A STEM Major or Eben Drost's skillfully-acted post-chapel-chase-scene (how much of it was acting, really)? Of course, in the midst of admiring Grace Condello's water shoes, we can't forget Dr. Ed Song's poignant performance/Westmont Downtown pitch.
Somewhere between "Hallelujah" and "I'm Batman," Kaylie Jerdal and Maggie Kane walked with purpose and NSTEP proved they should DJ for the next Westmont dance.
Van Kampen wowed with a sea of rainbow costumes. Armington toured the world past the DC, past the arch, past the … Eiffel Tower? 
This Spring Sing, there were short shorts, long shorts, call-outs and Kierkegaard. Jason Tavarez received affirmation about his own life choices. Mercy Milliken got free pizza. What more could anyone ask for?