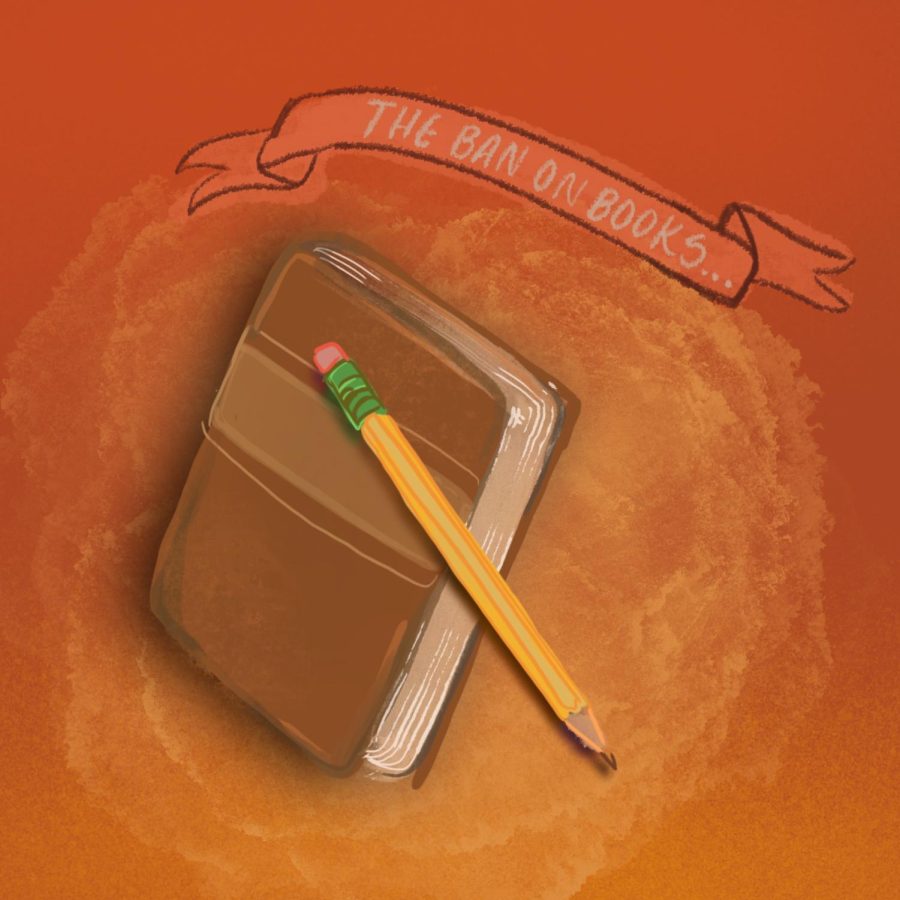 Cayla Won, The Horizon
Censorship in the United States is nothing new. Government officials, organizations and even private individuals have always had the ability to challenge books on school reading lists, as well as the books in public libraries and bookstores. However, the past decade has shown a noticeable spike in books being banned from public school curriculums. What has caused this recent interest in the reading lives of America's youth? 
There are certainly identifiable patterns that can be traced through the themes of the books that have been challenged in the past few years. Books dealing with racism, LGBTQIA+ content and anti-political stances are among the top ten reasons for censorship, according to the American Library Association.
Some of the most commonly banned books in the past few years prove the restriction on these themes, including, but not limited to: "I Know Why The Caged Bird Sings" by Maya Angelou, "The Hate U Give" by Angie Thomas, "The Color Purple" by Alice Walker, "Drama" by Raina Telgemeier, and "Animal Farm" by George Orwell. These books address issues of systemic racism, homophobia, understanding queerness or fighting against opressive governments. 
These examples of banned books show a clear aversion to any topics that may cause tension or conflict, which may have something to do with the introduction of the term critical race theory (CRT). According to Purdue Owl, critical race theory is "a theoretical and interpretive mode that examines the appearance of race and racism across dominant cultural modes of expression." The purpose of CRT is to understand widespread paradigms of victims of systemic racism and to find ways to combat these misperceptions. 
Dr. Carmen McCain, an English professor whose numerous specialties include postcolonial and cultural studies, commented on the misinterpretation of CRT. It appears to her as if CRT "is being used as a 'bogeyman' in conservative media in an attempt to remove from the curriculum or classroom any books that might portray experiences of racism or make students 'uncomfortable.'" 
We need books that highlight uncomfortable places because those are often where we learn the most about ourselves and about each other. We also need books to deal with these controversial topics because literature has a way of communicating hard things in a beautiful and unique fashion. What better way to introduce young teens to racism and homophobia than through the eyes of Scout Finch and Simon Spier? 
On the other hand, sometimes the emotional toll of a book outweighs the educational benefits. Educators and administrators have a responsibility to create a safe learning environment, and some material may be psychologically unsafe for students to encounter.
Although Dr. McCain has never experienced any restricted books in her time teaching at Westmont, she says, "I have occasionally self-censored when selecting the books to study in a class when I felt like a book or film might be a little too graphic or profane." Dr. McCain's primary goal with this self-censorship is to keep her students from dwelling on triggering material. 
Examples of protective censorship can be found in recently banned books like "The Handmaid's Tale" by Margaret Atwood or "Beartown" by Fredrik Backman. Both of these books portray variations of what it looks like to be a victim of sexual abuse, which is obviously a heavy topic, but it may be especially harmful to anyone who has experienced sexual abuse.
These books also teach lessons in empathy and justice, but at what expense would those lessons be taught if introduced in a classroom? The true purpose of censorship becomes clearer with this in mind. Required reading in schools is meant to encourage intellectual discourse, but never push the limits of a student's mental health. 
When the books being eliminated are the books that widen perspectives and foster empathy, we have to seriously examine the intentions behind our education system. Are we trying to shield students from inappropriate or unnecessary triggers, or are we trying to shield ourselves from the discomfort tough conversations will bring? 
American novelist Francine Prose writes about the importance of high school English classes in her essay "I Know Why the Caged Bird Cannot Read." She says we must ask "what sort of product is being produced" by our education system, and how does changing the curriculum change the products? By understanding the effect literature can have on a person, we can align the books on the 2023 reading list with the so-called "desired product" of the public school system. 
Banning books just to keep people comfortable needs to be avoided, but sensitivity to others' individual experiences should also be expressed. I believe, with careful discretion and intentional care from administrative leaders, the education sector can find a healthy balance of censorship in public schools. 
———
Opinions expressed in letters and other editorials, unless otherwise stated, are those of the writers and not of The Horizon staff or the college collectively.