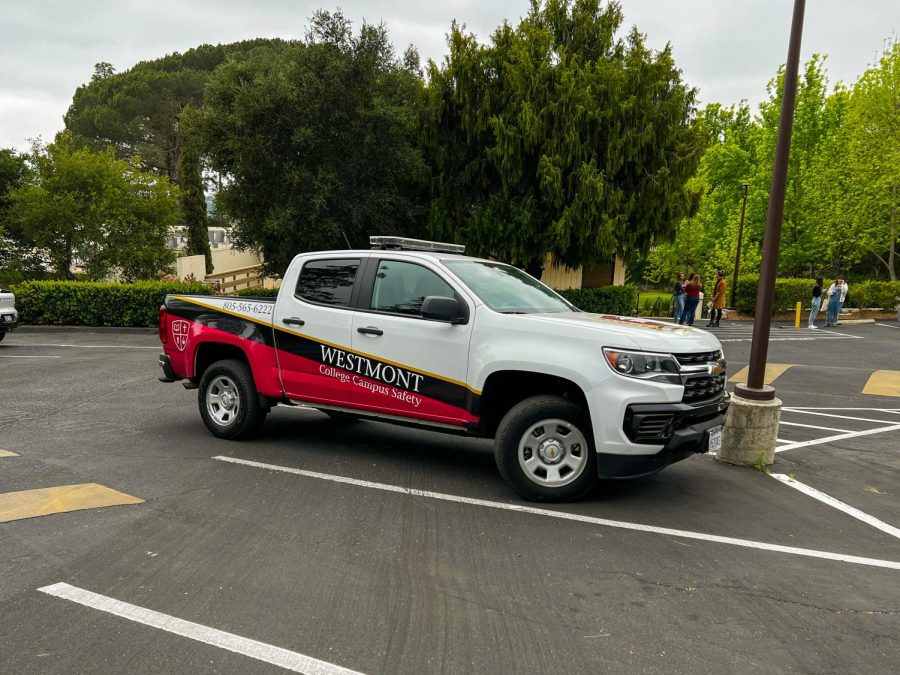 Noah Nims, The Horizon
Since 2016, campus safety director William Boyd has worked alongside campus safety staff and residence life to keep Westmont safe by regulating parking, checking door locks, using surveillance cameras and training residence assistants (RAs).
Boyd explained that campus safety also prepares for fires, earthquakes, "any disaster at all, manmade or not." 
Joseph Hawkins, a campus safety employee, has been at Westmont for one year and nine months. "My primary job is just enforcing the campus policies," he said. "The majority of my day is taken up [checking] parking lots, writing tickets … investigating student issues such as vandalism, theft, burglaries … trying to find proof through video cameras and talking to people."
Some of his favorite anecdotes, Hawkins said, involved animals. "Since I've been here, we've had the mountain lion, racoons, a snake in the women's locker room … a scorpion in a girl's dorm room [and] a bear on campus over the summer."
"People wonder why we want them to shut their doors," he said, showing a video clip of a racoon walking through Emerson Hall. "Well, that would be one of the reasons."
The most rewarding part of working with campus safety, Hawkins said, is connecting with students who "maybe are freshmen—first time out of their parents' house."
Sometimes, Hawkins observed, new students run into academic difficulties and have yet to develop a comfortable friend group. With these students, Hawkins seeks to be an approachable listener, someone to whom a student is comfortable venting.
Hawkins noted, "I don't see th[e] same guy every single day … but because we've spoken, because we've kind of gotten to know each other, I know that if he ever has a problem, he knows he can reach out to me, and for me, that's a successful relationship."
Hawkins pointed out that, for such a small campus, Westmont has many out-of-state students. Particularly with these students, he said, "If they want to go home or have some support, it's not just around the corner, so it's nice to be able to be available to people that are looking for help."
He emphasized, "Being able to relate to students that are going through the same kinds of problems I had in college and help them through and then see them be successful — that's pretty amazing."
To Boyd, the most rewarding part of the job is "watching the caterpillar." He explained that he watches students from the first day they arrive. "They all run into difficulties," he said, and some students start out shy and quiet, gradually opening up, talking more and getting involved in campus activities.
"At the end," he said, "the more rewarding part is watching them graduate. I see every kid as a niece or a nephew here."
With some students, Boyd has interacted and become close enough to them that he can run into them and ask, "Hey — aren't you supposed to be in class?"
Another example he gave of "watching the caterpillar" was watching romantic relationships develop. "The caterpillars have grown," Boyd said, "and they've met other caterpillars." He also joked that, occasionally, campus safety has been instrumental in this process: "We've been the ones in the middle, like, 'Oh, you need a ride? Oh, she needs a ride, too. Well, come on, both of you, we'll give you both a ride.'"
Boyd said he especially enjoys watching couples get married after their time at Westmont. "The rewarding part is watching them grow from the caterpillar into the butterfly and then watching the butterfly fly away. You see them really mature … you see them grow and you see them go."
Hawkins noted, "The hardest part [of the job] is saying, 'Hey, I like you, you're a great person, but you're still doing something you shouldn't be doing.' As a safety officer, just because this is our job doesn't always mean that it's easy for us [to enforce policies]."
"It's not personal," Hawkins said, but he added that "a lot of times, when you enforce things, people take it personally. They're offended or they think you're out to get them, like you've singled them out." To respond, he said he tries to balance patience and understanding with firmness.
To Boyd, the hardest part of the job comes with living in Santa Barbara. "I'm worried about the fires. Have we had one in a while? No. Are we always worried about something like that? Yes."
Boyd shared a vivid memory from evacuations during the Thomas fire. "We're at the DC," he said, "and we're having students, at five in the morning, load up, and they're getting into army trucks, and a girl says, 'Are we gonna have school again? Are we coming back?' She was hard-pressed, like, 'You can't kill my school! It can't burn down!'"
He also told a story about a professor who insisted on coming back to campus for letterhead to write references for his students.
"It just showed how much of a love they had for their school," Boyd said. "You think it's a job, but some things you take personally: 'This is my school. I didn't go to school here, but I take care of it.' … That was what struck me."
One thing Hawkins emphasized for students, faculty and staff, is speeding on campus. "The streets are so small and so narrow that all too often I see cars come within seconds or inches from hitting someone. That is one of my main concerns, because it happens way too much."
When asked what Boyd wanted to stress the most to students, he responded, "We're never limited on escorts. We're always here to give you a ride. It's not a problem — that's what we do."
Second-year Rebecca Li learned about these escorts from a friend. "I'm so grateful for campus safety," she said. "Sometimes getting from one end of campus to the other at night can be pretty scary … It's a huge blessing … just the fact that they're on call 24/7."
Li added that she now knows campus safety employees by name, like Cecil and Chris. "It's really cool hearing their stories and their faithfulness to Westmont … When so many students are circulating in and out … there's something so cool about having committed people who are dedicated to this institution, sometimes for decades."