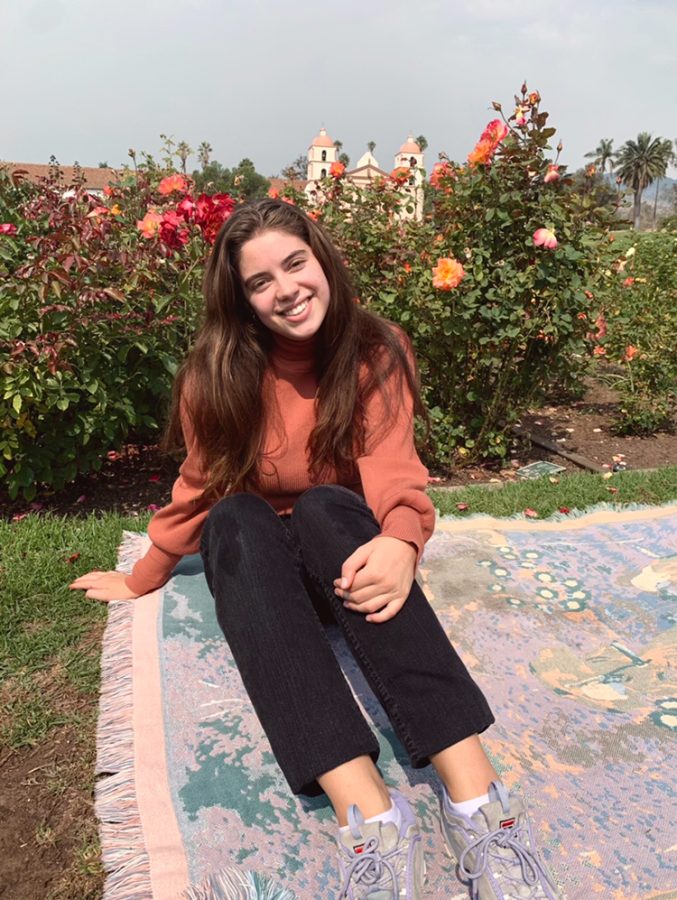 Victoria Caton
Anna Luce, a third-year liberal studies major who values culture and language, hopes to incorporate both into her future teaching career. 
From a young age, Luce was cared for not only by her parents, but also by two family friends from Mexico. She recalled, "They would incorporate Spanish into my life [through] books and movies, and my sister and I would converse in Spanish with them." After being introduced to her second language, Luce said, "it became important to me in middle school to start taking Spanish classes." 
During Luce's time at Westmont, her interest in other languages stuck with her, prompting her to add a Spanish minor to her liberal studies major.
She was also able to display her love for language through participating in Conversation Cafe — an opportunity available to students through Westmont's Urban Initiative program that takes place Thursdays from 4:00-5:30 at Education First (EF) International Language School or Christ Presbyterian Church. According to Luce, Conversation Cafe invites native English speakers to converse with international students, enabling newer speakers to practice English either for their job or if "they just want to improve before they go to college." Students participate in the program "for anywhere from a couple of weeks to a couple of months."
Through talking in English with students in the program, Luce noticed that many of them speak at least two other languages. Luce emphasized the value of knowing multiple languages. She said, "no matter what language you learn, it's just important to learn another language … I think if you have the opportunity to learn another language, it's really valuable, because you're not just learning a language, you're learning about another culture."
In addition to learning new languages and being exposed to new cultures, Luce feels that she has formed valuable relationships through Conversation Cafe. She noted bonding with a student from Belgium: "I started spending time with him outside of Conversation Cafe. He even came to church with me a couple of times, which was really great."
Luce's home life played a large role in her appreciation for diversity. Just north of her hometown, San Leandro, California, Luce attended a church in Oakland that had many different cultures. According to Luce, "Being exposed to those cultures really gave me a heart for working with international students."
Luce hopes that Westmont will incorporate the same diversity she noticed at her church in Oakland: "I know the school is constantly trying to work towards being a more diverse student body, but I think there's still much more to improve upon there."
Luce's family has also inspired her to pursue a career in teaching. Her mother, who was involved with YoungLife as a young adult, "traveled a lot, and would meet people from all over the world." According to Luce, "being introduced to her friends, and just hearing about her travels, and seeing the pictures."
In addition, Luce said, "My sister inspires me to be ambitious … She studied aerospace engineering. So, as I go into education, I've become more interested in encouraging young girls to pursue STEM … and find that niche career."
Finally, Luce's father inspired her through music. Luce said, "He always says even if someone doesn't become an incredible musician, the point of music in their education is to [give] them the confidence to get up and perform in front of others."
In pursuing her degree at Westmont, Luce has greatly appreciated her experience in the liberal studies department. Luce has appreciated the faith-centered classes as "Something that's really impacted me [and … ] shaped my faith." She explained, "Seeing the Bible as not just something that's supposed to speak to your life now, but also you're entering into this history of what Christianity has looked like and where it's from, and understanding context … Understanding that I'm part of a bigger faith, and understanding what a communal faith looks like."
Additionally, Luce said, "I just love that Westmont really spurs you towards being a life-long learner. A liberal arts education allows you to take classes with different content … It really speaks to me, as someone who loves teaching, I love learning about anything, and that's something that Westmont offers. You don't have to be an expert in one topic, but you can merge all of your interests."
In the end, Luce is thankful for all the people who encouraged her in her pursuit of a minor in Spanish and a career in teaching. In regards to her plans for the future, Luce mused, "I might want to teach abroad … Perhaps a Spanish-speaking country, or anywhere in the world." Ultimately, Luce said, my goal is to "help shape the future generation."