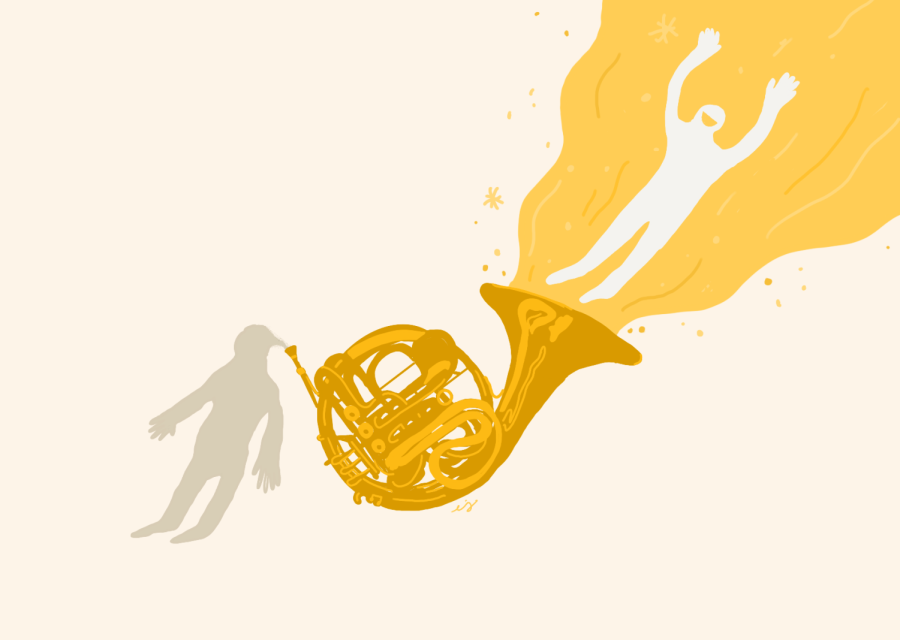 Ella Jennings, The Horizon
An important aspect of leading well involves giving feedback to the individuals being led — music directors to their musicians, coaches to their athletes, professors to their students. Different leaders at Westmont and their feedback styles can reveal some of the important themes related to giving feedback.
Multiple leaders at Westmont highlighted the importance of character formation in giving feedback to those under their authority. Philosophy professor Mark Nelson said, "I would say the primary value of feedback is formative … Professors are trying to help educate and inform a student, trying to form their mind … attitudes and values that are important for that discipline."
Similarly, when it comes to his athletes, Russell Smelley, Westmont's cross country and track coach, expressed that his coaching philosophy centers around "who [the athlete is] becoming as an individual … so it's a test of character, of resolve — a test of growing as a person."
Along the same vein, choral director Dr. Grey Brothers emphasized the importance of recognizing the individual goals of choir students when engaging in their formation. He said, "my assumption is that the people who are making the music, who I'm directing, want to make music — they want to sing well, they want to enjoy the process of making music … I keep in mind that I'm a facilitator for that." 
In order to help form and empower those under their authority, leaders develop specific styles of providing feedback. For Dr. Nelson, this looks like trying "to make my comments on papers pretty extensive." He also tries "very hard to make sure that [these comments] are as objective as I can make them to be." This is to ensure that the formation of his students is not according to Dr. Nelson's opinions, but according to universal skills and the virtues of a good philosopher. 
Describing his style of feedback, Smelley said, "sometimes it's just a thumbs up, sometimes it's a nod, it's a 'way to go!', it's acknowledging, 'that was a really good effort.'" He added that sometimes feedback also involves pushing people harder or critiquing them. Smelley does his best to read a situation and determine whether his athletes "have ears to hear." With this in mind, he said, "Sometimes I don't say anything, because I know it's not gonna be received, so I let them learn by doing."
Dr. Brothers used a staircase metaphor to explain how he evaluates the state of the choral group and how to get them where they want to go: "In rehearsing, you want to always have something new every time you do something again. You want a new objective … you're always thinking of the next thing, the next step." 
While the style of feedback might be superb, it's useless if not delivered well. For Dr. Brothers, conveying positivity rather than frustration is key. He said, "I certainly try not to communicate frustration because it doesn't help … The best thing to do is to say what's good and try to build on what's good."
Smelley looks to Jesus' example of love when it comes to delivering feedback to his athletes, especially when they make mistakes. He explained that he tries to avoid "condemning them for the choice [or mistake]," while still conveying, "I wish they hadn't made that choice, but here we are."
Both Dr. Brothers and Dr. Nelson cited their own experiences as a formative factor in their current feedback styles. Dr. Nelson noted that, for him, "it was a teacher who gave fairly extensive written feedback that I found most helpful." 
Dr. Brothers explained what he learns from his own experience as an ensemble member receiving feedback from a music director: "The experience of making good music with other people, and how fulfilling that is, and the joy of doing that in an environment that's really supportive and encouraging rather [than fearing judgment if] you screw up." 
Smelley, too, sometimes seeks to be on the receiving end of feedback, "talking with people [with] more wisdom, the mainly older [people], getting guidance." By receiving feedback from those that have been in a coaching position, Smelley can improve the feedback he gives in situations where he is the coach.  
In relationships where a leader provides feedback to someone under their authority, these sources highlighted the important ingredients of trust and respect. Smelley said, "Trust is critical. So first, you give respect to them as an individual, and trust grows out of respect and consistency and the fact they need to know I care about them, personally." 
Dr. Nelson displayed the importance of respect when remembering a professor he had who "would actually argue with the students and take them seriously … I took him to be saying that he was treating me like an intellectual equal."
Finally, Dr. Brothers expressed the importance of the choirs' trust in a conductor's ability, saying, "you create an environment where people are at ease, they know that they're in good hands." 
The perspectives of a coach, a professor and a music director revealed the nature of valuable feedback. A final thought from Dr. Brothers shows the biggest reason everyone needs feedback: "from my own experience, I'm definitely not always the best judge of my own performance in anything … People are sometimes their own worst critics … and they need somebody else to not just say ,'Oh, no, that was wonderful,' but to be able to say, 'Sure, what you're saying has validity, but that's not the whole picture.'"
Everyone has room to improve in their ability to give themselves sound feedback. Thus, reliance on leaders, coaches and those with authority enables us to see with clear eyes and truly grow, which is the ultimate purpose of feedback.