Gradient: a group dedicated to being seen
Gradient is an unofficial group on Westmont's campus that strives to provide community for its members who identify as LGBTQIA+. For this school year, Abbie Carter, Megan Bowman and Micah Howard are joining forces as the leaders of Gradient to provide "a safe space for the [LBGTQIA+] community," according to Howard.
Carter is a third-year student majoring in art history and minoring in French; this is her second year leading Gradient. Bowman is also a third year student, but they are majoring in theater. It is their second year leading Gradient as well. Lastly, Howard is a second-year student majoring in computer science and it is his first year leading. 
Each leader of Gradient is passionate about leading the group for similar reasons. Bowman said, "we know what it's like to not be loved and accepted so we lead [in order to] make the space for others to feel loved." All three leaders were inspired by the leadership that came before them, and wanted to "[be] able to be that leadership for younger students," as Carter said. 
During this academic school year, the leaders of Gradient are working to make a few changes. Howard emphasized, "we're working to expand [the group] and have more educational and fun meetings." Gradient is trying to add more informative meetings, fun activities and weekend events for those unable to attend the weekday meetings. Carter spoke about the informative meetings saying she wanted "more serious discussion occasionally … those were really helpful to us as younger students." The informative meetings seek to respond to questions that members of the group and community may have and provide education on queer history.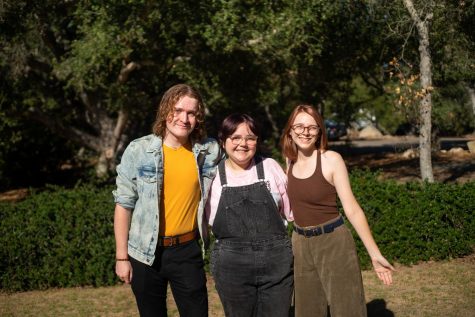 There is a similar program on campus, Nexus, which is run through the campus pastor's office and provides support for people who identify within the LBGTQIA+ community. However, Howard — who is a frequent attendee of Nexus meetings — described it as being more focused on "educating people on religion and sexuality" than the community that Gradient is trying to build. 
Bowman added that one of the main goals of Gradient this year was to "spread the word that we exist." They stated that because they are still an unofficial group, "we're not reaching everyone, and we want to reach everyone." Because of the lack of money they receive, leaders are left  to use their own money or attempt to gather donations. In order to spread the word about Gradient, the leaders hung posters up around campus, but Carter said that "we hung up about 70 posters on campus and the next morning 90% were gone." 
Bowman believes that the best way to spread the word is to "just tell people because you never know who needs it." Despite the challenges these leaders have faced and continue to face, they attest that the most rewarding thing about leading is the relationships they build and the feeling of making a space that promotes the message that "there's other people like you here, you're not alone," as Howard described it.