Developing strength from tribulation: Westmont's worship team director Eben Drost
What do you do with a man who worships Jesus, plays a sick keyboard solo and matches the wit of Pastor Scott Lisea? You hire him as a pastoral musician, of course! Eben Drost is a jazz devotee, a graduate of Fuller Seminary and a beloved worship team director at Westmont College.
As a 2011 graduate of Westmont, Drost says, "The biggest thing that God did in bringing me to Westmont was putting my faith back together … like, 'Whoa, New Testament! You can take a class in that!' and I just really loved it." Westmont changed his life by helping foster his knowledge of and love for God, hence why he later returned to campus to work. 
From leading worship in SoCal churches to helping direct music for the 2018 Urbana Conference, Drost sees music as a significant biblical practice. "From the Psalms to Colossians 3," he says, "the Bible talks about singing." Drost speaks of worship as an "embodied practice … When you're singing, you're using your whole body. You're [physically] vibrating with the praise of God."
But as he pours out his heart on the worship stage, some would never guess that Drost fights pain and fatigue every day. Diagnosed with fibromyalgia, Drost battles with chronic health issues that require him to be dependent on God. He says, "I just cling to the 2 Corinthians teaching that strength is made perfect in weakness and His grace is sufficient," noting that the "limitation pushed me to find a vocation … being a pastoral musician rather than touring with a rock band." He prioritizes being a support to those who struggle with invisible disabilities, reflecting that the experience with his disability has made him "a more empathetic person … [in] the realm of ministry." Many students would affirm this trait in Drost, like chapel band member Jon Kratzberg, who refers to the worship director as "resilient" and "a great leader" over the Westmont student body.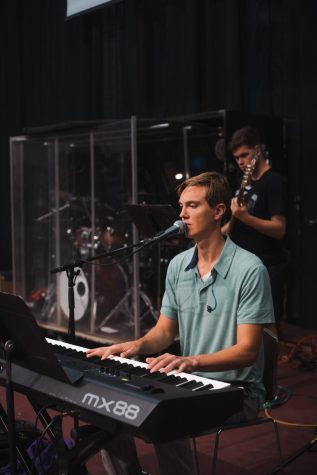 In his work, Drost always keeps these students in mind. When hired at Westmont in 2018, he began leading music director interns and worship team liturgists, having instituted these new student-occupied roles with his predecessor Joel Patterson. Drost says, "I like helping [students] develop into leaders and learn the practical and theological things about choosing music for chapel." Another one of Drost's priorities is finding global, multilingual songs from less-represented groups, in addition to playing music originating from white evangelical American artists. 
In his spare time, it's no secret that this ardent "The Lord of the Rings" fan can often be found watching movies, playing basketball or chilling with his wife, Megann, and golden retriever, Ollie. Every now and then, Drost plays in a music video for Patterson and his brothers from the Santa Barbara Forge and Iron. 
On another note, he hopes students will join him in December for Urbana 2022, a student mission conference that only gathers every three years. "It was really transformative for me," he says, "The worship teams are always really intentional about bringing songs from around the world." Drost is still organizing hotel reservations and registration costs, so it's not too late for you to reach out and join his caravan to Indianapolis. Take Eben to lunch and ask him about anything!