Wish you could see Adam Belt's exhibit
Adam Belt is a San Diego-based artist who emulates the unseen and fathomable forces at play in the universe through his art. His art pieces are simple at glance, but upon closer inspection allow viewers to unpack layers of meaning from each piece. Many of his pieces reflect aspects of nature and God, using the two harmoniously to convey a message. The newest exhibit in the Adam Belt museum here at Westmont presents these ideas in a very immersive and thought-provoking way with seven new pieces.
The first piece, titled "A Mute Encounter," was drawn from the introduction of the book "The Sublime" by Philip Shaw. In this piece, you observe a chamber with a humidifier and a fog machine that mimics the marine layer which can be observed here in Santa Barbara. Each wisp of moisture hangs delicately in the air yet remains static, as if it is a moment captured in time. It's haunting but also a beautiful sight to behold.
Next is an oil painting based on a Hubble Telescope photo capture. It portrays thousands of galaxies spread across space. The infinite magnitude of the universe itself is unfathomable for many to grasp. For Belt, this painting is a religious experience. In the description of the piece, a prayer is described. As Belt created the painting he explained how he came to draw parallels between the magnitude of the universe and God. 
Thirdly is a table with a beam of white light shining across into a prism. The light then breaks it apart into a spectrum, forming a pattern of colors similar to a rainbow. It's an astounding visual that reminds viewers of a white light's purity composed of all colors. The artist interpreted this as "a paradigm shift in the 21st century, which recognizes that God welcomes all into his church."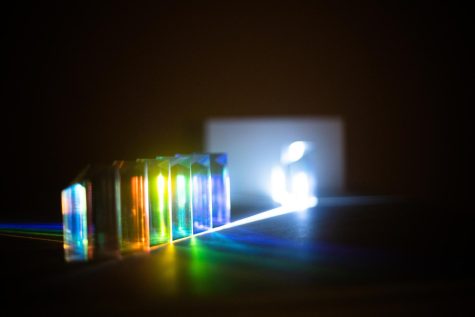 The last piece I'd like to reflect on is "Nowhere Painting." A painting that, at a glance, comprises "inherent" hues of gray but has a unique property when observed at different angles. As you move around the painting the reflective paint shines in unique and different ways depending on where you are standing. The gleaming light radiating from the canvas makes it unique, and the interesting twist is that the first impression of this piece is dull, but its inner beauty can be better observed up close. It was created to invoke the topography of Earth and mirror the beauty of natural landscapes.
All in all, the Adam Belt Museum is an inspiring visit with many amazing sights to behold. No doubt it was a pleasant experience, with pieces that were not only beautiful but had deeper meanings. The museum allows people to not only reflect on the art pieces but on themselves as a whole.