A new chapter for Dr. Jennifer Ito
A new professor on campus, Dr. Jennifer Ito has recently embarked on her first teaching position at the college level here at Westmont; her expertise and her heart for teaching will inspire the physics students on campus. Ito lived in San Diego throughout her childhood and then went to the University of California, Berkeley for her undergraduate degree in physics and astrophysics. She then attended the University of California, San Diego for her Ph.D. in physics. 
Ito naturally navigated towards physics because when she was younger, she was encouraged to go into science and math related fields. She says, "I appreciated how physics looks at the world differently and that it was challenging. In physics, we tend to define things differently and use a lot of math to do so. It's neat that we are able to describe anything using equations." Before attending UC Berkeley, Ito spent a few years at community college. While there, she was unsure whether she wanted to pursue physics, music or creative writing. Because of the influence of her physics instructors at community college, she decided to pursue physics at a higher level. Ito still writes and plays piano in her free time, and has penned many short stories. 
After receiving her Ph.D., Ito knew that she wanted to emphasize teaching instead of research. Thus, when Ito heard that Westmont had an opening in the physics department, she eagerly applied for the position. Ito explained, "Westmont seemed like a great opportunity and I wanted to try it and see what would happen. I'm happy that I'm here and very thankful."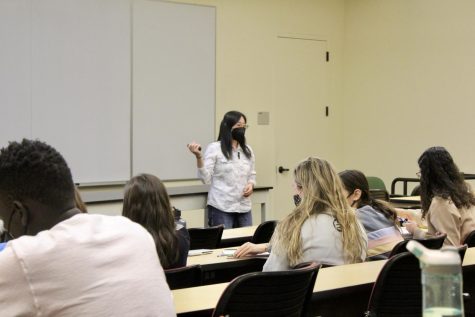 Ito describes her love for teaching by saying, "It's the idea of paying it forward. I had a lot of great math and physics teachers that had a way of saying things that helped me understand. I try to do that for my students. I appreciate those moments when the person I'm teaching gets the concept." Ito aims to provide students with tools that will get them to where they want to be. 
Ito has been at Westmont for only a few months, but she has already observed unique aspects of the school's culture. She says, "Seeing how everyone here cares about people has been really amazing and special. How professors care for students, how the students care for students, and how the students care for the professors makes Westmont very unique. I do also appreciate the opportunity to integrate faith in the classroom. Coming up with creative ways to bring faith into the classroom is also very exciting and freeing."