Westmont: a home that lasts a lifetime
In high school, homecoming is often associated with parades, dances and sporting events to unify the student body. But what does homecoming mean in college? While some festivities similar to those in high school may take place, often a more traditional approach is taken where alumni do return "home."
Westmont's Assistant Professor of Music and Director of Choral Activities, and Westmont alumnus, Daniel Gee considers it a blessing to consider this campus. 
"My experience of Westmont as a student has been complimented, even filled out, by my experience as a faculty [member]. While Westmont has many areas in which we can continue to grow, I've always told people that the integrity of the mission of the college holds up to what I perceived it to be as a student. I continue to be encouraged by the overall commitment and faithfulness of the campus as a whole."
Being a part of the Westmont faculty has allowed Dr. Gee to witness and have an influence as to how Westmont is evolving as a college and community even after his undergraduate years. It has also allowed him to attend more homecoming events than he anticipated. He reflects, "I told myself that I would at least try to attend my 10 year reunion. I'm grateful that working at Westmont [has] allowed me to catch a couple more."
Though Gee finds attending Westmont's homecoming events more accessible as a faculty member, he encourages alumni who live farther away to consider making a trip to Santa Barbara.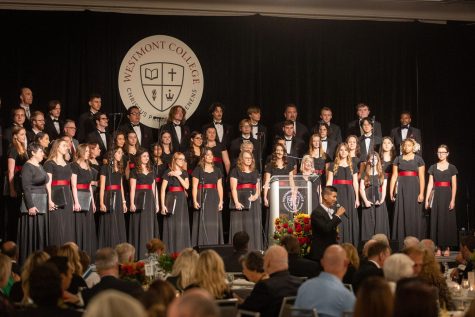 "While I totally get that our lives are full and travel to Santa Barbara isn't always convenient, I do think it's both inspiring and encouraging to return at some point to campus, whether to be reminded of God's faithfulness in what was for many a significant period of their life, or to be reminded of Westmont's mission, and how this might invigorate one's present work and life," Gee says. 
Gee concludes his thoughts by reflecting on the honor he had leading Westmont's current college choir and choir alumni at the 85th Anniversary Gala.
"I think for many alumni hearing the choir perform [was] a reminder and call to worship but also a sign that the college continues to thrive. It was also a joy to lead the entire gala in singing "Great is Thy Faithfulness," knowing that each person, both students and alumni, had a story of God's faithfulness for which they were singing."