Ah-men's gifts of entertainment and community on campus
The Ah-men acapella group has greatly impacted the culture of Westmont with its performances. The club is led by president Braden Chaffin, is a fourth-year chemistry and biology double major and he has been leading the club for a year and a half. 
Chaffin's time with Ah-men began in his freshman year. He received music scholarships when he first came to Westmont because of his dedication to piano. Chaffin says, "I came here thinking I'd be involved in the piano side of things. My history with music is mainly in piano and music theory." 
Because of his affiliation with the music department, Chaffin was required to be a part of an ensemble. So, he joined the choral union where his instructor pointed him towards Ah-men. Chaffin believes that the "non-choral music acapella music" appealed to him and many others in the choral union. 
COVID-19 created many barriers for the club, but that did not stop Chaffin from bonding with the individuals in Ah-men. In his junior year, Chaffin became president of the group. He reflected on his time with the group saying, "I love the group and I wanted to keep it going. The leader my sophomore year, Jared Clark, passed it off to me. First, just in name only, but it became very clear that no one was going to take up. So, the Ah-men would have just disappeared if I hadn't taken it up."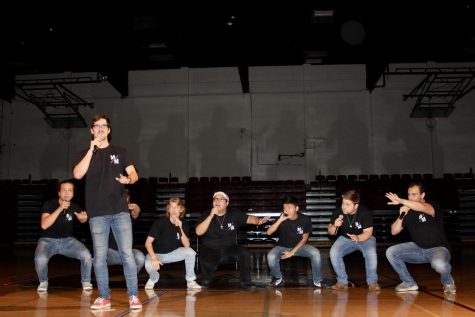 Chaffin is proud of all the work that the Ah-men group does. He says, "I love being able to share my passion for music and the repertoire we do. The Ah-men sits at a unique point for men vocalists because it's the only space on campus where you can be involved in vocals besides chapel worship and besides being directly affiliated with the music department. Guys with less music experience can still experiment and grow vocally." 
Chaffin claims that having an all-men acapella group is special because, "there are a lot of unique arrangements that you can do with men's voices. It's cool hearing the tone and timbre of men's voices in all of those keys. There's a lot of versatility and a place for men to sing in an ensemble." 
The club not only provides a place for men to grow vocally, it also serves Westmont's community. "The Ah-men have been a staple part of Westmont's gatherings for a long time such as Midnight Madness or Spring Sing. We are a source of entertainment and community building. Our performances at preview events also showcase the Westmont community to others" Chaffin says. 
If you want to be a part of the Ah-men group, reach out to Chaffin for more information. The Ah-men will perform again soon at the Christmas concert at the end of the year, don't miss it!