NSTEP takes center stage
Next up to the stage, for all of Westmont to enjoy: NSTEP! Westmont's dance club, led by Gia Versales, Saray Duran, Melanie Salvador, Camila Escalante and Candace An, have diligently created a team of hard workers and lovers of dance. 
Versales, Duran and Salvador are fourth-year students at Westmont, majoring in mechanical engineering, psychology and cellular and molecular biology respectively. Duran is also minoring in ethnic studies. Escalante is a second-year student studying political science, and An is a third-year student currently studying in San Francisco. Each co-leader began dancing when they were young, and each has a unique style of choreographing. 
Starting their second year at Westmont, Versales and Duran became co-leaders of the club. Salvador was invited to lead at the beginning of her third year and Escalante began leading this semester. 
Since they have been at Westmont, there have been several changes in NSTEP. Before the 2021-2022 school year, the COVID-19 pandemic greatly affected how often NSTEP was able to meet and perform. Salvador says, "We built the team from the ground up without having much experience as captains. We tried to get [first years] and [second years] interested in NSTEP because no one really knew what it was because we couldn't perform."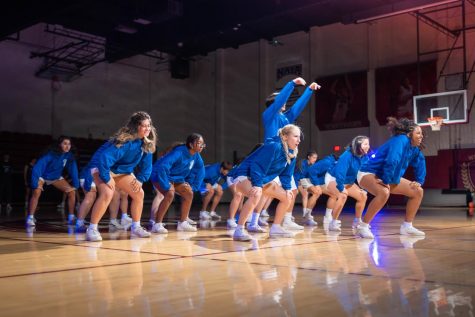 Being a leader of NSTEP post COVID-19 came with many responsibilities and difficulties. "Team dynamics can be difficult. Of course the technique skill is important, but we're also looking at personality to see how you can function in a group setting," Duran says. Choosing the students who get into the club and leading the audition process can also be a struggle. Salvador says, "It's not easy to get on NSTEP. We try to maintain a high standard, but we also want people to be on the team to be excited to be there."
The leaders share that what makes the group work so fluently is that all the leaders trust each other and are all working towards the same goal. "We are one of the most diverse student groups outside of [Intercultural Programs]. And it's really cool to have a space for our team to feel supported, but also to reflect that [diversity] out to the student body," Salvador says.
Another main goal of NSTEP is to bring Westmont together. Escalante says, "Dancing and music can't divide people. Anyone can enjoy music, it's the most diverse thing. We want to convey our joy of dance to our audience and bring people together to enjoy it." In regards to both performing and practices, Versales says, "We want to show everyone that we're good at what we love. For a lot of us it's a place to de-stress and take a break. Having that space to release and dance and be with people you care about is very rewarding."
On Nov. 18, NSTEP is hosting a Dance Night at 7 p.m. in the dance studio. Come support the club and de-stress with your friends!