Westmont Alum ministers to Ukrainian students
Online schooling to avoid gathering in unsafe spaces. Frequent missile threats interrupting lessons. These are daily realities for one Westmont alum and his students. Residing in Kyiv, Ukraine, Matt Smith is a member of the Westmont Class of 2000 and one of the few American teachers who persisted during the Russian invasion.
Smith teaches English and math at the Study Academy in Kyiv. His students, ranging in age from 9 to 16, continue to pursue learning amidst upended lives and imminent danger. For Smith, the decision to remain in Ukraine rested largely on the importance of ministering to students.
"You're constantly trying to serve [the students] well and influence their lives, but now it's even more deliberate because you feel like a candle in a dark place," Smith commented. Even though he has experienced hardship through moving homes many times, deciding whether or not to stay in Ukraine and trying to keep his family together, Smith believes that it's easier to grow in your faith when life is hard.
Ukraine's population identifies predominantly as Orthodox Christian, but Smith has found religion to be "largely irrelevant" in the lives of those he's met. As a result, Smith sees this landscape as an opportunity to show the love of Christ to others in large or small ways. "You do what you can to make it obvious that you are a believer and try to allow God to work through your life by how you interact with students, your attitude, the way you're able to serve others," Smith acknowledged.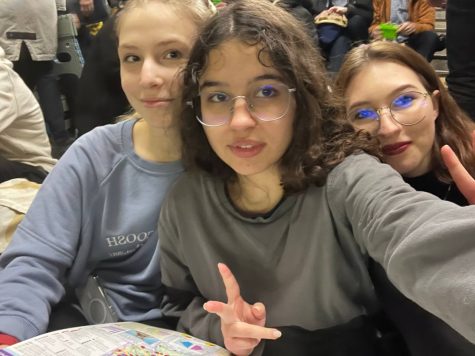 The Russian invasion of Ukraine has tested both Smith and his students' mindsets. Frequent interruptions and financial crises among schools in Kyiv could discourage Smith's students at the Study Academy, yet they remain strong. "[The students] are separated from their families, we're doing classes in bunkers … They're resilient," Smith commented.
Smith's students continue with their lives, trying to focus on school and safety rather than falling into paranoia. One 15 year old student, Dasha Volokha, observed, "[School is] a distraction from what's happening right now. That's a good thing because I don't spend a lot of time on my phone checking the news because I'm spending time with people." Dasha enjoys learning math in particular, so school allows her to focus on her interests.
Another student, Varvara Vasylchenko, expressed that her schooling is essential, not just for her personal growth but for the future of Ukraine. "Education is really important, especially during war, because after [the] war we will have the country [back] and will have to develop it. I really want to return to Ukraine after my education and make life here better."
Smith sees his students' continued efforts as a mark of strength amidst chaos. "You look at the students and they seem so calm about everything, but you know that all that stress is still there," Smith observed. "You would never notice that they're going through a war right now, but they are."
For some students, their resilience is not a show of individual strength but a reminder of their people's violent heritage. Vasylchenko recalls how her country's struggle for freedom is innate within Ukrainians, saying, "We've been under Russian occupation for the last 600 years … We have always wanted our freedom." 
Nikol Fedosyeyeva feels similarly. "The feeling of hope here goes way back. It's in our spirit and our bloodline to defend our land and our identity like this," she commented. "Throughout our entire history we have been starved, under oppression, had our language restricted, [experienced] mass shootings [and] corrupted governments. Ukrainians don't have a peaceful decade in their history."
The students' attitudes reflect both a history of oppression and experiences of war in recent years that the Western perspective may neglect. Russian attacks since February are not an isolated act of aggression, but the continuation of a war that has been waged since 2014. According to Fedosyeyeva, the anger of Ukrainians like herself who are from the Donbas region, which was originally invaded by Russia, is now being felt everywhere. What Fedosyeyeva describes as "missile attacks all over the country" signal the inescapability of the realities of war for all of Ukraine.
Yet, these students find solace in each other, in their culture and in supporting the war effort as much as they can. As long as he resides in Kyiv, Smith will continue to offer a place for students to process and, hopefully, spread the love of Christ. He tries to "give [his students] hope, give them encouragement, and do what you can to be a positive influence in their life."
Smith and his students share the conviction that the outside world must care about Ukraine. When asked about misconceptions of the war, Smith offered an alternative way of thinking: "I don't know much about how Ukraine is being portrayed in American media, but ultimately the question [for Americans] is 'Why should we care?'"
The students had the opportunity to respond to this question in their interviews. Volokha observed with an air of sadness, "A lot of people are dead. They kill a lot of kids … War is so bad and we want to avoid situations like this. There needs to be peace in the world." For Vasylchenko, "If Russia won't be stopped by other countries, it certainly won't be stopped by itself. If we don't come together to stop Russia, [the war] won't end. We really need help."
This message from the students in Ukraine rings clearly: countries with the resources to help must do so. These students offer hope born out of tribulation — hope of the youth of a growing country. Hope that after the war, their country will rebuild its infrastructure and unite in the aspiration to become an autonomous nation whose economy and government reflect the strength of their heritage.
If you would like to contribute to the cause in Ukraine, please donate below:
https://www.defendukraine.org/donate