Men's basketball improves to 5-0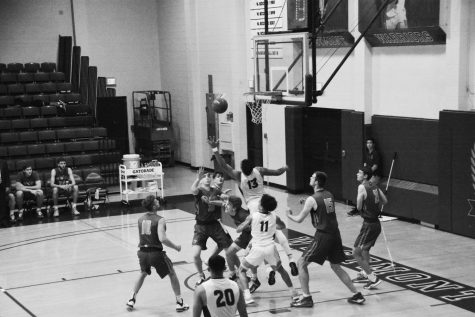 They had a simple game plan: pressure on defense, and work the inside-outside on offense. Relatively straightforward and well-executed were the tactics of the Westmont Warriors men's basketball team when they faced-off against the Pomona-Pitzer Sagehens on Saturday night. The Warriors put their 4-0 record on the line and the first-half showed that 5-0 would be easily had, or so they thought.
Jared Brown hit a three to get the game rolling for Westmont. The Warriors were up 17-3 before the Sagehens had to call a timeout. Eventually, Pomona-Pitzer's shooters found their rhythm as their ball movement tamed Westmont's dogged defense. Still, that did not deter the Warriors from pressuring the full-court.
A Hulsebosch layup put Westmont up by 19 with less than seven minutes left in the first-half, their largest lead of the game. Near the end of the half, Brown sunk a mid-range jumper to give Westmont a 42-28 lead. Pomona-Pitzer would later hit a free-throw to make it 42-29, but the Warriors ended the half with a comfortable lead.
To begin the second-half, the Sagehens made a layup to close the gap to 11, but Brown answered with a three off a Hunter Sipe pass. On the next Warrior possession, Cade Roth found an open Bessard, whose dunk sent the crowd roaring. Scoring evened out after that as both teams worked the inside and outside game well.
Sipe hit a jumper with less than 12 minutes to play, giving Westmont a 60-48 cushion. However, Westmont's offense went cold and almost had a four-minute scoring drought, which allowed the Sagehens to play some zone-defense and claw their way back into the game. With the score now at 60-57, Hulsebosch's 3-pointer sprayed off the rim, but Roth grabbed an important offensive rebound and hit a nine-footer to re-energize the Warriors.
Roth's bucket was a part of seven unanswered points for Westmont, which helped the Warriors reel back the momentum. With seven minutes left, Brown's layup put Westmont back up by 12. As the final leg of the game approached, the Warriors began feeding the inside and letting Bessard take over. He dominated down low and the Sagehens could not stop him.
The Sagehens began playing the fouling game, but Hulsebosch and Brown made all their free-throws down the stretch, sealing the victory for Westmont 84-76. The Warriors scored half of their points inside the paint and forced 15 turnovers, as they executed their game plan well. Bessard led all scorers with 27 points and grabbed six boards. Brown scored 23 points and tallied seven rebounds.
The Warriors, now 5-0 on the season, will return to Murchison Gymnasium this Friday at 8:00 p.m. when they play the University of Maine Fort Kent.