Crowning the champs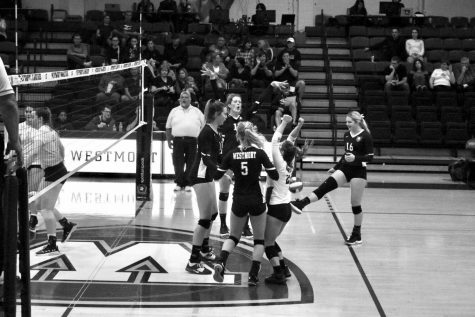 Westmont volleyball does it again! After attaining the title of co-regular season champions with Menlo during the regular season for the Golden State Athletic Conference (GSAC), the Warriors won the GSAC Tournament Championship this past weekend.
In the semifinals, the Warriors defeated the Vanguard Lions in five sets, and then a couple hours later defeated Menlo outright in three straight sets. No questions asked, the Warriors came to play this past weekend.
"It was such a sweet feeling," junior Brooklyn Cheney said. "It was what my whole team was practicing for, for the whole week. To win and sweep in three was so good, especially because we were giving it all we had."
Cheney is part of the very strong junior class that Westmont Volleyball has to offer, including Lauren Friis, Hali Galloway, Patty Kerman, and Madison Morrison. Cheney was named to the All-GSAC team along with senior Cassidy Rea and freshman Keelyn Kistner.
Rea, reflecting on this past weekend, said, "I was actually more nervous playing Vanguard than Menlo. Vanguard is a dangerous team with some hard hitters. They won libero of the year and freshman of the year. I was actually really emotional because that game could have been my last. I didn't think it would be, because I knew that we were really fired up and ready to go. But as a senior in the postseason, you never know what will be your last few points. I think the Vanguard game really gave us the confidence to go out and destroy Menlo."
Rea led the Warriors against Vanguard with 14 kills and 13 kills against Menlo. But what is a hitter without her setter? Keeyln Kistner has been a steadfast presence for the Westmont volleyball team this season. Coming in as a first-year setter can be intimidating, but through consistent float serves and amazing sets, Kistner has a bright future in Westmont volleyball.
"It has been an amazing experience," Kistner said. "I feel so privileged to be a part of this amazing team and even to to be a starter as a freshman is super cool. This past weekend was so much fun and super stressful at the same time because we all had the same goal of winning the tournament.
With a huge crowd on the opposing team, we all had to keep our composure, and I had to lead the court while staying calm and collected. In the end, we all played with quiet confidence and ended up with a trophy, and that was truly a moment I will never forget!"
Rea said, "I was super proud of how well we played. We finally stepped up to the level we had been shooting for. And the victory is even sweeter because we all really care about each other on and off the court. We have been growing together all season and it really showed. I was just really happy and proud."
The Warriors earned an automatic berth into the NAIA National Tournament and the team will host Point University (Georgia) on Saturday at 2:00 p.m. The winner will advance to the NAIA Final Site in Sioux City, Iowa.