Abroad and back again
Music major Eve Reiner explores beyond the stage.
Eve Reiner straightens on the bench beside her bunk, animated as she speaks: "There's just like this itch that I have in the small of my back and I always connect that to art and what I think is good or true art," she reaches behind to the center of her back.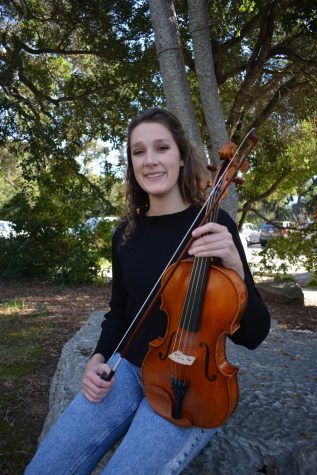 "If I hear a song or I see a painting and I feel like this itch and it feels like I'm being suspended from the sky," she pauses. "It's so hard to put into words how I feel about this, 'cause I feel like I'm being suspended from above. Like this transcendent world of art."
As a senior music major and president of the Westmont Orchestra, Eve's time at Westmont has rarely been limited to a practice room. Throughout the past four years, Eve has sought to see the world through music, art, and travel. She thinks deeply, speaks when she's processed independently, but is thrilled by opportunities to discuss film, music or other mediums.
Music entered Eve's life seemingly on a whim: "We moved to Texas and we hadn't even started school yet. My mom and dad were driving to Arlington and they were like: 'by the way, we're headed to a music store. This year you're going to play either violin, viola, or cello, but you get to choose.' So I chose viola. I was seven." Little did she realize that year's focus would develop into a lifelong appreciation of art.
As a home-schooled middle and high school student, music was her source of community. After a brief hiatus from viola in the seventh grade, she continued playing cello with chamber groups and singing in her church's praise band. "Being home-schooled, that was the only time I saw people and that was my social life and it just felt like not a task I added to my schedule."
At Westmont, Eve focused on viola and singing with the Westmont Jazz Ensemble. Last semester she performed an arrangement of Radiohead's "Creep" with the band. "The emotions attached to the music, they're easier to feel," Eve explains when asked about her selection of 'darker' songs to sing. "It feels more genuine. I'm not a optimist. I'm not really a pessimist. I'm more of a realist. The songs that hit closer to home of like something I've experienced just emotionally or just actually events of my life, I feel like that's more of the subjects that I can portray in the emotions of the song."
Whether singing sultry jazz tunes or playing with the Westmont Orchestra viola section, performance isn't what drives Eve to invest in music and other creative endeavors. Rather, Eve is attracted to the community cultivated by music.
Last spring Eve traveled apart from her music community on the Westmont in Jerusalem semester. "It was the most challenging academically for me. I'd never been struggling so much in schoolwork before," Eve recalls as the only music major on a semester focused on political science and religious studies. "I came out more appreciative of history and the time it takes to study it."
Despite the challenge of putting her instrument somewhat aside for a semester to study abroad, Eve has recognizes her expanded community and a new perspective upon reentry. She advises: "For reentry, my advice would be don't be shy … but really take the initiative to find people who want to listen because telling those stories and having those experiences is only so much if you keep it to yourself. It becomes so much more if you share it with other people."