A portrait of an aspiring publisher
Phoenix co-editor Bailey Baker reflects on her time at Westmont
Jada Fox, Students Editor
January 29, 2020
Bailey Baker did not start at Westmont planning to graduate in three years. Despite the unexpected brevity, Bailey has not let a single moment go to waste as she approaches graduation this May.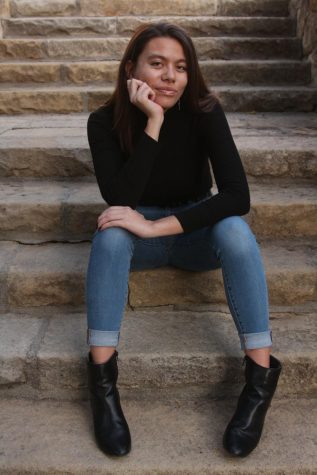 "I wanted to be an English major since I was a freshman in high school. I have never loved another subject the way I love English," Bailey smiles over her No. 2 Pascal breakfast burrito. "My English classes were really cool. Since I was a sophomore, I have [known] what I wanted to do in my career or the area I wanted to go into was publishing and editing."
Bailey decided to attend Westmont after visiting during an admitted students weekend, but also with the intention of traveling with the Westmont in England study abroad program. Fall 2018, Bailey flew to the United Kingdom for the first time both independently and out of the country, as she recalls, "I was like four classes of English, that's literally my dream, reading all the time. But it was a lot." She pauses, "But it was so enjoyable and being surrounded by people who were passionate about the same thing, and who liked reading, and being in those locations made those hard classes more manageable and more exciting."
While visiting Dublin, Ireland, Bailey stumbled across the homeplace of her favorite author: Oscar Wilde. Bailey describes the experience: "Seeing the places where my favorite author was living and breathing, and like where he went to school, where he grew up … that's how embedded into the culture he is." Prior to Westmont, studying the works of Oscar Wilde inspired Bailey to pursue studying literature and exploring identity.
Since returning to campus, Bailey has been in a whirlwind of projects, publications, self-reflection as she switched gears to graduate two semesters earlier than once planned. However, after her time abroad and participating in on-campus conversations through MESA and ICP, Bailey found herself ready to test the waters of publishing and understand her own identity as the co-editor of The Phoenix.
"I really want to do a thing about identity and keeping it broad, but enough so people can use that as a place to talk about their culture and race and ethnicity as well as anything else that forms their identity," Bailey states. "I have been really exploring my own identity in the past year. Racially, my faith, I've been really trying to figure out who I am. I think that's a really important thing to celebrate. I think there should be more spaces for people to think that through in a positive and supporting way."
As Bailey and her co-editor Paul Wuest prepare to review submissions for this edition of the Phoenix, Bailey is also investing much of her focus into her English major senior Capstone project. "I'm working on a piece about Asian-American women writers right now for my Capstone," Bailey describes. "That's part of exploring my own identity. I've been really excited about that trying to explore representation for Asian-American women and stereotypes and how they're fighting against that."