New Year's Resolutions For Every College Student
Jalin Coert, Lifestyle coach, very professional MFT, and all-purpose guru
January 22, 2020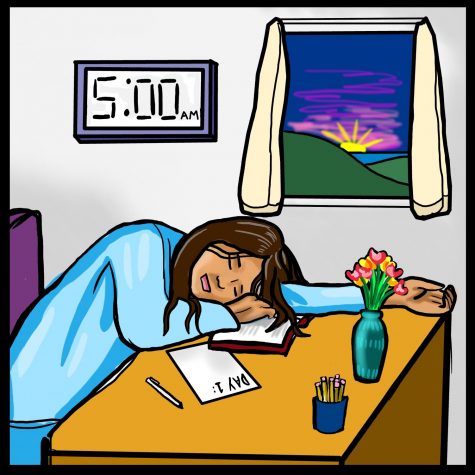 (Ransom Bergen)
Hello Westmont, and welcome to the new year of 2020. I, your very qualified lifestyle coach and go-to counselor for any and every issue, am here to advise you on what sort of New Year's resolutions are right for a proper Westmont student. 
No. 1. Wake up early
Waking up at 1 a.m. has proven to result in higher serotonin levels, more efficient brain power, and overall improvement in gut health. If you've recently noticed that you haven't had enough time to journal out your day plans, errands, workouts, and morning meditations in perfect calligraphy whilst enjoying a homegrown herbal concoction sure to make your hair grow longer, then you should dedicate yourself to a morning routine that starts no later than 3 p.m.
No. 2. Read more. 
If you've been noticing a decrease in reading comprehension, studies have shown that locking yourself in the library overnight can raise overall senses of anxiety and panic which can be used as a simulation of the stress that comes with finals week. This stress can motivate you to care less about sleeping or eating, which, in turn, creates more time for you to read!
No. 3. Eat healthier. 
Westmont's Dining Commons is listed in Forbes' "Top 10 Healthiest Dining Locations Within a Five Mile Radius of Cold Springs Road." So, if you've been feeling a little bloated from daily breakfast burritos, just know that there are healthier alternatives within 10 feet of Pascual's iconic breakfast bundles of joy. There is no shortage of salad bar combinations you can create that will leave you feeling healthy, slim, trim, and certainly a little sad. 
I hope these three brand-spanking-new resolutions help you grow as both a Westmont student and normal person who is ready and able to take on the rest of 2020!