"It all started with a used hotdog cart … "
It seems to be a rite of passage as a Westmont College Student to eat a Dave's Dogs hotdog, whether it's at a school event such as homecoming or movie night on the lawn, or just a late night food run. Dave's Dogs is definitely part of the Westmont experience. But how did these amazing and creative hot dogs start? One would be surprised to know that it all started with a used hot dog cart bought from someone on Craigslist. In a recent interview, Dave Reynoso tells his inspiring story of how he chose to follow his dreams. 
Born and raised in Santa Barbara, Dave grew up loving hotdogs. He specifically remembers at the age of eight going to a hot dog stand in Carpinteria with his dad. He "loved the concept of carts specifically." But then, life went on,  Dave grew up and had a dream corporate office job with health benefits and a 401K and all. Until one day, "I was sitting in my office and I just remember hating my job every single day — it just wasn't who I was." In that moment, Dave thought to himself, "This is not what I want to do." He quit his job and took out money from his 401K with a dream in mind to sell hot dogs on the street. Dave admits, "My Dad, my family, everybody thought I was crazy." But Dave followed his dream. 
When asked about his first cart, Dave's face seemed to light up at the opportunity to share about it. "I saw an ad on Craigslist that said 'semi-used hotdog cart' for a really good price and the photos looking like it was in good condition." He paused in the middle of the story to quickly explain that it's actually very common to find hot dog stand in pretty good condition for sale because its "It's an American dream to sell hotdogs, you would be surprised how many people try it and buy these expensive carts, use them for two or three nights and realize how much work it really is and then just abandon them." 
This information just goes to prove how passionate Dave was about this dream of his, and also how determined. For him, this was not an impulsive decision. He would follow through. He contacted the person on Craigslist and went to scope out this potential stand. Dave describes the moment the guy selling his cart opened his garage door for him to see as the defining moment that he knew he was serious about this. He explains, "I drove out there, and I remember the garage opening and seeing it and I just knew that this is where it is either I buy it or I walk away from it and at that point I was all in so I purchased the cart and I hauled it back to Santa Barbara from Los Angeles. I just remember driving back and looking in my rear view mirror and this cart meant so much to me and I just bought this thing, I literally just spent my savings on this, so what do I do now?"
Five years later, Dave has multiple carts, as well as two restaurant locations. But of course he still keeps that first cart, only for special occasions. However, he is still dreaming with that first cart in mind, "My ultimate goal for that cart is if I ever get a restaurant that's big enough, I want to showcase it in the restaurant tucked in a corner with a spot light on it, that cart changed my life." His ideas and creativity do not seem to stop, every month he creates a new hot dog and releases it on his social media as a "secret menu," so there is always something new you can try. Dave is just getting started, but he will never forget that first cart.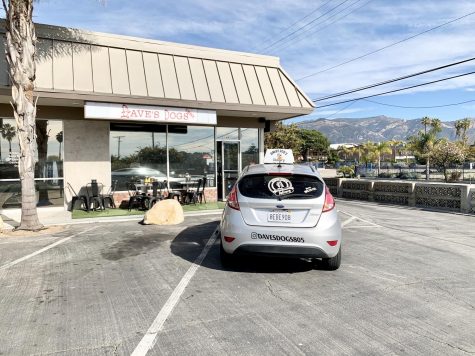 Today, when asked "Who is Dave?" he responds, "A person that believes anything is possible and you can pursue goals if you work hard on them. I am just a regular local guy trying to do something for my city." This is definitely evident in not only his business style and motto, but in the atmosphere of his restaurants. Dave's Dogs today is a community spot that everyone in Santa Barbara can be a part of and take pride in. Be sure to check out the secret menu and try something new at Dave's Dogs!