Beyond labels
RA Alesha Bond talks identity and expectations.
Jada Fox, Students Editor
February 11, 2020
For senior sociology major and second time RA Alesha Bond, her time at Westmont has been full of paths she never anticipated she'd follow. Now in her senior year, Alesha has striven to step into her own identity.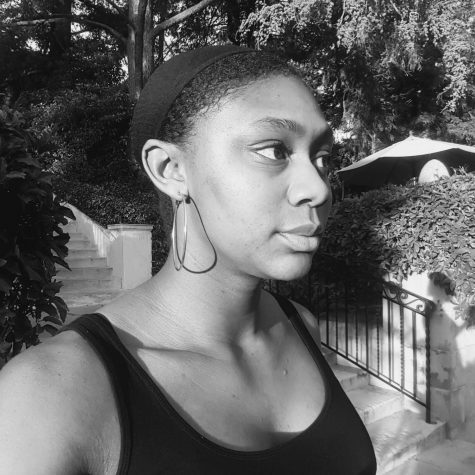 Before Westmont, Alesha applied exclusively to state schools. After a gentle prompting from her mother towards Californian Christian colleges, Alesha initially decided to attend Vanguard University. It wasn't until another push from her mom to visit Westmont that Alesha did so and fell in love with the school. Initially, she committed to jump for the track and field team and major in history.
However, soon after she arrived, Alesha realized her unique and valuable perspective as a student of color on a predominantly white campus. During a one-on-one meeting, a Westmont faculty member directly asked her about her experience as an African-American student, which subsequently ignited a process of learning about her own identity:
"I had started to take notice of the demographic because for me personally I had already grown up in predominantly white spaces so it wasn't that big of a deal, but Westmont was definitely the most white I'd ever been in. I still hadn't figured out how to process that. I thought at that time since I'd been in those spaces I hadn't been really good at talking about race and wanting to be an active participant in talking about race, and my black identity."
Within a new predominatley-white demographic community, Alesha was called to reevaluate her perspective and identity. She recalls her first reaction to the conversation:
"Aren't I just a person? I don't see the color, so why does it matter?" Growing up, Alesha did not frequently speak or learn about race as a factor in her predominantly white community and high school. As she describes that interaction of being directly questioned about her experience in a predominantly white college, "It kind of like, it didn't shatter a glass ceiling, but it definitely made a visible crack."
It wasn't until Alesha joined ICP she was given context for her experiences both prior and at Westmont. Alesha reflects on her growing understanding of microaggressions: "Things that happen in high school you don't think will happen in college. As I'm looking back at my high school career, I definitely experienced microaggressions in high school, I just wasn't very like aware of them. It was just little things like that where I was like, wait what? I thought I was being treated different for no reason. I didn't know at the time it was a microaggression."
Alesha continues reflecting on Westmont's as an environment for people of color: "I really like Westmont, but at the same time, I don't know if Westmont can really be a safe space for people of color or any other marginalized community. They're just not really in that place."
As she approached her junior year, Alesha decided to apply for Residence Life as an RA: "I thought how cool that was and I just want to pour into other people and I just thought that's a really great way to do it. I decided to go into Res Life and when I got it I was so excited."
Alesha recalls that while moving in her father pointed out she was the only person of color on the VK staff that year. While her excitement wasn't quenched, Alesha was acutely aware of her own perception as such in a position of authority. Ultimately, with the Residence Life staff, Alesha found much needed support for her own growth: "It allowed me the space to grow on my own racial identity, to have the space to grow on my own."
Now in her second year as an RA, this year in Page, Alesha has continued her trajectory of growth. One main turning point was her decision to switch from a history and political science track to sociology. The decision encompassed much more than simply a change in class schedule. Firstly, sociology placed her peceptions in context: "That was a shifting moment of taking sociology classes. We were more attuned to these issues, [which] are rooted in inequality."
Secondly, sociology reflected Alesha in becoming more of her own person. "It was one of those instances where I was like, I have to just do it with the understanding that there might be consequences. … building the foundation of my own person from what my parents want and what other people want. Throughout my childhood, I'm still trying to work through it, but it's taken a long time. … They were making me into who they wanted me to be or who they thought I should be, like I'm not who they expected me to be, although that doesn't make me any less loveable."