Increased local and on-campus focus on human trafficking
January was Human Trafficking Awareness Month, and in response, members of the Westmont and greater Santa Barbara communities have sought to bring awareness to an issue that is much bigger than many people realize.
Human trafficking is a form of modern-day slavery and one of the world's fastest-growing criminal enterprises. The $150 billion industry is low risk but has the potential for incredibly high profits — so high that it is predicted to surpass the drug trade within five years. According to the International Labor Organization, at any time, there are more than 24.9 million victims of the industry worldwide. Most of these victims are children and young women. In America, the average age of victims is 11 years old.
The National Human Trafficking Resource Center (NHTRC) reported in 2019 that approximately 979,000 cases of human trafficking exist in California, making it the most-trafficked state in the country. The District Attorney's office states that Santa Barbara County's location on the central coast has made it a natural corridor for trafficking, due to major metropolitan areas to the north and the south. In addition, tourism, transient populations, and migrant workers make Santa Barbara a highly vulnerable location for human trafficking. 
Within the last three years, there have been 119 cases opened in Santa Barbara County, compared to only seven the previous three years. While these numbers certainly point to a growing industry, they also point to increased awareness and action within the community. In
November 2019, the county was awarded over $1.5 million in grant money from the U.S. Department of Justice to fight trafficking. $900,000 went to the Santa Barbara County Sheriff's Office to fund a full-time human trafficking detective, while $675,000 went to the DA's office for prevention and prosecution efforts.
Westmont has also recently sought to bring greater awareness to this issue. Alan Smyth, executive director of Saving Innocence, spoke in chapel on Feb. 14. Saving Innocence is a Los Angeles-based nonprofit that works to end human trafficking in Southern California and nationwide. In his chapel talk, Smyth spoke of human trafficking as something that we should work to end, not just simply reduce. He urged Westmont students "to rise up, to stand up, and go do something, and help end this."
Jeff Shaffer, the Director of Initiatives for the Santa Barbara Alliance for Community Transformation (SB ACT) has also sought to help the Westmont community stand up to this issue. SB ACT is part of the Human Trafficking Task Force, and "works to help with county-wide education and developing a sustainable plan for housing for survivors." The organization also recently created a Trafficking Action Group (TAG) to create a plan for survivor services. Shaffer, who currently partners with Urban Initiative and Bread of Life, has plans to start a club at Westmont to support survivors of human trafficking. Recognizing the role that Westmont could play in fighting this issue, he says that "We hope to get students involved in meeting the immediate needs of survivors."
About the Writer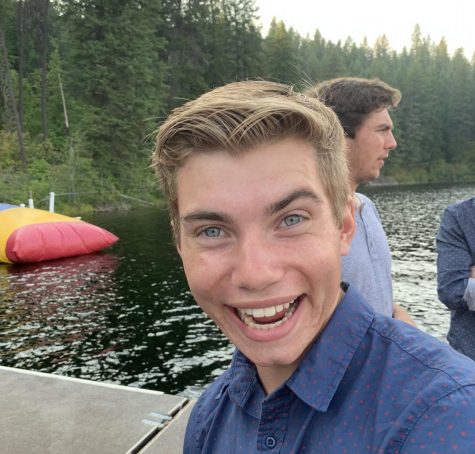 Caleb Marll, News Editor
Caleb is a sophomore Religious Studies major. He enjoys a good cup of coffee and longs for the day when the Seattle Mariners make the playoffs.