The other half
RA Andres Quiros reflects on building community at Westmont.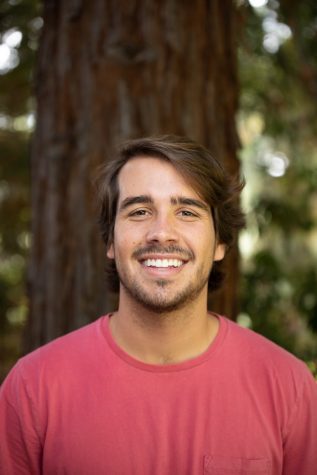 For senior RA and economics and business major Andres Quiros, Westmont was a dream that God made his reality. Throughout the past four years, Andres has grown in his relationship with God and the Westmont community as an athlete, RA, and Potter's Clay leader.
"My grandparents were supporting a political party back home [in Costa Rica]," Andres recounts. "The other position won so they had to flee the country. When they fled they came here to California because they had family here. So my father was born here, which means that he is an American citizen, although he's Costa Rican, he has an American passport." Andres explains he earned his own American passport at around age 12.
Andres recalls first hearing about Westmont from a family friend around eight years ago just after his junior year of high school, then dreaming of attending college in the States: "I had a dream of coming to college in the States. It was a dream, not a reality because I could not afford college in the States … I didn't have the money to be here and that was my reality. I still had that dream so if I wanted to fulfill that dream, I needed to add an academic and an athletic scholarship together. So I started working harder and picked up all of my grades and I joined the soccer club and I started playing soccer every single day."
The transition to attending Westmont and living in the United States apart from his family challenged Andres socially and culturally. "It was the first time in my life where I left home where I lived in a place that spoke a different language, where the culture was different," Andres remembers. "So in comparison to other students, the academics weren't the hardest part. The hardest part was making friends."
"I couldn't formulate proper sentences. I started to tell stories and I couldn't finish my stories 'cause I didn't know how to end them because I didn't have the right words to say or I couldn't complete sentences. I was able to pass an accounting test. I was able to pass a New Testament test, but when it came to making friends that was the hardest part."
While soccer provided an easier environment to find community through shared activity in practice, games, and travel, Andres is able to see how far he's come in his language capacity since freshman year. "It took me time to adapt. At the start I was translating everything people told me into Spanish and then taking it in, then formulating a response in Spanish, then translat[ing] it into English, then say it to somebody. So it took me a while, but now I can think in English and it's easier for me to make friends. There was a whole learning curve of humor of how people interact with each other and how you become friends with people."
Two experiences shaped Andres' connection and experience at Westmont. First was joining other Westmont students on a mission trip to the southernmost part of Costa Rica. While there, Andres recalls, "I experienced radical Christianity for the first time. I've read it in the Bible and I know it's true, but I've never seen people speak in tongues or I've never heard people speak in tongues or people prophesy over me or seen the casting out of demons. I was able to experience all of that while I was down there, while I was building friendships, while I was getting to know the best friends and most incredible people I've met."
Beginning his sophomore year, Andres has led a Potter's Clay team. His first year was his first trip to Mexico, as well as his first time leading a group of people. Now reflecting on the past three years with Potter's Clay, Andres has formed strong friendships with the team and consistent relationships with pastors, families, and kids from Ensenada.
As questions arise about the intention and productivity of short-term missions work through Potter's Clay, Andres never doubted the impact of Westmont's visits to Ensenada. Through speaking Spanish, Andres received firsthand feedback from pastors he'd maintained relationships with during the past few years: "One of them, the church is being renovated and Westmont is doubling the size for them. So that's a huge blessing. The second church, the pastor's married and they have two kids and I didn't know that, but they've been living inside the church for the past years and Westmont students are building them a home."
"My response to the questions I've had about short-term missionary work is consistency, if you are consistent during short-term missionary work, you will see the fruit of what God's doing during our time down there. If I [hadn't] consistently gone, if I had said no to going this year, I wouldn't have seen the impact on all of those pastors' and churches' lives. I would've missed it."
As his time at Westmont comes to a close, Andres attributes many of his opportunities to God's provision in his life, including his role as a RA and his internship turned post-grad job as a business development representative with Santa Barbara-based company ProCore in their Latin American department. This year as a RA in VK, Andres has been able not only to afford to attend Westmont, but invest in and foster the community he has grown so fond of.
When asked about where he considers home while attending Westmont and having family in Costa Rica, Andres comments: "I don't think that's the case now 'cause I can call Santa Barbara home. And that's because of Westmont, that's because of the community that I have here. The friends I've been able to make, the lifelong friendships that have been created at Westmont but just being able to call Santa Barbara home. I have two homes, absolutely. Costa Rica has half of my heart and Santa Barbara has the other half."