Westmont's Urban Initiative 2020
Over the week of spring break, hundreds of students participated in immersion experiences with Potter's Clay and Urban Initiative, learning and serving alongside five communities across the country and in Mexico. Potter's Clay took a large group of students to Ensenada, Mexico, where they played games, ran a mobile salon, led VBS, and did construction work alongside local partners in the community. Urban Initiative led "Spring Break in the City," taking teams to Chicago, Salt Lake City, Los Angeles, and into Santa Barbara, where they learned about urban issues and engagement.
Both ministries centered their mission around the theme of Micah 6:8, which says, "He has shown you, O mortal, what is good. And what does the Lord require of you? To act justly and to love mercy and to walk humbly with your God." For Potter's Clay, the emphasis was on 'walking humbly.' Kaylee Hicks, this year's Publicity and Salon Manager, spoke about how the theme was chosen. "[The] Core Team talked about how humility is the foundation upon which we can act justly and love mercy. We can't fight for justice or love people mercifully if we live our lives controlled by pride, thinking that we are the ones who determine what is just and what is merciful." In light of this, Hicks said her team worked on "being willing to ask questions, accepting hospitality and help, and speaking Spanish as best we could without fearing failure." The mobile salon team gave haircuts, painted nails, and shared stories with new friends. "We laughed together, cried together, worked together, and learned together," Hicks said.
Kayla Petersen, student director of Urban Initiative, led the trip to Chicago. She spoke about their time encountering the South Side and the neighborhood of Woodlawn, where racial segregation and redlining has occurred for decades. "Deeper understanding of cities comes by simply looking around, noticing what you notice, and asking questions," Petersen said.
Urban Initiative in Santa Barbara included themes of homelessness and poverty, human trafficking, and collaboration with non-profit and government organizations in the city. The Los Angeles team encountered homelessness on Skid Row, learned about opportunities for former gang members at Homeboy Industries, and met with the District Attorney of Los Angeles County, all while experiencing the many different cultures and neighborhoods within the city.
Winston Gee led the trip to Salt Lake City, which emphasized interfaith dialogue with college students in the community of Latter-day Saints (commonly known as Mormons). "I was really impressed by the humility our team expressed in genuinely and generously listening to understand each new friend, asking questions without presuming answers," Gee said. "This is so important because [only] through this expression of love can corrections in truth be received."
Challenges arose Thursday, as news came that students would not be returning to campus for classes the following week. "It was hard to remain faithful to the last few days of our time in Chicago because we were trying to understand the extent of the changes to our lives," recalled Petersen.
Hicks said that in spite of the news, "everyone was supportive, and we each got a chance to take a break and process how we were feeling." She said that remembering the trip's theme helped. "We learned to humbly accept that we are not in control, that we don't always know best, and that God is always working, even in the midst of confusion."
For Petersen, participating in Urban Initiative and Potter's Clay trips have the power to change one's perspective on their own cities and neighborhoods. "Spring [b]reak trips are an opportunity to bear witness to the work of people living in a variety of communities, from those practicing faithful presence in the justice system in LA, to those organizing interfaith conversations in SLC, to pastors and church members in Ensenada," she said. "Bearing witness allows us to lament pain with others and to celebrate in their hope, too. People are doing really important work wherever we go, so it's powerful to see and join it."
Gee added, "It is a special time to be with new and old Westmont friends, unified in dependence on God while learning from and caring for people who we may not otherwise interact with. It is an opportunity to see what the things we learn in classes actually mean for our lives."
About the Writer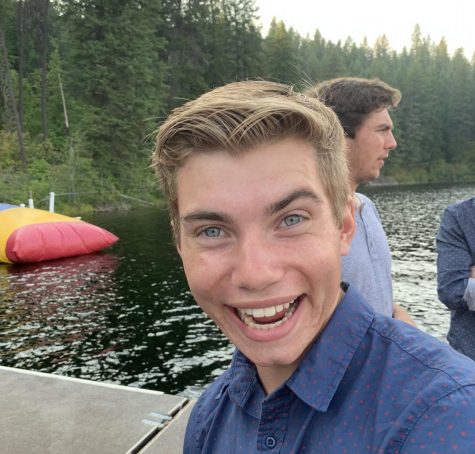 Caleb Marll, News Editor
Caleb is a sophomore Religious Studies major. He enjoys a good cup of coffee and longs for the day when the Seattle Mariners make the playoffs.