Continue the good work
UI Director Kayla Petersen deliberates crucial conversations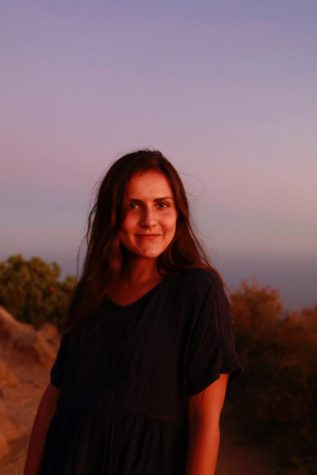 "I like intensity," senior social science major and Urban Initiative Director Kayla Petersen laughs. Over her past four years at Westmont, Kayla has not been one to shy away from challenging conversations and work. For Kayla, those conversations have been fundamental for understanding the tensions of justice work at Westmont and beyond.
The social sciences provided an avenue into the difficult conversations Kayla desired: "I think that the social science major is a way of articulating all the different tensions that we live in. We have economic, social, and political concerns that we live in and as we move in society to make just and equitable systems. As we move to create communities that benefit all of us, we have to weigh and hold in tension economics and social concerns."
Urban Initiative has been integral to Kayla's involvement on campus since her freshman year. After serving on the UI core team her sophomore year, Kayla spent her junior year off-campus with Westmont Downtown (fall 2018) and Westmont in Jerusalem (spring 2019). Her time off-campus encouraged her to return and lead UI for her final year at Westmont.
"Downtown invited us to see the city in its complexity and its pains and its problems," Kayla recalls. "[Jerusalem] taught me a lot about reconciliation in the world. The organizations that were promoting reconciliation work when it just didn't seem to make any sense at all [are] the Kingdom on Earth, because you should not want to reconcile with people that are different [from] you. Somehow we do and say we refuse to be enemies."
Since her freshman year, Kayla has seen an expansion not only in UI's missional participation, but in conversations: "One of the trajectories I've seen since coming to Westmont has been the shifts in the way we've talked about mission and the deeper understanding that mission and the gospel raise out of the context we enter. We don't bring the gospel."
Additionally, she sees a willingness of freshmen to participate in conversations surrounding race and other topics pertinent to the Westmont community. Kayla comments, "It takes a long time for us to voluntarily put ourselves in a bucket of hot water. Your average white student has the privilege to opt out of conversations until they're a junior or senior. It's really cool to see younger students opt into conversations about equity at Westmont and beyond. It shows this obvious care and awareness that can make a lot of a difference if a lot more people care over four years."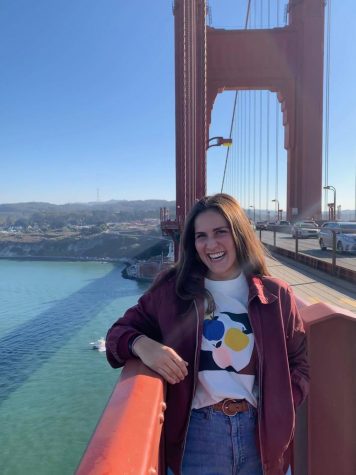 Kayla recognizes that the change surrounding these conversations stems from a much larger picture: "Conversations about equity at Westmont and equity in the world are not detached from one another. They are overlapping because Westmont is a microcosm of the rest of the world." For Kayla, the understanding of this picture is necessary to build frameworks for justice and equity within communities.
Kayla's major honors project is at the epicenter of difficult conversations and, as Kayla describes, "community collaborative work." "The end goal is to deliberate an issue guide that I've written on the topic of abortion in churches. The project took four different stages. The first stage was just research on history of policy on abortion created post-Roe v. Wade, in particular Christian perspectives and different aspects and topics that abortion encompasses."
"Every time we talk about abortion, we're talking about bodies. We're talking about sexuality, marriage, sex, ethics, and rights and choices. It's an incredibly human conversation," Kayla expresses.
Originally, Kayla planned to host two deliberations after composing an issue guide, or a document designed to help people discuss a topic and reach a conclusion. The first was to be held on the Westmont campus between faculty, staff, and a few selected students. A week later, using the first as a source for revision, Kayla would recalibrate her issue guide for a second deliberation with Christian stakeholders in the Santa Barbara community. Since COVID-19, Kayla has readjusted for online deliberations.
Now, with her project nearly completed, Kayla hopes to potentially continue to study deliberation. "I have fallen in love with the process of deliberation," Kayla states, and notes the similarities between deliberation and liturgy: "When we practice these prayers, these practices, these call-and-response moments from pulpit to congregation, it reminds us who we are and where we come from. Deliberation is a communal practice that reminds the community who it is. Where are we coming from in our individual perspectives? Where are we trying to go? What are we creating here? Because you establish ground rules when you deliberate."
After rooting and sitting amidst difficult conversations for the past four years, Kayla is grateful for Westmont: "I really love Westmont. Love means you see past all the bells and whistles into the seedy, gross underbelly. Love at the best and the worst. I am grateful for the ability to see the best and the worst and have gotten to be involved. To see this place become even more equitable [and] honest than it is right now. For all the good stuff to keep going and the good work to continue."