'Our work is not done'
Gradient President Emma Wade speaks about art and justice
Emma Wade has a heart for justice. Her four years at Westmont have encompassed growing into leadership as the president of Gradient and grappling with Westmont culture through academics as a double art and communications major. 
"I think my communications degree has taught me to be a lot more compassionate and aware of the world," Emma reflects. "Whereas art has been a lot more technical … a lot of my work is concerned about minority groups and the marginalized, and what does it mean to be the 'other' and how does the 'other' find a space to feel, be loved, and find a sense of community."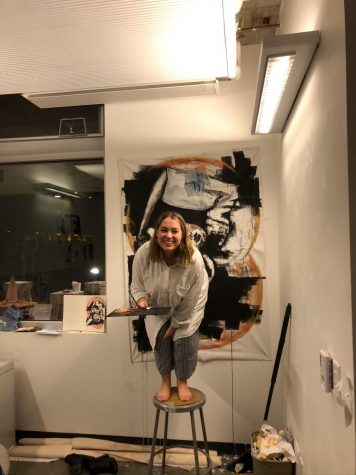 Emma's senior art project reflects her commentary on the marginalized within the Westmont community. Emma describes, "My senior project is controversial. I am creating four in total, but displaying three large-scale six-by-four feet portraits of gay couples that have some involvement in the Westmont community. I am portraying them with saint icons so kind of asserting this idea of holy love and this divinity within relationships the church has neglected to see before."
The project is not only Emma's commentary concerning LGBT Westmont students, but a reflection of her own journey throughout the past four years as a member of the LGBT community at Westmont. Emma reflects: "These pieces are me. They're kind of this personal manifesto of who I am when I believe in what I stand for, and they're incredibly vulnerable. I think that in that vulnerability, I think if I let people see who I am, then they'll understand."
After coming out in high school, Emma was daunted by the thought of another four years of living in secrecy at Westmont. "I felt as though I was the only LGBT person at Westmont for sure," Emma laughs. "Entering my sophomore and junior year, I became a lot more concerned with creating not only a safe space for myself but creating that space for other people. I really struggled with loving that part of myself in my first two years and actively trying to be something different and being the person people wanted me to be. I didn't want other people to feel that."
Junior year, Emma discovered that safe space in Gradient, an unofficial student organized group for LGBT students at Westmont. At the close of the year, the leaders of Gradient asked Emma to continue the student group as its president for her senior year.
This year, as Gradient's president, Emma led the group into the limelight. "I made the decision I didn't want Gradient as a group to be a secret anymore, that the members and what we talked about would stay confidential, but who we were on campus and off campus too," Emma states.
With a social media account makeover of a new logo and a move to an official Instagram page, Gradient is an accessible and growing community, as Emma notes, "People came in not knowing anyone, but now you see them eating together in the D.C. You see they have created this community of friends and allies they wouldn't have been able to make outside of Gradient."
While membership remains confidential, Emma has joined Gradient in the spotlight as the group's representative. "Being able to have those conversations of 'yes, I am a gay woman, I am a Christian, I exist at Westmont' with people who would generally oppose those ideas and identities, they're able to put a face to a name," Emma states. "[They can] put a face to an identity and have really good effective conversations [that] I think Westmont was trying to have before, but was having a really hard time accepting that."
Ultimately, Emma views her journey and Gradient as a reflection of God's provision: "It's such a God thing to see that He was giving me the tools all along to be able to do these things. If it was just me I couldn't have done it. This kind of bravery and this putting myself out there is so not me, I know it has to be something else. I couldn't have done this if it was just me."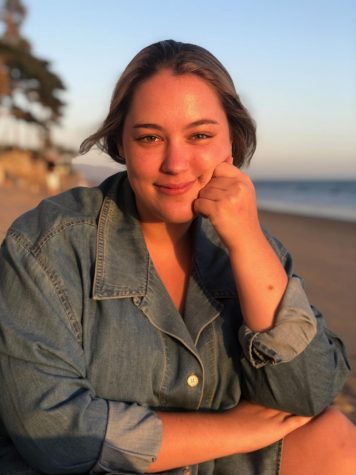 Looking forward to the continuation of conversations and inclusion of LGBT students at Westmont, Emma is hopeful: "I see Westmont being committed to this community. I see Westmont creating a place for these conversations. Moreso, I see a willingness to understand. You know, the table is full, but people are pulling up a chair for us."
"I think it's important to recognize I have an inherent privilege as a heterosexual-passing white woman on Westmont campus — that is the majority on campus," Emma notes. "In terms of coming to know my sexuality and know that it was different and kind of grapple with this sense of being the only one and not having a place to discuss those things."
From her own past journey, Emma notes the importance of creating dialogue for the shared experiences of minorities at Westmont: "I think being a part of this one little minority group — like sexuality and race are so different — but being a part of this minority group has created a shared group of experiencing injustice and discrimination and hurting on campus."
As her time at Westmont and with Gradient draws to a close, Emma encourages other voices speaking for the realization of justice on Westmont's campus: "To the people whose voices we've heard this semester and past semesters loudly and proudly: a job well done. I am proud of you and I see that sacrifice and that struggle and I am proud to stand by you. To the voices we haven't heard: now is your time. Our work is not done. Now we're relying on you to keep these conversations going. To quote the sign on the bridge: 'There will always be people at Westmont who care about justice.'"