Inside John Wilder: screenwriting professor reflects on eight decades in the entertainment industry
Screenwriting professor John Wilder is one of Westmont's most experienced storytellers, and the closest thing the college has to a movie-star-in-residence. With nearly eight decades of activity in the entertainment industry, his personal life is as eventful and entertaining as any movie. 
Born John McGovern on Bob Hope's birthday in the same hospital as Bing Crosby, Wilder suspects that show business has been in his blood since he took his first breath in 1936. He explained that his Washingtonian parents were especially drawn to entertainment during the Great Depression, as it "gave them upbeat examples in a down-beaten time." Growing up in Tacoma, entertainment remained a point of connection for Wilder's family, as "gatherings with family and friends centered around home entertainment: playing an instrument, singing close harmony, dancing, reciting poems, telling stories."
He went on to explain that "movies were the great escape on weekends, radio was the center of the living room every evening, [and] local vaudeville houses were a Friday or Saturday night treat." Some of his earliest memories of movies include viewings of "The Wizard of Oz" and Disney's "Fantasia" — Wilder says that he "was scared to death of Margaret Hamilton's Wicked Witch of The West," and that the marching broomsticks in the latter film produced a similar fright.
Since he could sing, dance, and read from an early age, Wilder began performing for the masses at age four, when he enrolled in a dance school and became half of "Tacoma's Tiny Tap Team." The miniature vaudeville duo performed "on stages around town, in smaller ones like Tenino and Puyallup, and at military bases to entertain troops."
Wilder continued dancing when his family moved to Los Angeles in 1943, and began studying drama a year later at the Geller Theatre Workshop, where Shirley Temple, James Dean, Marilyn Monroe, Clint Eastwood, and numerous other future stars trained during Hollywood's Golden Age. Maria Manton cast the young actor in "Watch on the Rhine," one of his first productions, and, upon noting his exceptional reading skills, encouraged Wilder to audition for radio roles at CBS.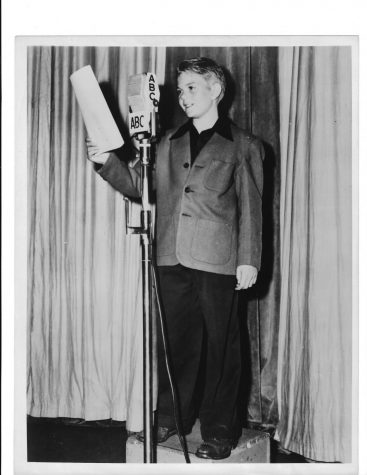 The day after his first audition, Wilder worked with Agnes Moorehead, best known for her role as the title character's mother in "Citizen Kane." Moorehead "spread the word" about the young performer's skills, and Wilder quickly became one of the busiest youths in radio, performing in over 2,500 major broadcasts during the 1940s and early 1950s. He was "the youngest emcee in Hollywood" on "The Abbott & Costello Kid Show," and had "regular or recurring roles on [15] weekly shows." 
Wilder also appeared in several movies during this period. At age nine, his first film was the western "Tumbleweed Trail." He later played the son of musical stars Doris Day and Gordon MacRae in "Tea for Two" and delivered a key line in "Singin' in the Rain" a few years later. He also worked frequently in television, including the first live broadcast on CBS-TV, in which he played a young singer in Jack Benny's "Beverly Hills Hillbillies." Wilder also shared scenes with Cary Grant, Gene Kelly, Lucille Ball, and George Burns in various film, radio, and live productions.
Then, around age 14, Wilder's voice changed ("Praise God!"), and he shifted his focus from acting to high school athletics, earning letters in baseball, basketball, football, and track. After earning a baseball scholarship at USC in 1954, Wilder was determined to quit performing for good — except for one day's work on "The Benny Goodman Story," which Wilder skipped class to appear in.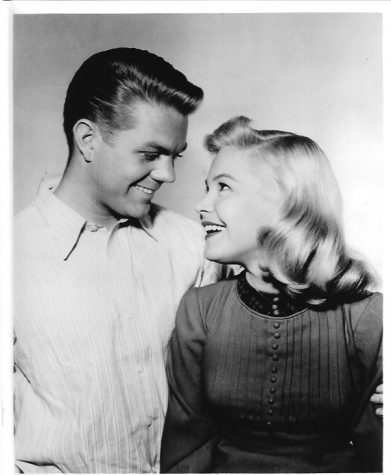 Unfortunately for Wilder's athletic career, producer Ed Chevie was so impressed with his background performance in "Benny Goodman" that he offered him a lead role in "Rock Pretty Baby," the first teenage musical. Wilder reluctantly agreed, assuming he could drop out of school for the duration of the shoot and return to play baseball in the spring.
This led to five years of being "a young leading man" in numerous major movies. Wilder acted alongside Paul Newman and gave Sandra Dee her first on-screen kiss in Robert Wise's "Until They Sail," and performed in war movies "Imitation General" and "Hold Back the Night." On television, he worked alongside Steve McQueen in "Wanted Dead or Alive" and appeared in over thirty other series, including "Leave It to Beaver" and "The Alfred Hitchcock Hour."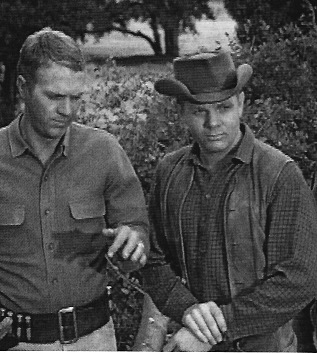 Wilder has numerous stories from his time as an actor, but cited three particular favorite experiences. The first was appearing in "Night Unto Night," because "it was directed by Don Siegel and starred Ronald Reagan, Viveca Lindfors, Broderick Crawford and Rosemary DeCamp." In the movie, Wilder played Crawford and DeCamp's son. "Crawford went on to win an Academy Award, Siegel became a top director, and Reagan became the leader of the free world. All three were terrific to a ten-year-old kid over a three-month period." Additionally, "Reagan's daughter Maureen became a close friend a decade later."
Another memorable experience occurred while filming an episode of "Wagon Train" with Bette Davis. After shooting an emotional scene in which his character had to cry, Wilder remembers that Davis kissed him on the forehead and said, "My darling, you are a wonderful actor."
Wilder's final favorite acting experience happened at a benefit at Sacramento's Fairfield Air Force Base. Comedy stars Bud Abbott and Lou Costello were lined up to perform, but Abbott fell ill, and Costello asked 12-year-old Wilder to perform the iconic "Who's on First" routine with him.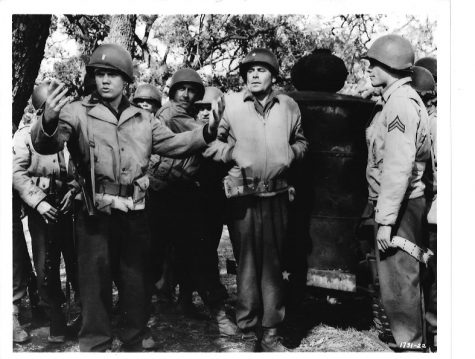 Yet ultimately, Wilder says that he "didn't find acting fulfilling" and "didn't see a future in it," so in 1960, he returned to school, this time at Santa Monica City College, and soon transferred to UCLA. He studied English literature and minored in art history, and also took psychology and philosophy courses, in the hopes of finding work behind the camera.
Opportunity came knocking when Chuck Connors, Wilder's "Hold Back the Night" co-star, asked him to write a script for his new series, "The Rifleman." The studio bought Wilder's script, but didn't offer him any further assignments, so he worked as a social worker and studied law after graduating. Then Connors called again, asking his friend to write dialogue for "Branded," and this time, Wilder became story editor for the new series and wrote several episodes.
This led to a long-term job writing for 20th Century Fox's massively popular "Peyton Place." Although it's often described as a prime-time soap opera, Wilder prefers to call the series a "prime-time serialized drama," of which it was the first of its kind, and insists that "the writing was extremely good." Wilder and his young co-writers referred to "Peyton Place" as their "Renaissance workshop," where they studied under a "craftsman," playwright Paul Monash, and had the opportunity to write "for male and female characters that ranged in age from teenagers to octogenarians, professions from school teachers, professors, lawyers, millionaire businessmen and garage mechanics, dockworkers and newspaper editors."
In the 1970s, Wilder became Executive Story Consultant for "The Streets of San Francisco," a detective series. Wilder says he and producer Cliff Gould "developed every story from character … the downtown newsie, the North Beach poet, the lobster fisherman on the wharf … always a homicide, the solving of the crime, the development of character." "Streets" featured up-and-coming actor Michael Douglas, who became a good friend of Wilder's. The writer recalls that Douglas was the one who initially lobbied him to move to Santa Barbara, and once he gave in, the pair became running buddies, "from the bird sanctuary to the Mesa and back, or through the hills of Montecito." Wilder recalls that he and Douglas also "partied hard together at Fiesta time."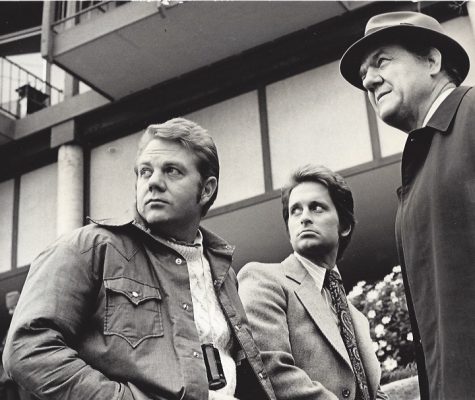 Near the end of the first season of "Streets," Gould had to leave the show due to a personal emergency, and Wilder oversaw the final four episodes alone. This experience led to Wilder producing the next two seasons of the show, undertaking 27 scripts a year and overseeing "story, final draft, casting, choosing directors, editing, wardrobe," and more. Then, "after seventy-plus homicides," Wilder says, "I just didn't want to be plotting and solving any more murders," so he exited the series after three years.
Wilder's next major project ended up being his most enormous — the TV miniseries "Centennial," which, at twenty-six hours long, was "the longest film anyone had ever attempted." Wilder says, "From the writing end, ["Centennial"] was a challenge like nothing I had tackled before. I had a book I loved to work from, adapting a 900-page novel covering the beginning of the earth to 1974 in Colorado; a story that was both a history of the development of the West and an ecological editorial about man's relationship to the planet … but, oh my."
Wilder tells his students that the three most important words in screenwriting are "structure, structure, structure," and "Centennial" proved to be a quintessential example of this mantra. "I structured the overall story in increments, the first and last 'chapters' would be [three] hour films, the other [10] would be two hours each," Wilder says. "The big difference between a mini-series and a two-hour film is that while it is a continuing story, each two-hour section has to be able to stand alone while providing a hook to bring an audience back the next week."
"Centennial" ended up being Wilder's most ambitious and involved project ever. "I broke the book down with an eye toward conflict, cinematic action, and strong character arcs, did the entire screenplay outline, wrote the first and last three-hour plays and the middle-section cattle drive myself, and brought in two veteran writer friends to do first drafts of the other segments with the understanding I would rewrite final drafts for consistency of voice."
Wilder likened working as executive producer on "Centennial" to "managing a military operation." "I actually had a war room where I met with my staff to go over every aspect, the problems facing and anticipating, and solutions to put into action," Wilder remembers. Despite numerous production issues, including a major director shake-up, "Centennial" became one of Wilder's most acclaimed projects, praised as "the one reason to turn on commercial television" by the Los Angeles Times.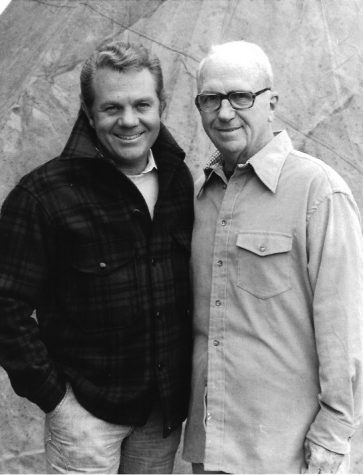 Unfortunately, Universal's president decided against promoting the studio's series during awards season, so "Centennial" received almost no awards recognition despite its acclaim and popularity. However, Wilder did win the Best Long-Form Series Award from the Writers Guild, which, according to the writer-producer, is "the most meaningful award for a writer because the scripts are read and the choice is based on the written word, not the finished film."
Another one of Wilder's high-profile series was "The Yellow Rose," a western starring Sam Elliott. Despite being a favorite of NBC executives, the network decided the series didn't fit in its slate, and cancelled the show after one season in 1984. However, Elliott, who Wilder describes as "a jewel of a man," remains "quite close" with the writer-producer, although they don't socialize much. 
"Spenser: For Hire," a detective series set in Boston, was more successful. Wilder took on the project because he loved the noir stylings of Robert B. Parker's source novels: "I had read all of Chandler, Dashiel Hammett, Ross Macdonald, and John D. MacDonald … always wanted to work in the genre." Producing "Spenser" allowed Wilder to reunite with many members of the creative team behind "The Streets of San Francisco," and the crew "came to be like family in Boston." The show was ABC's highest-rated, but was cancelled after three seasons in 1988, partially due to the expense of shooting on-location in Boston.
"Return to Lonesome Dove" was another well-known miniseries, and presented Wilder with a unique challenge: creating a follow-up to someone else's work. Larry McMurtry's original "Lonesome Dove" novel was immensely popular, and spawned a well-received miniseries adaptation in 1989. Then, when CBS wanted a sequel in 1993, they called Wilder. "I had to create an original story for a seven-hour film based on characters from a Pulitzer Prize-winning novel by a great American writer." Wilder's agent advised against taking the job, but the writer accepted the project anyway. "I wasn't afraid to take it on, I loved Westerns and nobody else was making them." 
However, despite being proud of his writing, "Return to Lonesome Dove" ended up being one of the most professionally challenging projects of his career. Certain producers who had worked on the original "Lonesome Dove" miniseries "had a very proprietary feeling about the project," which made collaboration harder than usual. "They made my work really difficult, held meetings behind my back, made decisions I had to point out as flawed and why. It was too unpleasant and life is too short." Wilder opted to leave the project after hiring a director, and ended up displeased with certain elements of the finished product, including casting decisions and one important scene that went unshot.
Hollywood gigs slowed down for Wilder after "Return from Lonesome Dove," so in 1993, he moved from Los Angeles to Santa Barbara, where he had lived for a few years during the 1970s. Then, in 1997, Wilder was diagnosed with cancer, which prompted him to reevaluate his priorities. "When I came through it, I asked myself what I was doing with my life, what I might be able to do for others. I had had a conversation with a couple of Westmont students in the past who lamented the fact that the school didn't offer anything to introduce them to screenwriting."
Wilder contacted Westmont's president, David Winter, and offered to create a screenwriting program. Winter was excited by the proposition, so Wilder pitched his idea to Provost Stan Gaede, who also loved the idea. "They supposed it would be in the Theater Arts Department," says Wilder,  "but I explained it is writing and belongs in the English Department."
Wilder's screenwriting program has gone strong for over 20 years, and remains a source of great joy for the professor, who says he loves "watching students dive into the pool and use the strokes I give them." His ultimate goal is that students finish his class "as better writers, better thinkers, and more in touch with themselves and others through a new or heightened awareness of the human condition."
The program lasts a full year, as students spend one semester learning the basics of screenwriting by creating an in-depth outline for a movie, and a second term writing the entire script. Wilder assigns texts about storytelling by writers from Aristotle to "Princess Bride" scribe William Goldman, and also provides students with copies of some of his favorite screenplays from today's top screenwriters such as Aaron Sorkin, Damien Chazelle, Greta Gerwig, and Barry Jenkins. The professor also screens many of his favorite movies during class sessions, including "You Can Count on Me," "A Few Good Men," "Network," and "BlacKkKlansman."
Wilder hasn't stopped writing. In 2015, he published his first novel, a detective story called "Nobody Dies in Hollywood." The novel format provided a unique experience for Wilder, who "loved the experience because the visuals must be written in detail, and inner thoughts are expressed," as opposed to screenwriting, where "everything a character is thinking must be expositional for the audience to follow the story."
The writer also wrote "Coach: An Evening with John Wooden," a one-man play about the basketball legend from Wilder's alma mater, UCLA. The play debuted in Aspen with Beau Bridges, who played for Wooden for a season, as the title character. Wilder had hoped to see an expansion of the show in Los Angeles, but is unsure if it will materialize due to mass closures of theatres in the wake of coronavirus. He's "exploring" a potential TV special for the play. Wilder is also writing another book, which he describes as an "epic novel spanning a half century in America from the end of the Civil War to the early years of the twentieth century."
Wilder's advice to aspiring writers: "Read, read, read […] The great writers, especially the great American writers." He emphasizes the importance of structure: "Learn to structure your stories [and] your lives. Be proactive. Have a goal, work toward it. You can always change, [you] most likely will change, but work toward something you believe has value."
View Comments (2)
About the Contributor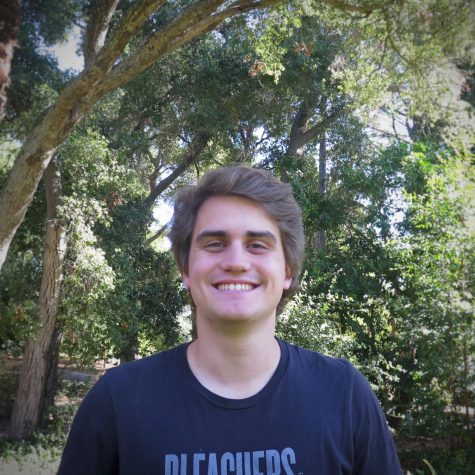 Wesley Stenzel, Managing Editor, A&E Editor



Wesley Stenzel is a senior political science major and film minor with a passion for the arts. This is his third year with the Horizon, and he loves...