Santa Barbara schools adapt to online learning, focus on getting students back in the classroom
Long gone are the days when Facebook was flooded with vibrant back-to-school photos in mid-August. The first day of school looked different this year as students traded in neatly-packed backpacks for their kitchen tables and comfy pajamas. Empty school campuses, however, have not kept Santa Barbara County schools from investing their energy into creating and implementing successful formats of distance learning. Other schools remain hopeful that their re-entry plans will bring students back to campus soon. 
Although the district has dedicated its efforts to student excellence during COVID-19, student enrollment has taken a hit in the Santa Barbara Unified School District. Over 316 students did not log into their Zoom classrooms on the first day of school. With 65 percent of the decline in enrollment coming from elementary schools, the community and school board continue fighting for the well-being and happiness of their students. Some parents have taken their children's learning into their own hands. A fear of too much screen time and not enough breaks continues to circulate in the minds of parents, teachers, and staff. While some families have shifted to homeschooling, this does not account for those who had to move out of the area for financial reasons.
"
Teachers by nature have to be adaptable … a teacher is a student at heart, always willing and ready to learn."
— Maggie Light, Teacher at SBHS
Other than its focus on academic excellence, Santa Barbara County has poured energy into supporting student and parent mental health and safety. An additional $600,000 has been put into health services for students, parents, and staff to help with the difficulties of navigating both online school and the effects of the COVID-19 pandemic. Some schools help students find community through online book clubs or organizations such as Abuse Listening Meditation (CALM). Family Service Agency provides after-school daycare for families in need of childcare or extra educational aid. Likewise, the district promised that 100 percent of students would receive a laptop and readily available Wi-Fi by their return to school on August 18, 2020. 
As teachers enter unknown territory and engage students via Zoom, they are embracing the spontaneity of new teaching styles. Maggie Light, 9th grade English teacher at Santa Barbara High School, shared, "Teachers by nature have to be adaptable … a teacher is a student at heart, always willing and ready to learn." Through tools such as music, exercise breaks, and snack breaks, teachers are dedicated to making the best of their students' learning situation. Likewise, Amy Alzina, Principal of Cold Springs Elementary School, said, "I try to set a tone of high expectations combined with a love and enthusiasm f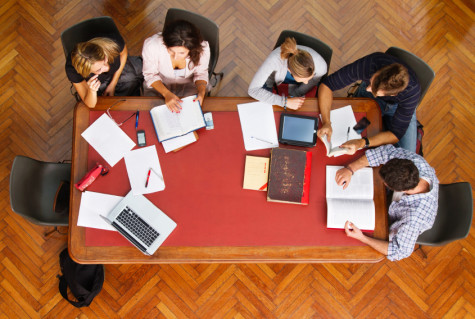 or life and learning. While in Remote Learning, I have continued to do this through my daily Zoom Assemblies. I expect every student and teacher to attend. I then encourage all of our students to stand up and workout with me to a song a student chose. I then send them on their way to meet their teacher in class with lots of love and happy juices!"
The adoption of remote learning has not stopped fifteen schools in Santa Barbara County from pursuing the reunification of their students once again. Many K-6 schools have applied for a re-entry waiver, implementing new safety requirements. For K-6 students, this is joyful news. Among those fifteen schools is Cold Springs Elementary in Montecito, CA. "This has been extremely challenging as a single-school district as we don't have departments to write our re-entry, remote learning, and learning continuity and attendance plans or set up outdoor classrooms.  So, much of the work we are doing is relying upon teacher, staff, parent and community volunteers to help where they can," said Alzina. 
Santa Barbara County continues to support students and parents by donating items that the budget would not be able to absorb at this time. For this, Santa Barbara schools are extremely thankful.