Historic wildfires, heat raises climate concerns
Westmont faculty members respond to recent climate events
In December 2017, Westmont was evacuated as the Thomas Fire approached campus. Upon containment in early 2018, the fire that began in Ventura County had become the largest wildfire by area in California history. Now, less than three years later, it is the fifth largest fire in state history, following three of the fires that began last month. 
While Santa Barbara has been spared from the flames so far this year, California has had one of its worst fire seasons on record. The August Complex, SCU Complex, and LNU Complex fires all began after a series of intense thunderstorms struck northern California on August 16th and 17th. The August Complex fire, burning in the Mendocino mountains, has already burned 846,000 acres and is only 25 percent contained, according to Cal Fire. It is the largest wildfire on California record.
The SCU and LNU Complex fires, the third and fourth largest, respectively, prompted a large number of evacuations around the Bay Area in late August, but are nearing full containment. Meanwhile, the North Complex fire is already the ninth largest fire in the state, and is only 21 percent contained. 
September brought the ignition of two new fires: the Creek Fire, northeast of Fresno, and the Bobcat Fire in the San Gabriel Mountains. Both are roughly 6 percent contained.
As of Saturday, 97 large fires are burning across the western states, according to the National Interagency Fire Center. Oregon has faced an unusually bad fire season, with multiple large fires  burning across the state. Roughly 500,000 Oregonians — 10 percent of the state's population — are under some sort of evacuation ordinance. In Washington, what has become the state's second-worst fire season escalated over the course of just five days last week. 
The severity of this year's fire season has not gone unnoticed across the nation. Viral photos showing orange skies in San Francisco and red skies in Salem, Oregon, created an apocalyptic image of a growing crisis. Washington State's governor, Jay Inslee, went so far as to call the recent wildfires "climate fires." Over the weekend, Portland, Oregon had the worst air quality on the planet, followed closely by Seattle, San Francisco, and Los Angeles. 
"
We simply cannot afford to ignore environmental change if we claim to have any relevance as a liberal arts college…To care for our neighbors demands that we care for the environment."
— Dr. Marianne Robins, Westmont College
Additionally, Southern California experienced some of the hottest temperatures on record just over a week ago. Woodland Hills hit 121 degrees — the hottest temperature ever in L.A. County. Paso Robles hit 117 degrees. These recent climate events, along with the trends of the last several years, have led to a greater focus on the impacts of climate change across the West, including within Westmont's community of scholars.
Biology professor Dr. Amanda Sparkman, co-advisor of the Environmental Studies minor, said that "there is a great deal of scientific research now supporting anthropogenic climate change as a major causal factor in the increasing intensity of California wildfires," including "increasingly dry conditions making vegetation more fire-prone." 
Laura Drake Schultheis, assistant professor in the Biology department, concurred. She explained how the causes of fire differ based on the ecological region. In northern regions, "the magnitude of these fires is the result of decades of fire suppression, invasion of exotic grasses, and hotter and drier fuels from more frequent extreme drought. All of these are human-caused," she said. Further south, she credited expanding urban development in an environment that isn't historically prone to fires. "With more development comes more accessibility to once-remote chaparral shrubland, which is why we've seen an explosion of human-ignited fires in the backcountry caused by everything from campfires to car sparks to cigarette butts."
Several professors indicated that as a Christian liberal arts college — one that has been severely impacted by fires, no less — Westmont certainly has a role to play in addressing the systemic issue of climate change. Dr. Marianne Robins, history professor and a co-advisor of the Environmental Studies minor, stated that "we simply cannot afford to ignore environmental change if we claim to have any relevance as a liberal arts college." She pointed out that many of our society's inequities are affected by the changing physical environment: "To care for our neighbors demands that we care for the environment."
Dr. Sandra Richter, an Old Testament scholar, recently released her new book, Stewards of Eden: What Scripture Says About the Environment and Why it Matters. In an interview with The Horizon, she mentioned how the law codes of the Ancient Near East dealt with creation care. These law codes were "designed to protect future generations from the appetites of the current generation. Issues such as sustainable land use, land tenure, water rights, and inheritance are addressed in each of these codes — including the Book of the Covenant, Leviticus, and Deuteronomy." For these reasons, she said, "A liberal arts education should include issues of personal, political, and global sustainability."
The recent fires have been devastating, and have impacted the lives of many Westmont students and faculty. "Through experience, empathy, and compassion we can reach out and comfort those in need," said Schultheis. "But it's also time to buckle down and start innovating creative new solutions to a problem we should have been focusing on for a long time."
Dr. Robins expressed hope that students are able to see the individual and systemic roots of the climate crisis. "We hope our students can think of change in these two ways — and get involved in fostering both." 
About the Writer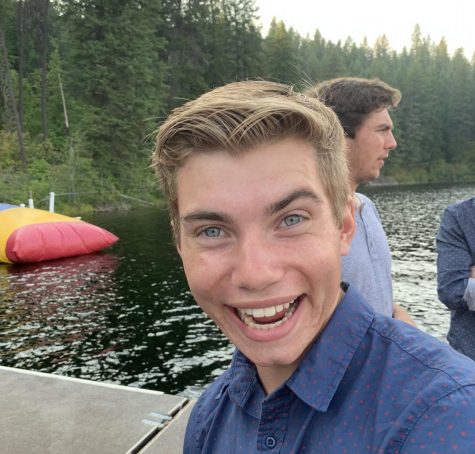 Caleb Marll, News Editor
Caleb is a sophomore Religious Studies major. He enjoys a good cup of coffee and longs for the day when the Seattle Mariners make the playoffs.