Santa Barbara murals respond to racial injustice
My foray into Santa Barbara's Funk Zone
My foray into the Funk Zone, Santa Barbara's cultural epicenter, began as an open-ended expedition. I was searching for any public art that responded to recent uprisings over racial injustice in the United States.
The Funk Zone hums with creativity, from its telephone poles studded with advertisements for "Yoga Dance Magic on the Beach!" to art galleries adorning each street to bold murals splayed across any available wall space.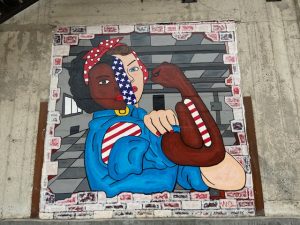 However, I was hunting for art particularly pertinent to our social situation. I passed by Metropulos, an exquisite Mediterranean deli, and headed down a dormant, yet promising, alley.
I was not disappointed. Displayed on the wall was W. Dane's mural: a juxtaposition of the faces of one Black and one white woman in a reimagining of "Rosie the Riveter," the WWII-icon-turned-feminist-symbol. The woman is spliced with bright stars and stripes in a patriotic cross-section and is decisively muscular — a quality usually downplayed in artistic depictions of women. Positioned against a drab background vaguely reminiscent of a cafeteria or prison, the woman clutches her bicep and looks levelly at viewers almost as if to say, This grit, this resilience, this unity, this is our America.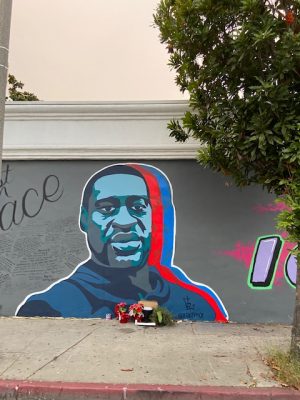 I ducked down Gray Avenue to admire Danny Meza's and Chad Westmoreland's mural of hands holding a cardboard sign reading "Black Lives Matter," then headed downtown to one of Santa Barbara's most recent and recognized pieces: Griffin Lounsbury's breathtaking mural of George Floyd on Haley Street. While it was defaced over the summer, Floyd's face is recently repainted, underscored by red and blue shadows and amplified by a "Rest in Peace." Handwritten messages from community members call for justice, humanity and, overwhelmingly, love. One reads: "Who is authorized to take my last breath away, but God? How have you placed yourself above our Creator???" (anonymous).
These artistic cries for justice are not alone. There's Cougar Oswald's rainbow flag overlaid by a multi-racial fist (also on Haley Street). Then there's a larger mural by Meza of two interlocked hands and the words of Nelson Mandela: "No one is born hating another person because of the color of his skin […]."
Then there's the mural directly adjacent to Lounsbury's depiction of Floyd: Westmoreland's sprawling technicolor "Please, I Can't Breathe."  Floyd's final words stand as an acute reminder to passersby of the suffocating pain faced daily by Black Americans.
Art has always been political. Now, more than ever, Santa Barbara artists and viewers have a responsibility to see both the beauty and brokenness of their communities and to respond with courage and truth.