Quarantine In Ocean View
"It's been a bittersweet sort of summer," Mpho Mthethwa, a third-year Bio-Chem major, remarks. He, like many other international students, spent the chaotic past few months living in Westmont's off-campus Ocean View Apartments, affectionately known as OV. While most people were able to return safely home at the outbreak of the coronavirus, many international students were met with closing borders and harsh travel restrictions.
Mpho, who hails from Pietermaritzburg, South Africa, sees both the blessings and the curses of being quarantined in the United States. It has now been over a year since he was last in his hometown. "I miss home. A lot of us were really keen on going back and seeing family and friends." Westmont students from Rwanda, Swaziland, Hong Kong, and many other places around the globe share this hardship but have found community within the Westmont family.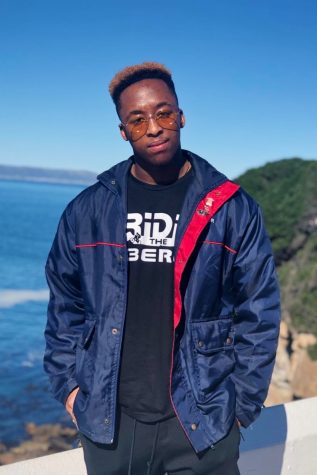 Though far from home, Mpho is grateful to be surrounded by friends. He reflects that it is "quite nice that all the lads are here. That sense of family is still there … it gives us a nice taste of home and helps numb the whole melancholy view of summer." 
Ocean View was also home to non-international students, such as those from out-of-state and those working in Santa Barbara throughout the summer. Mpho attributes a key part of the sense of community in OV to "the other students that are here, not just international students that were here during the summer, but as well as others that live in the area." 
One especially meaningful component of his days spent headquartered at Ocean View can be attributed to Nick Butler, a junior at Westmont, and John Butler, a recent Westmont alum, who opened up their home gym to Westmont students living in Santa Barbara. These two, along with third-year student Seun Afolayan, a star on the Westmont Rugby team, cultivated a community of growth and support during this strange summer: "Those three are the founders, the brethren. It's been really cool being able to work out with them, being able to de-stress. For me, this was my way of therapy. It's nice to be able to do that, especially within this sort of community." 
This summer spent living outside the "Westmont bubble" has given Mpho a fresh perspective on life in the United States, allowing him to feel more integrated into the surrounding community. "Even just going to Mi Fiesta, which is the little deli nearby, makes me feel a lot more independent, a lot more like a student doing my own thing. There's a lot more freedom. It will be nice to be back on campus, though. I'm not going to lie, I'm tired of cooking!"
Along with the opportunity to walk down the street for groceries, however, has come the opportunity to witness first-hand the troubles that America has faced during these past months. "I've been learning a lot about the policies and culture here in America. This summer has painted for me a very real and quite a hurtful picture of the United States. Looking at all the Black Lives Matter movement, police brutality, killings of people of color, and the reaction from other communities and other people regarding the whole BLM movement has really made me understand more about the different political positions, understanding the Left and Right…" 
"
 From a Westmont perspective, it would be nice to see more of a stance on such issues, regardless of politics, but from a loving, Christian worldview. "
— Mpho Mthethwa
For one who did not grow up in America, experiencing the summer of 2020 in Santa Barbara revealed many of the harsh truths that are often misrepresented in the media. "Before coming here, my view of America was the Hollywood representation," Mpho states. "Hollywood has a certain influence around the world in terms of how people view America. The media has a way of hiding the real truths and struggles that people actually experience here, so that's been an interesting process, trying to get as many perspectives as possible and grow as much as I can. There's a lot more to a community and culture than meets the eye."
This summer has certainly been eye-opening in many ways, and Mpho's concern for this semester is that Westmont will be able to bring more light to issues that have come to a head in recent months. "Christian institutions need to play their part in the social issues that are happening around the world and in America. From a Westmont perspective, it would be nice to see more of a stance on such issues, regardless of politics, but from a loving, Christian worldview." He hopes that Westmont will reject indifference and strive to engage with students on prevalent social topics.