Toss a coin to your artist
Creatives are essential members of society, let's treat them like it
It is undisputed that healthcare workers, first responders, and other essential workers have stepped up to the near-impossible circumstances of the pandemic, saving lives and livelihoods across the world. We are right to applaud and support these people in any way we can, but let me ask you this: have you similarly supported the artists that have cared for your heart and mind during this period of anguish and uncertainty?
Let me ask you another question: how much time have you spent listening to music, reading, looking at visual art online, or watching movies and TV shows? Since the lockdowns began in March, I have seen many of us, myself included, spend increased amounts of time consuming these and other forms of media. A Onepoll and HARMAN collaborative study released in early June found that Americans are, on average, listening to 38 more minutes of music per day than pre-COVID times, and Billboard reports that 43 percent of Americans are listening to artists they had not previously heard of. An Invoke study published in April found that 75 percent of Americans streamed more video content, with Disney+ viewers increased by 43.5 percent, and Netflix increasing by 17.5 percent. The conclusions are clear: Americans are spending more time consuming creative content.  
While many might disparage such increases, they actually have good consequences. The aforementioned Onepoll and HARMAN study found that 81 percent of respondents said music helped them cope with the pandemic's psychological effects, 58 percent reported music was their go-to coping mechanism, and 39 percent said they created new, specific isolation playlists to help themselves cope. Anecdotally, many people resorted to healthy doses of escapism through TV shows and movies as well.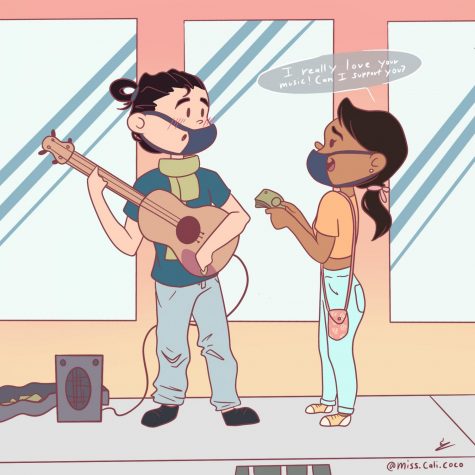 Additionally, live performers have gone above and beyond to help their communities, even as their incomes dry up. As the concert halls closed and parties were cancelled, many took to the streets, from mariachi bands finding new ways to perform to the New York Philharmonic playing flash-mob street concerts. Orchestral musicians, like my roommate, play concerts in front of their homes or in parks for passersby. Theatre and opera houses offer free or discounted online streams for performances. Yo-Yo Ma, the great cello prodigy and UN Messenger of Peace, began a series called the 'Songs of Comfort' on his social media networks. Countless artists from Finneas to John Legend released singles of encouragement or lament, and Taylor Swift cranked out an entire album. Westmont's own current senior Jared "Lancel0t" Clarke released a brilliant EP entitled 'Rebirth.' Go check it out, by the way. 
My point is this: while healthcare and essential workers have protected our bodies, creatives such as musicians, storytellers, and visual artists are selflessly caring for our minds and hearts. They give us spaces to escape or process through the situations we find ourselves in, and if I might add, at their own emotional expense. This is not a new phenomenon but one that has been especially highlighted during the pandemic. The arts, broadly speaking, are uniquely suited to bring healing amidst brokenness like nothing else. As infamous artist Banksy said: "Art should comfort the disturbed and disturb the comfortable." 
Remember to treat the artists who have brought you this far with the same respect and dignity you would to a healthcare or essential worker. It really isn't that hard. Drop a bill into that busker's instrument case. Switch your streaming service to one that pays musicians fairly, like Tidal or Napster, instead of one that gouges them like Apple, Spotify, Pandora, or Amazon; it usually doesn't cost any more on your end. Stop illegally pirating movies or TV shows. Buy that gorgeous art print or photograph you've been eyeing on Instagram or Pinterest. Buy your books locally if you can, as this supports the authors and bookstores more than an online purchase, with little difference in cost. Artists worldwide are taking care of our mental and societal well-being. The least we can do is help them continue doing so.
Leave a Comment