Westmont plans to shift from online learning to outdoor classes
After much patience and perseverance, the students of Westmont will finally return to campus with in-person classes beginning on Monday, Sept. 28. Most classes will be held in various outdoor venues around campus, while others will remain online for the remainder of the semester. Although everyone is excited to return to beautiful Santa Barbara, a level of uncertainty remains regarding how this transition from online learning to outdoor classes will play out.
Vice President for Finance, Doug Jones, stated that they "have identified thirteen sites that will be used as outdoor classrooms." One of those locations is the large parking lot near Deane Chapel, an ideal site due to the level ground. However, some students are worried that holding class in this lot will eliminate a significant amount of parking, thus limiting the number of parking permits available to students. 
On this matter, Jones said, "We anticipate losing 18 parking spaces, so not a significant number. We have several temporary parking locations on campus and we know that some faculty and staff will continue to work remotely for the time being and will not bring a car to campus." Jones assured students that "the loss of a small number of spots will not affect the number of student parking permits issued this semester."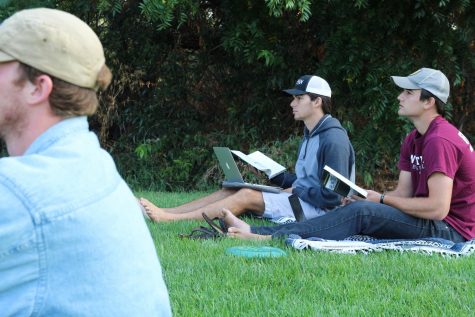 Recently, California Governor Gavin Newsom created a system for categorizing stages and tiers of COVID-19 by utilizing colors. Santa Barbara County is currently in the Purple Tier, which is the most restrictive. This means that while students are allowed to repopulate campus, indoor instruction is still off the table. There are a handful of exceptions, however, including labs and studio art classes, which are allowed to meet indoors at 25 percent capacity.
When asked how he is determining which classes will meet outdoors, Provost and Dean of Faculty, Mark Sargent, said, "We've given professors the choice of whether to continue to conduct their course remotely or in person," and that the decision is entirely up to "professors' preferences."
As for the fate of spring semester, Sargent said there is a possibility of moving into the Red Tier, the next phase of reopening, in the near future. "If the numbers were to drop fairly significantly in the next week or so, then we would have the capacity in mid-October to move into the next phase." This would allow for indoor instruction to resume, with classes still meeting at 25 percent capacity. However, this is just a possibility, and given the ever-changing nature of our situation, it is unknown how or when classes will be back to normal. For now, we will take it one day, and one outdoor class, at a time.