State Street remains lively while ensuring health and safety guidelines
The return of the National Football League has brought a long-awaited sense of energy to businesses on State Street. For many typical sports hotspots, business had declined since the Super Bowl in February due to restrictions from the pandemic. Now, many sports bars and restaurants are gaining more revenue as loyal fans return to cheer on their teams. 
State Street businesses took a large hit following the beginning of mandated social distancing in early March. In June, restaurants, bars and clothing stores shifted their focus to the possibility of re-opening. State Street was once again inviting people to escape the heat of the beach for food, drinks and company. In order to comply with the City of Santa Barbara's guidelines, restaurants and bars moved their service outdoors. Guidelines from the city stated that, "Businesses may extend customer-serving operations such as outdoor dining onto the sidewalk adjacent to their store frontage. Tables must be spaced at least six feet apart, in accordance with public health guidelines for physical distancing."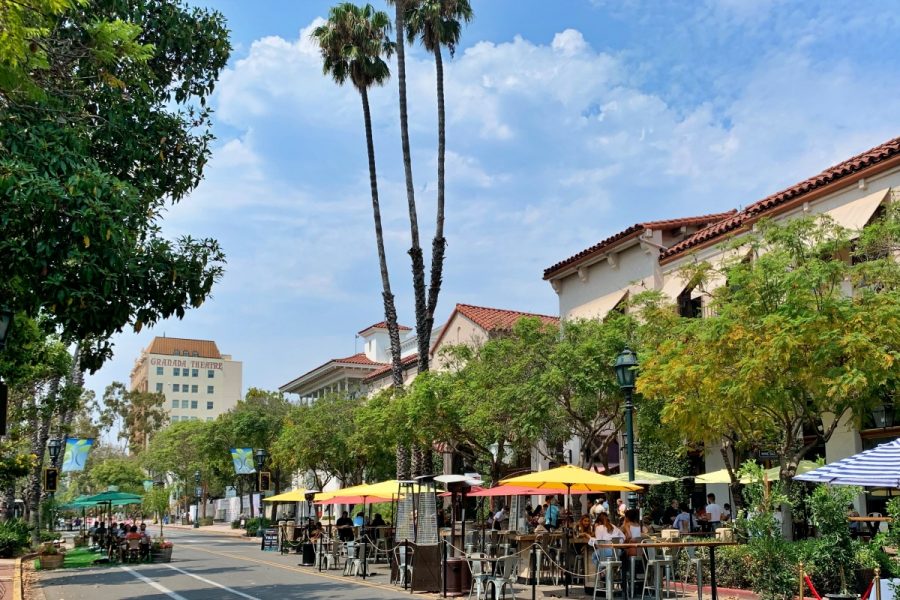 Connor Reninger from Finney's Crafthouse said, "Everyone is wearing a mask and gloves. We have ropes up to keep pedestrians from coming in direct contact with customers, and even extended that patio to make up for lost restaurant space." Along with installing new music for outdoor seating, Finney's increased their take-out operations with new specials. Although it was originally difficult for businesses to enforce masks and social distancing, and to prohibit all indoor seating, time has proven outdoor patio seating to be a new and lively way to entertain customers. The closure of State Street to vehicle traffic helped businesses expand their space and serve more customers. There were times during the summer when the state and county ordered State Street locations to close again in response to rising COVID-19 numbers or hospitalizations; however, managers and staff worked hard to maintain safety guidelines while keeping their customers satisfied. The lively energy on State Street was a positive note for many businesses that face COVID-19 challenges.  
 Manager Ben Concilla at Institution Ale Co. shared, "The customers like outdoor seating. It makes it easier for people to do business because people wander by and join their friends, rather than passing by. It is great because there is a lot more mingling, but we have to stay attentive to keeping everyone safe." Institution is one State Street location that has expanded outdoor seating from six patio tables to thirty, while endorsing a strict policy of food being ordered on each tab.
As customers turn their attention to the television for football, some restaurants and bars fear an inflation of COVID-19 numbers. Institution Ale Co. decided to not broadcast the games until indoor seating has been improved to limit the amount of people standing and gathering around indoors. Other restaurants promote their to-go drinks and close proximity to the beach or the Funk Zone to keep business booming and customers and staff healthy.
Leave a Comment