The Wonderful World of Westmont Podcasts
From controversial topics to the complicated world of religion, the Westmont student podcasts are entertaining, informative, and local! Horizon staff writer Patrick Otte interviews Westmont student podcasters.
Ebun Kalejaiye: "Can We Not Argue?" 
Sophomore Ebun Kalejaiye hosts "Can We Not Argue?", a podcast all about having "hard or silly conversations" with people on topics that typically cause rifts. The goal of Kalejaiye's podcast "is to not argue and to reach a better understanding of why the other person thinks the way they do." 
Kalejaiye's podcast is "fairly new," mainly catering towards "friends and family." In the future, she hopes "to expand to more young adults and teenagers!" At the beginning of the summer, Kalejaiye began recording podcast episodes and she started releasing them "roughly a month and a half ago." Kalejaiye's love for debating, talking, and politics inspired her to create "Can We Not Argue?". She says that tackling difficult topics has helped her understand her friends better. 
Kalejaiye hosts "a debate podcast" — she has "a guest on every episode." Eventually she "hope[s] to invite people with prestige, and people [she doesn't] know that well. My best friend Ashley Jones is nearly the co-host at this point."
Sarah Carapher: "Know it All" 
Senior Sarah Carapher hosts "Know It All," a podcast created in December of 2019. She interviews people who "know things" that she's interested in. From computer science to religious studies, Carapher seeks to have a wide variety of topics be discussed. She strongly believes that "learning should be fun and filled with laughter; a mutual exchange of knowledge and dialogue."
"That's what education is, honestly. You learn by doing, you learn by talking, by engaging." Carapher believes that sometimes "sitting in long lectures, and studying by oneself can take away from energizing learning."  
Carapher's audience consists of  "people from all educational levels" — high-schoolers, college students, parents, and more. She thinks that having a wide variety of guest speakers in different fields gives people a good perspective on what to expect in a given field, and also learn something fun and new along the way.  
Malia Yim: "Malia's Ideas"
Sophomore Malia Yim's self-titled podcast, "Malia's Ideas," is a discussion of "a wide variety of topics. From films, to sports, to music: we cover it all." During those discussions, Yim focuses on "topics [that] reflect not only [her] own interests, but also the interests of [her] peers."
Yim's target audience are "14-20 year olds," however, her podcast has a good number "of viewers above that age range as well."
Yim's inspiration for the podcast came while she was "hiking with her aunt." They discussed activities and creating a podcast felt like a great idea to her. "Malia's Ideas" fell into place because [of Yim's] interest in an abundance of different things, and many ideas and curiosities about the world around [Yim]." Since the creation of the podcast in July, Yim has "the entirety of season 1 now streaming on all platforms." She has had a wide variety of guests on her podcast, like Westmont alum and "The Voice" semi-finalist Will Breman, to Columbia University volleyball player Chloe Rutledge. Malia's podcast covers a wide berth of perspectives on many topics and is sure to intrigue listeners everywhere.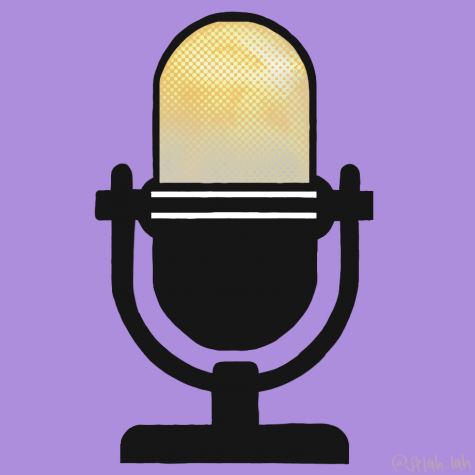 Austin Nachbur and Nathan Tudor: "Welcome to the World of Religion"
Alumni Austin Nachbur and Nathan Tudor both took a World Religions class with Dr. Farhadian. "Whenever he came across some bizarre or surprising point," said Nachbur, "Farhadian would say 'Welcome to the World of Religion.'" And so, they co-opted Farhadian's famous phrase as their podcast name. At first, Nachbur and Tudor began podcasting as a way "to keep up on religious knowledge, but when people listened, they enjoyed it." As their podcast drew more interest, they "started to dive into more in-depth topics" (Nachbur).
"The 'World of Religion' Podcast caters towards the 18-30 crowd. It's not just the educational aspect, it's also the irony, the tongue-and-check style. It works well with the meme generation, you know," said Nachbur. 
For example: "Episode one was all about salvation hacks. So, for example, in Roman Catholicism, there are examples of giving an indulgence. So we say just get rich, and buy an indulgence: salvation hacked," said Tudor. A satirical podcast that tackles religion: what could be better?
Tudor and Nachbur cover a wide variety of religions, including "Christianity, Islam, Buddhism, Hinduism, and more," said Nachbur. They cover obscure religious topics, spanning from "2nd century Eastern Orthodox theology, tollhouses" to "ranking religious symbols" and "3rd-5th century Gnosticism," said Nachbur. 
As of now, season two is in the works. If you ever want to quench your intellectual thirst while having fun, give the "Worlds of Religion" podcast a listen. 
Westmont students and alumni have budding podcasts that should be shared with friends and family.