The Definitive Top 10 Trader Joe's Fall Foods
September 23, 2020
Fall is here, folks! While the season officially arrived Sept. 22, its true beginning was the moment Trader Joe's ditched cornbread cookies and watermelon jerky — really, watermelon jerky? — for a cornucopia of pumpkin-spiced products. However, there is no need to fret as we  enter the fall-flavored fray. Here I have compiled a slightly biased, highly divisive guide to the ten best pumpkin products of the season.
1. La Colombe Pumpkin Spice Draft Latte
I have always been anti-Pumpkin Spice Latte myself, but this one is different. Creamy, barely sweet, and subtly spiced, it's the perfect fall-flavored caffeinated beverage to kickstart your back-to-school grind.
2. Pumpkin Ice Cream
Not only is this an indulgent delight, but it is also the perfect antidote to fall's most overrated dessert, pumpkin pie. This Thanksgiving, instead of forcing down another blob of Aunt Becky's gelatinous creation, have a scoop of Trader Joe's pumpkin ice cream with a dollop of whipped cream, instead.
3. Honey-Roasted Pumpkin Ravioli
Voila, Trader Joe's has created a no-fail recipe for your next Friday night! Simply melt a pat of butter until caramel-colored and speckly, sizzle up a handful of fresh herbs of sage, basil, whatever you have, and pour it all over a sumptuous plate of pumpkin ravioli. Pair with appropriate seasonal entertainment, like "Harry Potter and the Sorcerer's Stone" or any "Gilmore Girls" episode set in fall.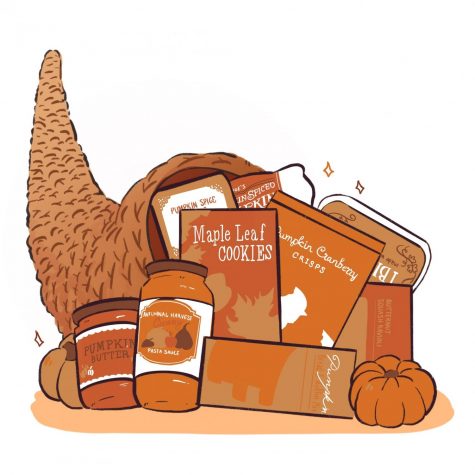 4. Pumpkin Spice Rooibos Tea
If you are looking for a spicy, warming herbal tea, this is it. Do not mistake this tea for Trader Joe's seasonal Harvest Blend, which is overwhelmingly fruity and infinitely inferior.
5. Organic Pumpkin Bread
For clarification, we are talking about toast bread, not bake sale bread. And toast it, you should! Nothing is more satisfying than a warm, buttery piece of pumpkin toast with pumpkin rooibos tea on a misty morning.
6. Pumpkin Joe-Joe's
No, I am not referring to Halloween Joe-Joe's, which, frankly, I find off-putting. Halloween is not its own season, therefore it does not deserve its own Joe-Joe's. Instead, try these crunchy, cream-filled, over-sweetened treats that carry all the childhood nostalgia of corn mazes and pumpkin picking.
7. Pumpkin Bread & Muffin Mix
One cannot mention fall nostalgia without mentioning this beautiful boxed mix. Yes, pumpkin muffins are infinitely better than pumpkin bread and, yes, you should add chocolate chips.
8. Pumpkin Spice Pretzel Slims
These salty, snappy, seasonal snackers are the new reigning champions for Best Non-Joe-Joe's Pumpkin Cookie. Pretzels can be cookies, right? Right?
9. Pumpkin Body Butter
While the body butter itself is luxurious, I am still undecided as to whether or not I enjoy smelling faintly like a holiday candle. If it means lathering on this lotion, then I am not wholly opposed to it.
10. Pumpkin Cranberry Crisps
The reason these unassuming crackers are mentioned among such honorable company is because of their subtlety, a virtue not widely attributed to pumpkin-spiced products. So, crack open a bag, slice into some creamy brie, and pretend you can pronounce "charcuterie."
If these selections have offended, think but this and all is mended: Trader Joe's has at least fifty other fall foods for you to try. Happy sampling!