Philosophy Department kicks off fall all-campus lectures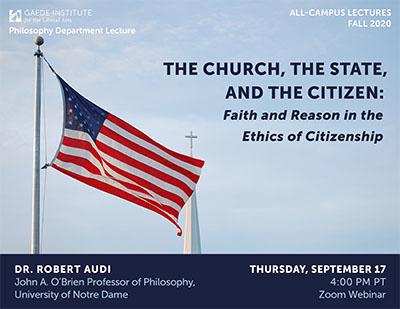 The philosophy department kicked off this fall's all-campus lectures last Thursday with a presentation by University of Notre Dame's Dr. Robert Audi. Entitled "The Church, the State, and the Citizen: Faith and Reason in the Ethics of Citizenship," Audi's lecture took a deep dive into the complex relationship between religion and politics.
A generous speaker
The Notre Dame professor of philosophy, renowned for his work in areas such as epistemology, ethics, and political philosophy, is no stranger to the Westmont community. As Dr. Mark Nelson mentioned in an interview over email, the two of them have had a close friendship through their work on panels, reviews of each other's publications, and even teaching each other's works.  
The Westmont professor explained that the lecture originated as a kind gesture on Dr. Audi's part. As the two of them corresponded over the summer, Dr. Nelson mentioned the difficulties of starting the semester online, to which Dr. Audi responded by volunteering "to give us a virtual lecture for free, if that would give a boost to our department and students."
Where does faith come in?
On top of his many academic achievements, Dr. Nelson promoted Dr. Audi as a "professing Christian who models the kind of careful thinking about matters of faith and reason we want for our students (and colleagues!)." Dr. Audi's background as a Christian and an academic provides an intersection that closely resonates with the Westmont community, an affinity that is helpful as he embarks to untangle the knot in the relationship between faith and politics.
Because of the looming November election, Dr. Audi's lecture from last Thursday seems especially pertinent for the student body this semester.  Dr. Nelson emphasized that "lots of us wonder about how our Christian beliefs and values should affect how we vote, as those issues are still very much in play." The challenge is figuring out a way to reconcile those two forces.
Audi ended his talk by falling back on a classically liberal position on this topic, but no matter what side of the spectrum students fall on, Dr. Nelson hopes students will have left the lecture with "a better sense of what's at stake and why."
Correction notice: An earlier version of this article credited the Gaede Institute for this event when, in fact, the credit goes to the philosophy department. (24 Sept 2020)