Perseverance and drive
Theater major Alex Gabriel makes waves in the entertainment industry.
"Try. Fail. Try. Fail. Try." Alex Gabriel, a theatre arts major in her final year at Westmont, knows all about the struggle of the creative process, and the wisdom she's gained is taking her to new heights. From composing for Disney to starring in productions on the stage and the screen, Gabriel navigates the music industry with passion and resilience. I sat down to talk with her about her start in music, her experience in the entertainment business, and her plans for the future.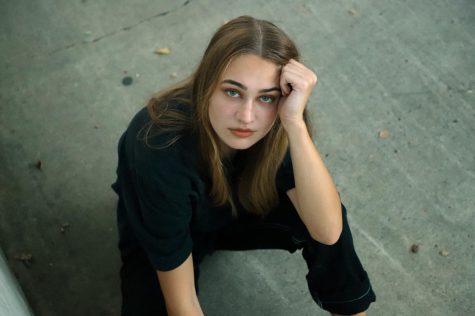 How did you first get into making music?
I think I've been making music for as long as I can remember, really. It's so intimidating to make anything that's from your heart, I guess, and out of your passions. Then as I got older it just got easier to perform other people's work, whether that was in theater productions or a cover band, it was just easier to think, "No, I didn't write this, I don't have that emotional attachment so I can just perform it." It wasn't really until the last year that I really started to take writing music seriously. I have a ton of songs, half songs, and ideas and I'm really working on putting them together in an EP, which is great because I finally got over the fear of wondering: "Are other people going to like this? Is this weird? Is it going to suck?" But it doesn't really matter because it's me. I'm going to do it because I love it. And if it sucks, okay, at least I did something, you know?
Is your own music very emotionally rooted?
I would say so. I think it depends, too, on how I'm feeling, where I'm at. One thing that's been crucial to creating is being able to write down thoughts when I get really overwhelmed or I'm trying to process too much and my system is totally buffering. So I have all these random notes I've written down on receipts, parking tickets, napkins, you name it. A lot of times I end up writing songs based on these notes, which can be super emotional and revealing but can also be quite vague. 
In deciding that I want to pursue a career in the entertainment business, I realized that I need to develop a range of skills to support my career. Scoring television and film is the skill I have been developing recently. Six percent of composers in the industry are women. Composing or scoring is the music written to accompany film and television. You don't realize how much it does until it's gone. I'm learning the methods and skills it takes to become a composer and am really excited to be one of the first women doing it.
Besides the challenges, is this what you're passionate about?
Definitely yes. Because at the end of the day, even when I have a frustrating day, when I feel like I've been working on something and I keep hitting roadblocks, I get to spend the whole day working on music and that's my goal. That's enough. I don't know that it would be rewarding if it wasn't frustrating, honestly.
What is your creative process like?
My creative process is: Try, fail, try, fail, try, and then you kind of land on something and you're like "Okay, this sounds good — I'm going to develop this a little more." Then once I develop it, I usually send it to somebody to critique it. The most valuable meetings I've had concerning music are where somebody critiques and tears my piece apart. It's been so rewarding. I would say if a year ago somebody did that to me, I would be emotional about it. I'd think, "Oh no, somebody doesn't like it." Now I think, "Thank you for giving me the opportunity to pick your brain about this, I really appreciate that, thank you for your feedback." That's how I've learned how to make my music professional when learning how to sound engineer… taking the criticism, asking for the criticism, asking for them to not spare you your feelings.
Do you have mentors in the music industry?
I would say my biggest mentor is my dad. He grew up in New Jersey and then moved out to Los Angeles to pursue a career in music. That is what I admire most and has inspired me most is his drive and his work ethic. He tells me how you can try 30,000 things and maybe 30 of them will get picked up, just keep going. That has been very valuable to hear. As an artist, we do want people to appreciate everything we do but that's just not realistic most of the time. But if we're creating our art for ourselves, because it is what we are passionate about, then that's enough. So, he's been an amazing mentor to me definitely … and also a harsh critic, which is welcomed.
How would you describe your sound?
It depends on what I'm trying to do. In the scoring aspect of it, it's whatever the client is asking for. Usually on the production side, Disney gives me three examples of the music they want and then I flip their example and make it my own. As a solo artist it's been hard to determine my sound or like what genre I would fit into cause I'll write indie punk stuff and the next night I'll write something soft, and acoustic with a little bit of folk. I've also grown up performing theater and musical theater since I was six. In a sense, I've been trained to sound like that classic theater style as well. I've been able to do a lot of vocal sessions through that. Right now, I'm cast as the female lead in a new animated family movie that DreamWorks is picking up. Being able to develop that character and continue pursuing my love for musical theater is so much fun. It's not indie punk, folk, or composing, but yet another facet to "my sound."
What's next?
I look forward to continue scoring for film and television and exploring what that looks like as one of the first females to do it. Singing for this new family movie has been loads of fun and I am excited to keep working on it. It's really fun to sing for an animation. I also just auditioned for a feature film, I'm hoping to hear back from them soon. I will be acting in and scoring a film with Izzy Esber, who graduated from Westmont two years ago. Westmont is putting on a show on Zoom called "Small Enchantments" which I'm assistant directing. I think I'm going to write some music for that too, which will be really fun because I'll have insight from assistant directing that I wouldn't have as just a composer on it. Then my EP, I will set a date for that soon. I'm excited to see what the next chapter will look like after I graduate!