The "Pandemmys": Hits and Hazmats
For the first time in history, the Emmy's go entirely virtual
Viewers will remember the 72nd annual Emmys as one of the most unique awards shows of all time. Dubbed "The Pandemmys" by host Jimmy Kimmel, the program was entirely virtual, featuring remote "pod" gatherings of nominated cast and crew.
History was made by the masked winners, some of whom accepted their awards via messengers in hazmat suits fashioned to look like tuxedos.
Zendaya, 24 years old, accepted the award for "Outstanding Actress in a Drama Series" for her performance in "Euphoria," making her the youngest ever recipient of the award. The Canadian sitcom "Schitt's Creek" had a fantastic night, winning seven awards and becoming the first show to win in every comedy category.
"
The viewership this year was the lowest it has ever been, at only 5.1 million viewers."
The Emmys would not be the Emmys without cameo appearances of beloved veterans. The team-up of Jennifer Aniston, Courteney Cox, and Lisa Kudrow elated the "Friends" loyal fan base, sparking fond memories for watchers. Westmont sophomore and "Friends" fanatic Cassidy Nelson described how "seeing the three back together was such a happy moment, and it brought a lot of warmth to the awards, overall."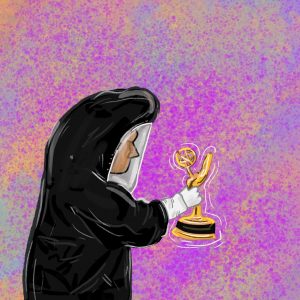 The entire night was entwined with political and social statements from the awardees, some more outright than others. Many awardees acknowledged the discomfort they felt in celebrating during this time and used their platform to point towards the Black Lives Matter campaign and pandemic support. The traditional "Thank You" acceptance speeches to family and supporters felt a bit inappropriate given the circumstances, explained the winners. Instead, some of the winners turned the attention away from themselves in recognition of the current circumstances, creating a somber and profound moment.
While the viewership this year was the lowest it has ever been, at only 5.1 million viewers, the producers managed to pull off a celebratory and warm attitude despite the pandemic. Nelson explained that she thought it was "a surprisingly succinct and engaging night." While the producers may have had less to work with, they certainly embraced it. Seeing celebrities all dressed up in the middle of their living rooms changed the often tedious ceremony into a fast-paced and personal night of "Pandemmys."