Change starts small
Conrad Morgan is a voice of sustainability on Westmont's campus, promoting environmental awareness and creation care.
Environmentalism has always been a major part of sophomore Westmont student Conrad Morgan's life. Born and raised in Kailua on the island of Oahu, concern and care for the planet are his top priority. His goal is to spread his same environmental awareness and love for the Earth across, well, the Earth itself. Having grown up in Hawaii, he speaks on how his time in nature, namely his experience in competitive bodysurfing, has made him appreciate the wonders of creation. "That's probably the most enjoyable thing that I can do, bodysurfing. Just being in the water is such a beautiful thing. To me, it's the purest way of riding waves," he reflects. "Because I've grown up in Hawaii and been surrounded by the culture and the people and the history, I really got into sustainability. Being environmentally conscious has been a big thing for me for the past four years."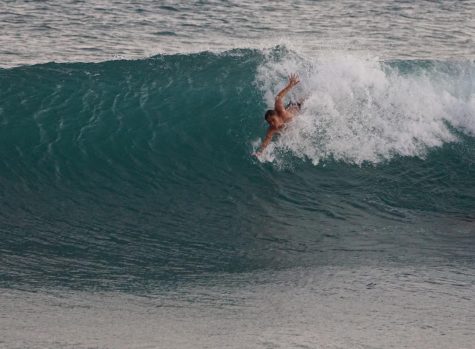 In high school, Morgan was active in a variety of environmental advocacy work, assuming presidency of the environmental club in his senior year and earning a scholarship for his performance in that role. "I got to work with a bunch of different nonprofits like Sustainable Coastlines, Surfrider Foundation, Kokua Hawaii Foundation. I met some really cool people, got really involved in the scene." 
While he does get his hands dirty with beach clean-ups and other projects, one of his favorite aspects of environmental activism is sharing his knowledge with others by spreading environmental awareness in the classroom. He recounts a time in his senior year of high school when the environmental club spent three weeks educating middle schoolers on how to be conscious of the ways they treat the Earth: "Oh my goodness — first off, the kids were adorable but they were also so into it and they wanted to know more. They had done these projects about plastic and things they wanna see done in their school. It was so cool to see these kids that were so much younger than us who are so passionate about sustainability and protecting the environment on our island. That was a really rewarding and cool experience. They ended up coming and doing a beach clean-up with us the following weekend."
This sort of enthusiasm is exactly what Morgan wants to see here at Westmont. "Last semester I was part of the first installment of the Eco-Rep program that was a branch of Sustainable Westmont, the sustainability chapter here at Westmont that has since been defunded. I was an Eco-Rep in Page Hall, where I was living at the time, to be a voice of sustainability and talk to people who had questions, so I had office hours where students could come and bring up any concerns they had."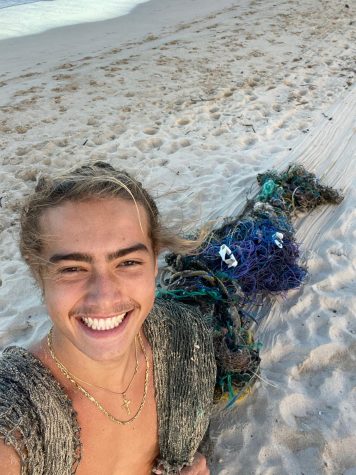 His efforts to make Westmont a more eco-friendly environment have included showings of educational videos, cut-downs on single-use plastics during Page Hall events, and, though the coronavirus outbreak has put these plans on hold, beach clean-ups and clothing swaps. Even in the face of the pandemic, where carry-out containers, plastic cutlery, and disposable masks add to the ever-growing heap of waste, Morgan intends to continue living out the mission of the Eco-Rep program and be a voice of sustainability.
"It's tough. Change starts small. A lot of times it's just a mindset, too. People are just kind of ignorant to the effects that their choices have on the environment in their own lives. People think that change has to start big but it really does have to start small. It really has to start with one person and one decision. It's not that people are trying to destroy our environment or fill up our landfills, it's that they haven't been provided with the information or the perspective of how they can influence positive change in their day-to-day lives."
Morgan is majoring in communications with a minor in environmental studies. He hopes to continue his journey in caring for the planet, whether that be working for a non-profit, travelling the world for advocacy work, or speaking at schools in order to educate youth about the environment. 
Already, he is giving a voice to the generation that cares so much for the Earth we live in: "It's the only one we have. Especially being here at Westmont, looking out at it from a biblical perspective, creation care is a term thrown around a lot. God didn't give us this planet to fill it up with plastic, put chemicals in our oceans and bleach and kill our coral reefs, deplete our resources. He gave it to us for us to thrive in and build our life and enjoy its beauty. That beauty is slowly fading away. It's our job as humans and especially as Christians to do what we can to help protect and preserve what God gave us."