WCSA hosts event during first presidential debate
With tensions high as the two major party candidates fired back and forth, Westmont College Student Association (WCSA), the debate club, and other Westmont students watched synchronously as the first 2020 presidential debate unfolded. This event provided an opportunity to emphasize how the Westmont community seeks to foster healthy political engagement through on-campus involvement and individual awareness.
The presidential debate viewing event was hosted by Dr. Tom Knecht of the political science department, WCSA, and the debate club via Zoom. Comments were made in the chat during inflammatory moments, and a group debriefing after the event clarified that many students were disappointed in what they saw. Dr. Knecht voiced his opinion on the spectacle, saying, "The debate was a total embarrassment. Debates should look very different … We should expect to see debates where the sitting president condemns white supremacists without qualification and agrees to accept the outcome of the election. We should expect debates where the challenger does not call a sitting president 'a clown.'" 
"
Civic engagement is key to Westmont's mission to create thoughtful scholars and faithful leaders for engagement with both the church and the world."
— Hannah Grierson
Dr. Knecht was not alone in his sentiments. Some at the Westmont event noted that people were watching purely for its entertainment value, although that didn't stop attendees from assessing the competition. In a poll taken after the event, 75 percent of student viewers voted that President Trump had won the debate while only 25 percent voted that former Vice President Biden had.
However, in the midst of this intense debate, on-campus organizations remembered their purpose. Desiring to act better than what was displayed is a motivator for student leaders to emphasize healthy political engagement on Westmont's campus. Hannah Grierson, Student Body Vice President and the WCSA representative at the event, believes that events like the presidential debate night foster community engagement with national politics. She commented that "civic engagement is key to Westmont's mission to create thoughtful scholars and faithful leaders for engagement with both the church and the world." This debate allowed leaders to point in the direction we want to go as faith-based and politically active citizens.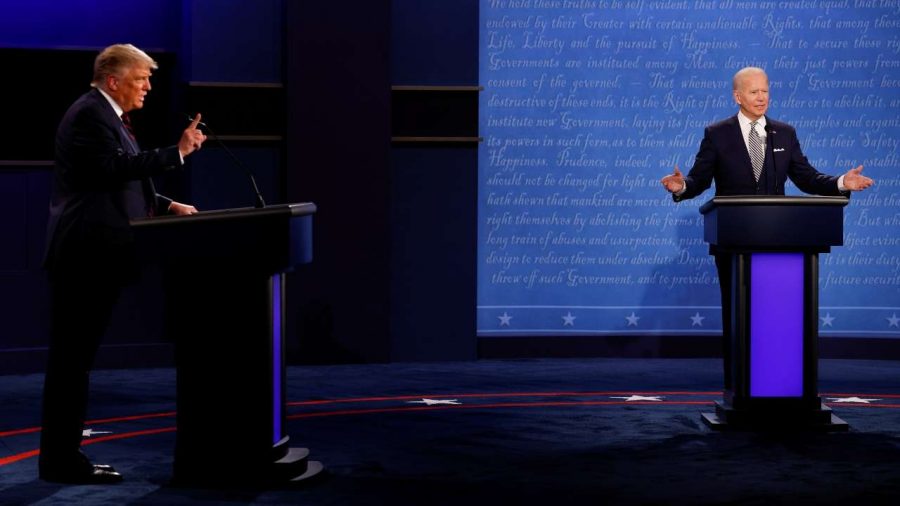 Westmont is searching for other ways to support its students during this election year. According to Grierson, Westmont "encourage[s] all Westmont students to vote in the November election and WCSA is here as a resource to facilitate that process and help any students who have questions." She also named other opportunities, like the California Ballot Bowl to encourage students to register to vote, outreach ministries to involve students with local issues, and an election night event, also hosted by WCSA and the debate team.
Ultimately, the students will determine what kind of political climate we have on campus. The first steps toward this include being more informed as individuals and demanding better from others in power. Dr. Knecht observed, "Things can change; it doesn't have to be this way. If we demand civility and deliberation from our elected officials, they will provide it." With these words of wisdom, we leave behind an astonishing start to the election season.
Those who have not yet registered to vote can do so here: vote.gov
Leave a Comment