Never fear color and dressing beyond the 'Mont'
A Fashion Week Double Feature
Welcome back to school, everybody! There's nothing like having class outside, right? Right … just kidding.
We need to talk about your fall color palette because some of us, a lot of us, are blending in with our campus while walking to class. Maybe that's your thing, maybe you enjoy being confused with the California live oak trees we have around campus. Hey, to each their own! But this ongoing column is about dressing for where you want to be, and unless you are trying to morph into a tree, we need to move on from camouflage, deal?
YOU: Okay, Kat, but I'm comfortable emulating the colors of the forest.
KAT: Fine, You, but why are you trying to blend in? Ever heard of a pop of color?
YOU: Yeah, but I don't look good in … fill in the colors that you think are too much for you to wear daily.
KAT: Oh, You, that's all a mindset.
Here's some truth you have never heard before: there is no such thing as a bad color on you. Growing up, I was told yellow would never look good on me because I have blonde hair. I decided that was stupid and starting wearing yellow at any, and every, opportunity. I feel great in it; thus, I look great in it. Done deal. I am not the only one who can do this. It is a mindset. I have said it once, dear reader, and I will say it again:
"
Clothing and styling yourself is an act of self-love you can choose to participate in everyday."
So why don't you?
We need to move on from earth tones this fall. If this scares you, don't worry. Let's start with baby steps. Throw on your favorite brown corduroy pants, a white top and a color that is not brown, green, terracotta or mustard. Try light pink, ruby red, coral blue or — dare I say it — electric orange. You'll feel uncomfortable walking out of your room and curse me in your head on your way to class, but then you'll get this feeling of "Wait, I look dope. I feel dope."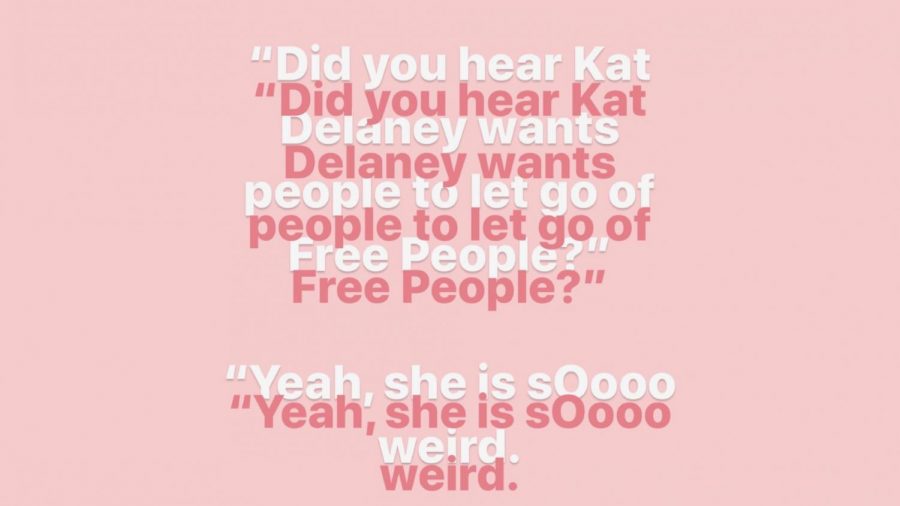 I also want to point out that earth tones are not the end of the world. If you only wear earth tones, consider me enamoured by your dedication to such a small color palette – kinda. I firmly believe that people shy away from playing with more color in their wardrobes because of the over-analyzing critics that live in their heads. You know that color legit affects your attitude? Ever seen an insecure woman wearing a monochrome pink suit? Exactly, never. As an underclassman, I felt like I tried to dress for "Santa Barbara" and was so bored by what I was wearing. Yes, the California color palette is a classic, but is it trail-blazing? Absolutely not. It's timeless, but nothing new. When I started dressing in more color, I felt more vibrant as a person.
If you felt no judgement or awkwardness, what colors would you lean into? What style would you try out? So, my dear reader, what's holding you back? If you feel as though you've been blending in, quite literally, and need a change of atmosphere, throw some color into your life. Ditch the olive green for a lime green. Say hello to electric blue and say goodbye to terracotta. I really, really believe in you. Baby steps. You got this. Hope to see you around school and not mistake you for a tree.
-Katharine Delaney
My co-writer, Kat Delaney, and I have been musing over this notion lately: "How can we dress for where we want to be and not just for where we are?"
As a senior, I am constantly asked where I see myself a year from now. Lately, I have realized that there are more steps to take than just simply building your resume and interviewing skills. I have the strong belief that dressing for where we want to be not only allows us to visualize our future, but is also a daily motivator to keep moving in that direction.
Santa Barbara's fashion style is a medley of luxury casual wear with an upbeat LA influence. The results vary from Patagonia and Birkenstocks to your local Montecito mom in a white linen shawl and Louis Vuitton shoulder bag. If you take a cruise down State Street, you will see a rainbow of bucket hats and Brandy Melville tank tops. While Santa Barbara street ware is admirable, it is easy to grow accustomed to dipping into the same pallet of clothes everyday. Redundancy is not always bad, but have you tried to stand out and feel more comfortable in your own skin?
As college students, we do not always have an excess of time and money to change up our wardrobe; however, if we really do want to be head-honchos and CEOs one day, it might be time to start elevating our style in small and effective ways. It is unlikely that you are going to wake up one day dressing like someone who believes they should command the room, so that being said, let's start taking baby steps in that direction.
"
Clothes can affect how we feel about ourselves, and at this pivotal season of life, we have the opportunity to build confidence for life after Westmont."
One small change I have implemented into my style is when I go out to meet my friends for dinner, instead of wearing Vans and a pair of jeans, I trade out the sneakers for a pair of kitten heels. It is the same look, but making that small change makes me feel more put-together like an adult. I used to steer away from wearing heels casually, but I found ways to wear them that made me feel confident. My favorite pair of Mules are only two inches, and wearing heels is not as aggressive as you might imagine.
Another small change I have made is not always dressing for my mood. If I have an early morning or a busy day ahead, I am tempted to throw on the most comfortable thing in my wardrobe. Even though we can get away with this as college students, I try to remind myself that, a year from now, my boss probably will not appreciate the athleisure look. Not only does dressing up make you feel more ready for the day, but you never know what life-changing connection is waiting for you in the line at Whole Foods. If you do have a dress-down day, a pair of biker shorts and platform sneakers is always flattering and fashion-forward.
I encourage you to think about what you tend to wear on a daily basis. Clothes can affect how we feel about ourselves, and at this pivotal season of life, we have the opportunity to build confidence for life after Westmont.
If you want to live in New York City one day, it is not a bad idea to start dressing for what you hope to be the backdrop of your life. We don't all have to be aspiring Carrie Bradshaws, but we do all have dreams, and my hope is that you are dressing for those dreams.
-Karley DeWitt